omc-boats.org
Evinrude® and Johnson® boats
The Original OMC Boats web site!*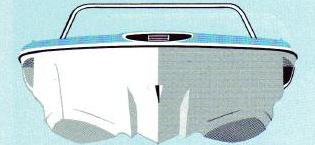 Between 1962 and 1970 the (late) Outboard Marine Corporation sold fiberglass boats under the OMC, Evinrude and Johnson names Chris-Craft purchased the molds after OMC ceased production.
This page is dedicated to those boats.
| | | |
| --- | --- | --- |
| An Evinrude Sweet '16. | | A Johnson 17 foot Deluxe Runabout. |
| The Evinrude boats featured a "gull-wing" design, which rode on the large center V hull at speed, and were built in 16 foot (1964-1970), 14 foot (1965-1968), and 19 foot (1967-1970) lengths. The boats were solidly built, roomy and stable. The Gull-Wing hulls were designed by Richard Cole, while Brooks Stevens designed the above water styling. Later 16 foot hulls were designed by Lars Granholm and Ralph Lambrecht. | | Johnson boats were built in 17 foot (1962-1966), 14 foot (1966-1968), 16 foot (1966-1969), and 19 foot (1966-1969) lengths. The OMC/Johnson 17 Deluxe above was designed by Harry Hillman was also a tri-hull design. The center hull provides extra lift; at speed it was a three-point suspension hull, riding on the sponsons and an after-plane. Later boats Johnson boats were Cole and Granholm/Lambrecht designs marketed using the name "Sea-Foil". |
---
Sightings
Photographs of boats, past and present;
Photos and scans sent in by owners and spotters have helped make the site what it is! Please keep your contributions comming!
Do you have photos of a boat you would like to see added? fill out this form!!

Information you might include with your photos:
Model name
Model year
Model number*
Serial number*
Her name
Home port
Owner name(s)
Photo date & location
How you got the boat
Any personal memories/stories
* this information can be found on a plate somewhere inside the boat, like this one (Evinrude), this one (Johnson), or this one (OMC Canada).
If you own one of these boats (or just love them), you might want to join the OMC-BOATS mailing list!
---
Sources of Information
Copies of some original manuals are available from Ken Cook Co!!
Books, at Amazon (NOTE: As an Amazon Associate I earn from qualifying purchases)
Model year, serial number information excerpted from Rodengen's OMC book, model number lists, and boat owners.
Lee Shuster also has a list of model number information.
Chris-Craft purchased the molds after OMC ceased production. Chris-Craft kept the Gull-Wing moniker, and sold the SeaSport and Dolphin from 1971 through (at least) 1974.
---
OMC-BOATS Mailing List
I run a mailing list called OMC-Boats where owners (and others) can exchange information. The list is SPAM free (only members can post). The list generally has (very) low traffic, but you can sign up a for "digest" to get have the messages collected and mailed out once a day.
View the list archive (starting in 1998!)
Facebook group
There's also an OMC Boats Facebook Group
---
For Sale/Wanted
To post an ad, fill out this form. Remember to include asking price, geographical location and contact information!
I cannot tell you what your boat might be worth. I've left old ads in place so you can see what people have asked for theirs. I have no expertise in old outdrives, but check out the engines section below for links.
---
Other pages of interest;
Listings provided for reference/help. Links are not an endorsement, and do not reflect personal experience of the webmaster!!
Boats
Hobbiest
Commercial
Sportfishermans Service Center, Muskegon Michigan

Lots of new and used vintage parts for old omc/evinrude/johnson boats. We are a marine dealer who still works on these boats and have a fair amount of parts still in inventory. Most of our parts are engine/drive based including some good used complete engines and outdrives, we may also have some interior parts, gauges etc. Part numbers will be helpful and will speed up responses but we will do our best to help in anyway we can. We also have a couple boats on hand. Nielsen Canvas Co, formerly Pfferrekorn Canvas, the Original Equip supplier of OMC boats' mooring covers still has the patterns for all the OMC boats, as well as Chris-Craft and Lyman. Contact Robert Nielsen for details at: nielsencan(at)aol.com (419) 625-0521
715 W Washington St, 44870-2334 Sandusky, OH 805 W. Water St.; Sandusky, Ohio 44870 419-625-0581, 800-435-2471
Standard Motor Products - Indexed and illustrated catalog with OMC electrical parts listed.
Marauder Classic Boat Company
811 S. Division
Guthrie, Oklahoma 73044
405-282-3700
email: MARAUDERCB(at)aol.com