Johnson Frontrunner Photo Gallery
The Evinrude version of the Frontrunner was the Explorer
---
Dan Preston's 1969 Johnson Frontrunner
These are some oldies, I am the little red head in the front and current owner. This boat was purchased at Howe's Marina in Indian River, MI and trailered in brand new from Wisconson to Mullett Lake Michigan. It has been in our family since its first bath in the lake and is going to be there until its dying day, which is a ways from now. That is about all the info I have at my house in Grosse Pointe, MI and will send more when I get a chance to head up north.
Owner: Dan Preston
Make: 1969 Johnson Frontrunner
Home: Mullett Lake, Cheboygan, MI
Her Name: Mullet Over
Photo Date: Summer of 1987, Mullett Lake, MI
Memories: Too many to list and so many to come.
[added 1/16/2002]
---
Ed Carson's 1969 Frontrunner
Owner: Ed Carson
Boat Name: Chrisma
Make: Johnson
Model: 16' Frontrunner
Year: 1969
Engine: V-6 155HP
Location: United States

Feel free to add this photo of our wonderful FrontRunner. Used on Kentucky Lake for 15 years. It was a great boat... Very bumpy up front though but a lot of room for a 16 footer. I think it was a 1969 and we bought it in 1970. It was still in excellent condition when I sold it in about 1995 for $2500. The new owner said he couldn't believe he was buying a 26 year old boat. I would love to have it back!
(click on photo to enlarge)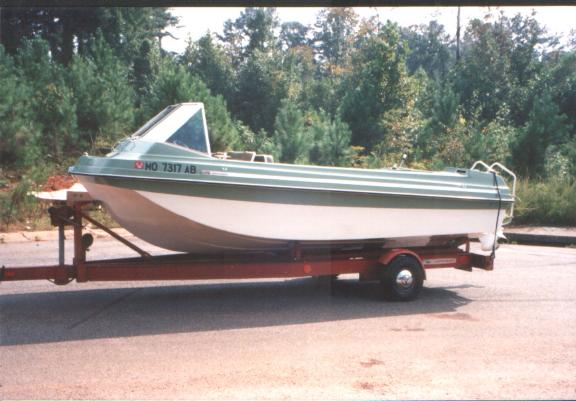 Ed Carson
(click on photo to enlarge)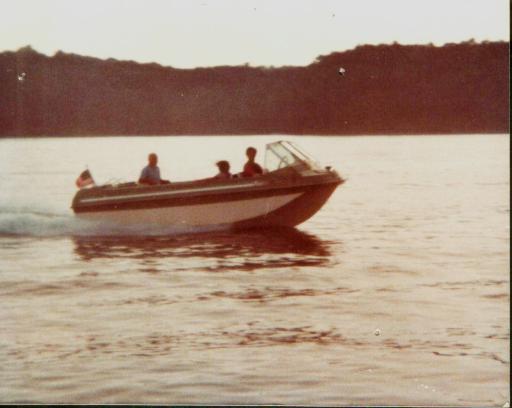 in action at 30 mph Kentucky Lake 1985


[added 11/6/2012]


Video: 1969 Johnson FrontRunner Kentucky Lake 0-38 MPH


[added 9/20/2013]
---
Back to Gallery Index