Evinrude Sport '14 Gallery
The 14 foot 9 inch Sport '14 was only manufactured in 1965, and only came in blue. The console was a dealer installable option.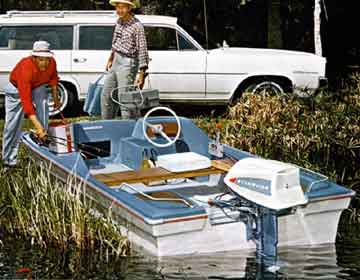 Ad Photo from Lee Shuster (click on photo to enlarge)
---
Sport '14
Spotted at "Discount Marine", Weedsport NY, 315-834-6843 by Jim Whaley in May 1999.
(click on photos for larger images)
---
Spotted on eBay (item #2477077200) May 2004
This is a classic combination. An Evinrude Boat with an Evinrude Outboard motor. This is a low maintenance watercraft with no floors to rot out and no vinyl seats to replace. Just hose it off when your done. Enjoy the outing not the maintenance. It is a Boston Whaler style look alike (Okay a small Boston Whaler not a large one). It measures 14 ft. 8 inches long (Title says Sport 14) width is a very wide and stable 68 inches. Steering consol is mid section on the right (single consol). Hull is fiberglass in a tri-hull style. It is a 1965 model and the outboard (a ski-twin with electric start) is probably the same vintage. The Evinrude outboard is a 33 horsepower. Motor runs great, prop. is in great condition. Hull Id is 30360211267. (From the hull ID I would have thought the year was 1967 but the title does say 1965). Included in the boat are two anchors (1 concrete and one mushroom), 2 6 gallon portable fuel tanks (Evinrudes), oars, compass, speedo, an extra prop., and a bracket for a trolling motor. Sorry, the battery needs replacement. This boat is ready to go and the only item that will need attention in the future are the steering cable/cord. Steering currently works fine, but the vinyle over the cable is begining to decay. Hull has a few marks on it but it is solid with no major chips or gouges. I have a clear Illinois title for the boat. No title for the motor. The trailer is a "Rite-On" aluminum, with bunks, guide-ons (nice sturdy tall ones). Tires are 20.5 x 8.0 x 10 (in good condition). Trailer sits low to ground and has nice wide tires for easy low water launching. Wheels are 5 bolt with bearing buddies. Submerissible lighting is in good condtion and working order. Trailer has tongue jack, 2 inch coupler, rope winch, safety chains, 4 blade wiring connector.

[added 07/03/2005]
---
Spotted on eBay (item #2477511468) May 2004
Up for bid is an awesome vintage 1965 Evinrude Tri-hull fishing boat with matching Evinrude 18 HP motor. Motor runs excellent and hull is in great shape! Can be operated from the tiller or from the helm. I can professionally build another helm located more forward upon request and agreed price after sale. Runs fine the way it is. Big open deck with lots of room for fishing and gear. Tri hull construction cuts through wake and gets you to the end of the lake fast. Very stable! Trailer is in good shape with some surface rust but not bad. Can paint trailer for Buyer on same terms as stated above. Boat is light and tows very good. Comes with new battery and a nice used 6 gallon fuel tank, small electric trolling motor and a few life jackets. Clear title in hand and tagged until 2005. Seaworthy and ready to use now. ... Vehicle Condition Excellent condition! Minor scrapes and rub marks that should be expected for an older boat. Everything works. One shifting cable showing signs of wear (replacement cost approximately $30.00 for part). Boat polishes up like a new penny with a little waxing.
[note! Mike Dardzinski later purchased this boat! photos below]


[added 07/03/2005]
---
Tom Paquette's 1964 Sport '14
I have a '64 14' Evinrude Sport and 50 hp Evinrude with the original Evinrude trailer. It has been in the family since new.

Tom Paquette
North Carolina


[added 06/04/2006]
[updated 7/11/2006]
---
Mike Dardzinski's Sport '14
I picked this up in Sacramento, Ca. yesterday for $400......don't know anything about them so I did a search online and found your website. I was looking for a 13' Whaler to use as a duck hunting boat but once I saw this boat I decided it was better for my needs. This is what it looks like now.....in a couple months it will look like a duck boat. Neat little rig. Former owner was a plumber and added side rails.
Regards,
Mike Dardzinski
1/10/2007
Update... 2/26/2007:
I've done most of the work the boat needed......when I looked at the gallery, I realized I bought the exact same boat that was found listed on e-bay [item #2477511468 above]. My seat had the same round stain on it.... same trailer.... etc. [same reg number!] The person who had it before me took the steering console out, but it's definitely the same boat.
I put new rollers, lights, and bearings on the trailer. Installed a keel guard and painted the hull and then found a 30hp SS Evinrude to power it. Might not be the kind of restoration that OMC boat lovers want to see, but I bought it for function. I'm happy with it so far.....looks better (but I don't have updated pics) since I added 3-D cut vinyl registration numbers and the boat name.....fills the empty space on the side of the hull.
Latest photo (March 2007), with decals:
(click on photos to enlarge)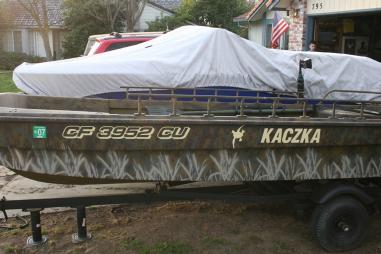 [added 02/25/2007]
[updated 02/25/2007, 3/7/2007]
---
R.C. Hawie's "Mini Mink"
Mini Mink is owned by AOMCI member and boat racer R.C. Hawie. He is the original owner since getting her new in 1965. The motor arrived at the same time. His dad had "Mama's Mink" which was the same year tri-hull with an inboard 4 cylinder. That boat is still around but hasn't been on the water lately. Mini is a great boat and pretty darn fast! ;-)
http://s766.photobucket.com/albums/xx306/rjscopes/Yankee%20Chapter%20Shelton%20CT%202012/
http://www.aomci.org/cgi-bin/yabb2/YaBB.pl?num=1347127871/7#7
http://www.flickr.com/photos/20019250@N08/3957439834/sizes/l/in/photostream/
[added 09/12/2012]
---
Back to Gallery Index