Evinrude Ski Lark Gallery
Manufactured only in 1965, the 14 foot 9 inch outboard Ski Lark came in two colors: Gray and Blue (like the Sweet '16). The Johnson Caprice and Evinrude Playmate were similar, but with stern drives.
---
Ski Lark
Spotted at "Discount Marine", Weedsport NY, 315-834-6843 by Jim Whaley in May 1999.
(click on photos for larger images)
---
Gray Ski Lark
Spotted on eBay (item #2474672106) in April 2004.
Early model 15' Evinrude boat and motor with matching trailer. It is an Evinrude Ski Lark with an Evinrude Lark 7 outboard motor. The boat is in good condition except the transom is a little soft. The motor runs good now but will need a tune up from sitting for a while. The hull is in very good condition with no accidents cracks or repairs.the floor is solid also.The boat is model #302402L. These are classic Evinrude boats and this one is well worth the small amount of work involved, It will buff up pretty good.

[added 07/03/2005]
---
Ski Lark
Spotted on eBay (item #4543356441) by Lee Shuster in April 2005.


[added 07/03/2005]
---
Clark Family Ski Lark
Phil,

Very nice job on the web site.

Here are some pictures of a 1964 14' Evinrude ski lark w/ original 40 hp big twin motor. My familiy's boat that was garaged all its life... Just sold it this week locally. Thought you might like the pics for the archives.

Jeffrey Clark
West Kingston, RI


[added 09/14/2005]
---
Glenn White's Skilark
"Just got the boat two weeks ago; I have the original 33hp motor but there is a 18 hp on it now. I'm looking for the original canopy."
[added 5/24/2008]
---
Ski Lark
Paul Devin who had been looking for a Ski Lark sent in this photo: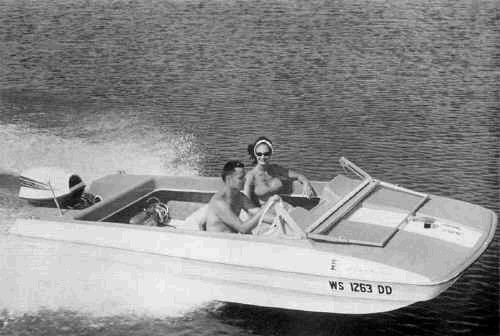 And here is the one he found!
Paul also owns a Playmate.
[added 05/18/2009]
---
Back to Gallery Index