Johnson Surfer Photo Gallery
The 19 foot Surfer was built from 1966 through 1970. The Evinrude version of the Surfer, the Dolphin was introduced in 1970.
---
Glindmeier family 1966 Johnson Surfer
Russ Glindmeier sent in this 1966 photo of his parents in their 1966 Johnson Surfer followed by a 1965 Evinrude Sports '16 cruising in the Lower Granite Gorge of the Grand Canyon in Arizona (reached by cruising up river from the upper end of Lake Mead).
[added 10/11/1999]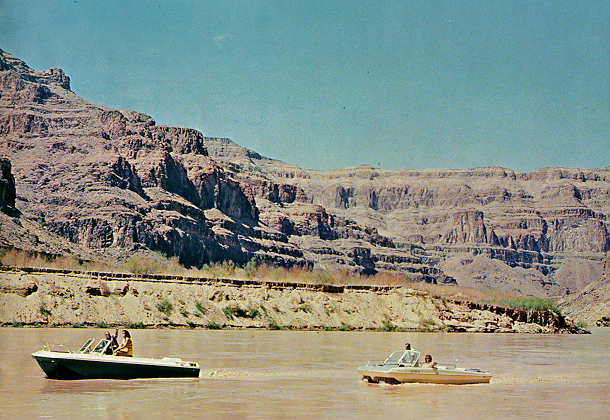 ---
The Robinson's 1967 Johnson Surfer 200HP
Matt Robinson and his father (of Dallas Texas) recently restored this 1967 19' Johnson Surfer with 200 HP Buick engine.
[added 6/7/2001]
---
Richard Hickey's 1967 Surfer 200HP
Richard Hickey from Indiana, just bought this 200HP 1967 Surfer (Model #444204T) at an auction; "it had been in a barn - covered up for 20 years and looks to be in great condition."
[added 10/24/2001]

---
Tucker's 1967 Johnson Sufer
Found it at a boat shop in 1991, they were getting it ready to send it to Lake Almanor to be put in storage. I got the name of the owner and convinced him that I needed the Johnson more than he did. He had had the boat stored for over ten years at that boat shop, had purchased it new for his family in 1967. After buying the boat, we used it several times over the years, and stored it for five years before moving to Lake County.
Boat has not been restored, no damaging holes made to mount electronics. Notice the hour meter close up, total hours that it has been used since new.
Harry & Joan Tucker
Photos taken 6/28/2002, Clearlake Oaks, Ca.
[added 7/3/2002]
---
Lee Hazen's 1970 Surfer 210
I've been a big fan of the Johnson Seasport and Surfer (and Dolphin) boats since l974 when I moved to Hendersonville, TN and bought a house adjacent to Old Hickory Lake. A neighbor had a l970 Johnson Seasport - dark green, and let me use it and I immediately fell in love with it and wanted one. Another neighbor had a light green 69 Seasport in a neighboring cove. In l979, I finally found a 69 Seasport in a cove up the lake from me in Mt. Juliet, Tn and bought it for $1,500.
The story goes on and on with me finding other Seasports for my friends and we ended up with a sort of "club" and would run together on the lake up to a little island we called "The sand Island" where the bottom was sandy - a great spot to visit, wash our boats and consume our favorite beverages.
Our group has moved on and the boats are gone as well, but that love for those wonderful boats continues. Recently, I drove by a duplex in town and sitting in front was a l970 Johnson Surfer on the original Johnson (bulldozer) trailer. The boat was all original with a few additions of a stereo and depth finder. I made and offer which was exactly what the owner wanted for the boat, and I brought it home behind my 1979 Olds Custom Cruiser Wagon with 403 cu in engine. I keep it just for this kind of towing.
Servicing the boat turned up a perplexing problem. The engine had 4 gallons of a thick honey consistancy mix of oil and water.. The previous owner had bought the boat about a year earlier and had been running the boat with this sludge in the engine.. It's obvious there is water getting into the oil - but WHERE? I'm suspecting the input manifold gasket as an Edelbrock intake manifold is mounted on the 307 V-8 engine. Both petcocks were tightly closed, but since the seller said he had run it about 3 hours a week earlier, I'm not sure if it was drained last winter or not. The freeze plugs look fine. Engine started up fine and idled evenly - for about 10 seconds - as I do not have a flush adaptor for water and didn't want to damage the impeller.
Outdrive oil was dirty in the lower unit, so I changed it. The intermediate and upper housings were full and clean. I greased the steering fittings as well. So, my present engine oil/water problem is all that's keeping me from putting this old classic in the water and going for a cruise.
Your site is incredible. I owe my friend a big THANK YOU for sending this site to me. Thanks MIKE !
[added 8/31/2003]
---
Maschke Family 1968 Johnson Surfer
My name is Neal Maschke and I would like to share photos of my 1968 Johnson Surfer (model 444205L). She is 19ft long and running a 283ci Chevy at 210hp. I purchased this sharp looking craft at a Wicsonsin benifit auction in 2002. She didnt have a battery and no one knows if she ran. The interior was not too bad how ever the seats was very worn and the carpet was very dirty and had to be replaced. So when I got her home she got an oil change and sparks plugs replaced and with a new battery she started right over but did noticed the water pump wasnt moving water so I opened it up and had lots of acorns jammed in. Cleaned it and put it back on. This summer I changes all the oil in the stern drive and took out the interior, now my idea was to buy the cheap seats from any marine store but at the last minuite I decided to have the seats redone, and boy did they come out really nice! The pictures you see is the boat as she still is a project in the works. Next summer I plan on getting her in the water for the first time.!

Enjoy,
Neal


[added 09/21/2005]
---
John Surwillo's 1967 Surfer
I just discovered your site. I thought I had the last surfer out there. These picture were taken July 15, 2007 on the Kankakee River, Wilmington IL. I am the third owner. I purchased it from a friend in 1984.

I had it serviced at Gunners in Chicago until he retired a few years ago. Now, with your help, I may be able to find someone close to take care of it.

John Surwillo


[added 07/31/2007]
---
Archie Bellows' 1967 Johnson Surfer
[NOTE: this boat is for sale as of 4/26/2008]

Thanks for all the info that you generate on this website, It sure was helpfull to me.

Archie Bellows
Interlochen Michigan


[added 09/19/2007]
---
Jumper Family 1968 Surfer
My name is Ed Jumper. My wife Joyce and I recently purchased a 1968 Johnson Surfer that needs some repair mostly to the figerglass hull and upholstery. The engine seems to be in good shape and the outboard unit too. I may need to replace the ball gears and pump impeller. I would like to ask if anyone knows a good source of parts for these boats..
Our goal is to fix up the boat and take it to the Mississippi River and do some river travel. We live in Kansas but my wife's sister and her husband live about 65 mile from Keokuk, Iowa. We go to the Mississippi on trips and have been wanting to boat on the river for some time. We hope this works.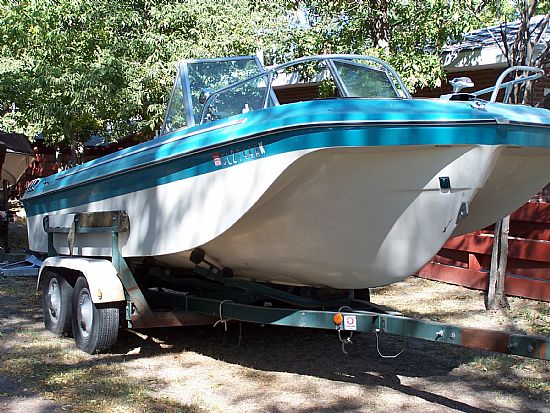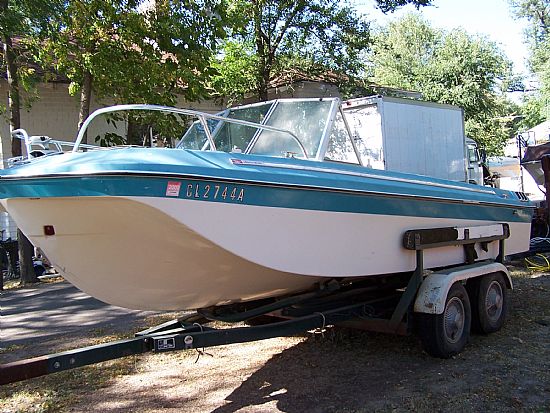 [added 12/13/2007]
---
1967 Johnson Surfer 200HP V-8
For over a year an old friend of the family has been after me to buy his boat. I'd driven by and looked at it with the cover on a few times and decided it wasn't for me. I thought it was kind of ugly. But this guy kept calling telling me to take the boat. Even when I told him I was laid off and couldn't afford a boat now, he told me to come get it so he didn't have to stick it in the mine for storage. So I finally went and took a look. I was shocked at the condition it was in for a 42 year old boat. Everything was all original. Motor purred smoothly.

I still thought it was ugly, but ugly in a sort of cool retro way. No offense to other owners. Ugly to me is a good thing. If that makes sense. I've since got it home and have really went over it. To my amazement, everything works. All lights, switches, blower, horn. Everything. No cracks in the seats. Only issue is the top is a little rough underneath. The seamstress has it now. This thing is in seriously good un-restored condition. This week I hope to take it out on the river for a test run. If it's all good and safe, it's off to Lake Erie next weekend. Thanks for this site and the mailing list. It's been valuable to gathering information about a boat where not much information is out there.

Owner: Justin DeSantis
Boat Name: Still deciding. Maybe "Papa Smurf" cause it's old and blue.
Location: Pittsburgh PA



[added 8/31/2009]
---
1967 Johnson Surfer
My brother Bill driving our 1967 Johnson Surfer. It was in our family between 1967 to 1981.

Owner: Mark Miller
Make: Johnson
Model: 19' Surfer
Year: 1967
Engine: V-8 200HP
Location: Lake Tenkiller, Oklahoma


(click on photo to enlarge)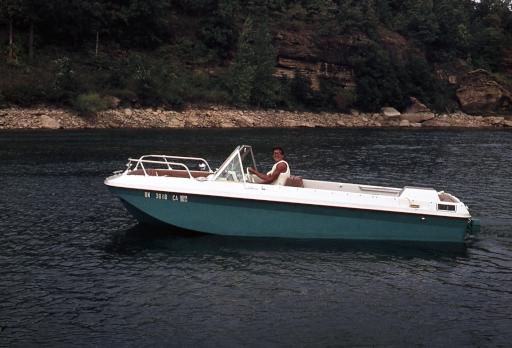 [added 1/7/2017]
---
Back to Gallery Index