OMC/Johnson 17 Photo Gallery
The original OMC boat. Sold by OMC in 1962 and 1963 (OMC 17, OMC 17 Dual Deluxe, OMC 17 Custom, OMC 17 Seasport and OMC 17 Deluxe) and from 1964 thru 1966 under the Johnson name (in "Tawny Beige", "Bimini Blue" and "Gulf Green").
---
The Spangler's 1965 Johnson Deluxe Runabout "Bat Boat"
Mike and Lisa Spangler's 1965 Johnson Deluxe Runabout "Bat Boat"
Clermont Chain of Lakes, Clermont Florida, May 1998! [added 9/6/1998]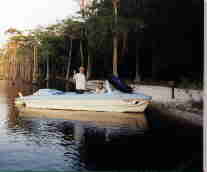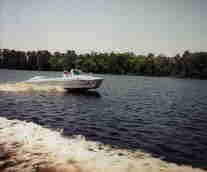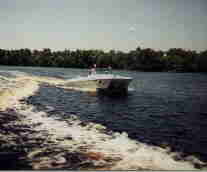 Information on a famous BatBoat.
---
Johnson SeaSport
Johnson SeaSport sighted by Jim Waley, Sept 1998. Crown Point NY. Owner "might sell it".


[added 9/10/1998]
---
Kershner family 1964 Johnson SeaSport
(click on photo to enlarge)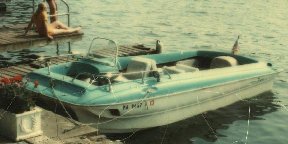 I came upon your OMC page a while back, its great! It brought back many memories of the 1964 Johnson my family owned while I was growing up. It had the windshield over the helm only. I learned to drive in that boat. It was powered by a V4, 88 horsepower motor. It was slow, 30 mph tops, and rode very hard in choppy water. But as a child it was great to sit in the front! As I remember it had a bad habit of stripping gears in the outdrive (that is what put it permanently on the trailer). We sold the boat in 1981 and I've never seen another like it since. I often wonder where that boat is today.
Doug Kershner
Adams Island
Allentown, PA
[added 2/21/1999]
---
The Masters' 1966 OMC Dual Deluxe
As of 2/9/2011 this boat is for sale.

Here is my 1966 (That's whats on the registration) OMC 17' Dual Deluxe. This baby has 2, countem' 2- 88 horse V4 2 stroke I/O's. I have researched Ken Cook, OMC, Johnson, the web, and have not been able to find any other information on this beauty. The ID plates give the engines as the DU-11C and DU-11R but the manual I got for them show an external oiling system. These have no such system. I found it sitting next to a auto repair garage, it said make an offer on the windsheild, it was filled with beer cans, had trees growing in it, but when he accepted $100 for it, on the trailer, I just had to have it. AND it will be on the water this year (2001).

Mike and Diana Masters
Buffalo NY 14227


[added 2/19/2001]
---
Timouthy Young's 1962 Johnson Meteor
Timouthy Young's 1962 Meteor SPEEDBOAT; "A unique 17-foot fiberglas hull designed to provide maximum performance without sacrificing comfort or stability. The unusual three-keeled hull employs a thin center fin hull between the two main hull sections, which are stepped like a racing hydroplane. The design, developed by the OMC design section, is the product of over two years' research, during which over 40 hulls were built, tested and rejected."
17' Johnson Tri-hull with a 90 horse Johnson Meteor Electramatic outboard.
Saved these photos from from www.timouth.com in 1999.
[added 7/20/2001]
---
1964 Johnson 150hp in England!
I have had this for 3 years, I found it in a farm in surrey, UK. I am about to take some time off and hope to change the Rover 3.5 to a 302 chev and see how she goes then. We use her in the English Channel and as for as i know is the only one around, as we always get asked about the maker from all the onlookers!
Ian in England
[updated 1/13/2003]
---
John and Cindy Hendren's 1963 OMC Deluxe
We recently acquired a 1963, 17ft. OMC 'Deluxe', and would like to share some pictures for your website (great website!). Being antique (wooden) boat advocates, we gave some serious thought over this very unique boat. We spotted her alongside a road just outside of Peterborough, Ontario (where we live), in June of this year.

After many visits, website searching, and discussions we now own our first "Fibre-classic." It was re-powered at some point with a 140 - 4 cyl, which is not original. The story we get from some ex-Outboard Marine Company employees (which was in Peterborough, Ont), is that some of these boats were brought back into the plant and re-powered with 140's at the factory for company executives. We believe this could be one of those boats. At this point, we're undecided whether or not to attempt to restore this motor, or to replace with a Merc stern-drive. As for the rest of the boat, she will need a full restoration, new canvas, upholstery, repairs to the fibre-glass and painting, etc. There is evidence of osmosis on the bottom, cracks in the gel-coat - so she will be a major project, but one thing is for sure - she is going to be a beauty when complete!

We also have it featured on the website of our local Antique Boat Club - it's a first "Antique Fibreglas" for us, the third one for our boat club! (see http://www.TrentSevernAntiqueBoats.com) Any advice, tips, comments or contacts would be greatly appreciated.

Love your website - keep up the good work!

Regards,
John and Cindy Hendren


[added 9/3/2003]
---
Brian Nelson's 1964 OMC 17' Deluxe 130HP
8/27/2004: My name is Brian Nelson and I just bought the boat pictured. I am the guy on the right.
The boat is a 1964 OMC 17' deluxe with a v4 130 HP engine. The boat has sat outdoors for about 6 years so it needs a little help. The engine and strendrive seem pretty solid. The seats need new bases but the vinyl is in good shape and there is the one hole in the hull which you can see in the picture. I am planning on replacing the roof next season.
(click on photo to enlarge)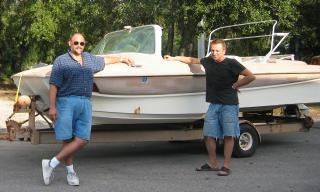 6/28/2005: Well I finally got the OMC 17' Deluxe on the water and it was a "not bad" experience. I mainly wanted to get it out and test the motor, the drive and see how it was getting it on and off the trailer. The trailering was pretty smooth and she started right up and ran pretty well, I had to adjust the timing a few times as I have not set it with the light and dwell meter. The fun part was I realized that the steering was set up backwards. Anyway as most of you know the first time in the water after a long project is pretty fulfilling and the sense of accomplishment is very rewarding. I am looking forward to a fun summer.

Thanks mostly to Lee Shuster and to all the rest of you that have offered suggestions and support. Link to my post on the fiberglassics site.


[added 06/28/2005]
---
Karl Harris' 1964 17' Johnson O/B Runabout with 1969 115hp Johnson
I've had it in the water one time, ran great. What a stable platform. I didn't run it too hard as I knew that I would be replaceing the transom. The boat had a lot of nics and dings on both the deck and the hull. The process so far has been a long, yet fun learning curve.

The first thing that happened, was while we were putting the boat onto blocks, the trailer fell apart. Lucky that we only tried to put it into the water once.

I then removed all of the hardware (I have since had it all sandblasted. I plan to putty and then paint all of the cleats/hardware with 60' era Johnson outboard motor white paint)

I removed the old rotten floor boards and then started chipping away at the firm, yet soaked foam. Most of the foam was in good condition, the reason that I removed it all, was that there were several holes in the hull and I needed to see what the real damage was. Here is a hint --- don't use a sawzall on the foam. You may just cut all the way through the bottom of the hull like I did!

I purchased two 5 gallon buckets of liquid foam from a company in Tacoma. It is a two part system, measured out equally. When poured together, you only have about 1 minute to mix it and pour it in place before it starts expanding. I dosen't go in very evenly. I ended up useing a had saw and an electric sander to even it out. One thing that worked alittle, was to tape wax paper onto a board and then place the board over the foam as it raised. This seamed to even the foam out somewhat.

I then cut and placed the front 3/4 of the floor boards back into the boat, and fiberglass taped the edges. Then I cut most of the splash well out and was lucky to get all of the wooden transom out in one piece. I used it as a template and made a new fiberglass sandwich out of (4) 1/4 inch a/c plywood (not many voids) that was painted with preservitive, 3 layers of fiberglass cloth and lots of screws.

Put the transom back in, along with the rest of the floor and then put down a layer of fiberglass cloth and two coats of resin on the floor.

Now, I am to the point of filling in cosmetic dents, holes and scratches. I do need to fix this strut problem. Today, I thought about just cutting off the strut at the base and then reattaching it to a new piece of fiberglassed wood and drilling a hole through the problem area of the hull to inject resin.

I would like some input on painting. What have others done. I would like to keep the 1960' era blue.


[added 08/10/2006]

Photos of work replacing the transom:


[added 09/15/2006]
---
Darcey Matalski's Deluxe
In Alberta, Canada:


[added 08/30/2006]
---
Joe Wittman's 1964 Deluxe
Love the site. I just picked up a Deluxe 16 1964 v-6 Johnson. I have the original owner's manual, and bought the boat from the 2nd owner. The original owner stopped by to confirm one day when he saw it sitting in the driveway.

She has been garage kept for the last 42 years! All original seats, interior panels, even canvass. To make sure she was ready to go I had the stern drive re-sealed (which it needed) the carb re-built, (which it needed), the fuel delivery system cleaned out (also needed) and lastly the fuel tank got an acid bath to clean it out (which it really needed). A Marine Survey confirmed my feelings about buying her as soon as I saw her. She has a good bill of health, and I will be trying to get her back to "as new" condition. I just need a port side nav light!

The windshield still operates, horn is good, and the original canvass is old but still works well. Rides like a dream and handles well. We spent 7 hours on her yesterday tubing and skiing. She is a really fun boat, so I figured I would send in some pictures.

Joe Wittman
Middletown, Ohio


[added 09/15/2006]
---
Jeff Dood's 1965 Deluxe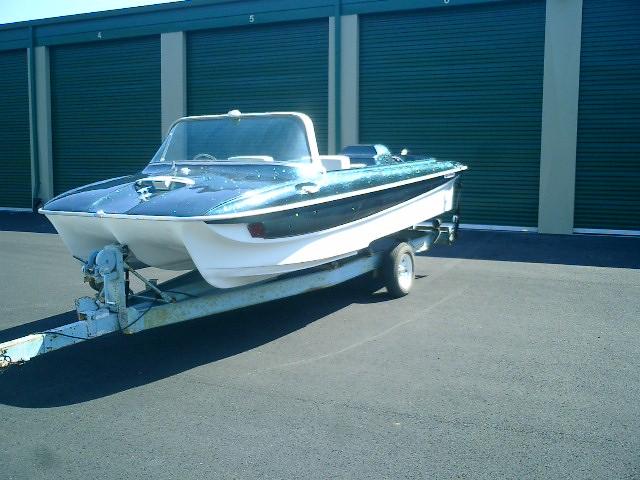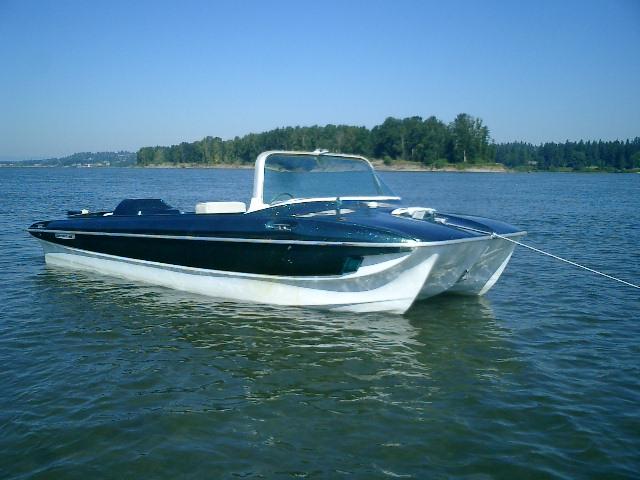 [added 9/25/2006, updated 4/20/2010]
---
Gary Stiebers 1966 17' OMC Deluxe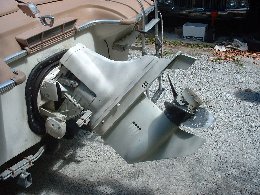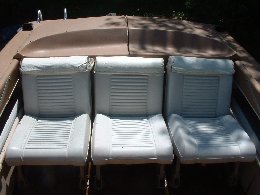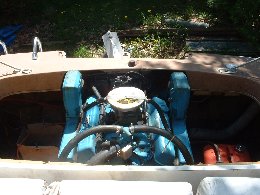 [added 12/04/2007]
---
1964 OMC17 Deluxe
Has a 1973 140HP 4 Cyl Chevy for power. Power windshield. Tandem trailer. Still using it occasionally, but it needs work on the upholstery, top, paint, etc.
[added 05/12/2008]
---
Randal H's 1964 Runabout Sundreamer
Here are some pics of my baby.

Model name: OMC 1700 Outboard Runabout (with 1969 Johnson 85HP outboard)
Model year: 1964
Model number: 101301E
Serial number: 2034
Her name: Sundreamer
Home port: Tucson, Arizona (drydock)


Photo date & location: 9/11/2008 as I saw her first in Tucson, Az. How you got the boat: Found it on craigslist. Was listed for $800. I talked him down to $500...what a steal!


[added 10/13/2008]
---
Shawn & Melodies' 1966 Johnson Deluxe
[webmaster: A gorgeous boat! I couldn't pick just a few photos!]
[added 03/07/2009]
---
Rob and Julia's 1964 Johnson Deluxe V6
I began looking for a boat to match my 1964 Buick skylark (white and blue) and what a better boat than Buick powered 1964 Deluxe. I eventually found the right boat, just located 5 states away. It was very complete but needed restored. The photos shown are the result of more than a years work. Painted close to original blue. Not sure I'm ready to tackle another one, but it was fun. Had alot to learn about the OMC's. These photos were taken 2 years ago on Torch Lake in northern Michigan on its first voyage in water in 17 years. My 4 year old daughter is pictured with boat. I also now have a 67 sportsman 155.

Owner: Robert and Julia Langdon
Engine: V-6 150HP
Location: Fenton, Michigan
Model number: 121301E
Hull serial number: I-2913


[added 5/17/2009]
---
Matthieu Huglo's 1964 OMC 17 Custom in Nice, France
Looking for information to repair an OMC 17. The boat has to be repaired but I need some pictures or information about the voltage for the windscreen wiper. Thanks for your help.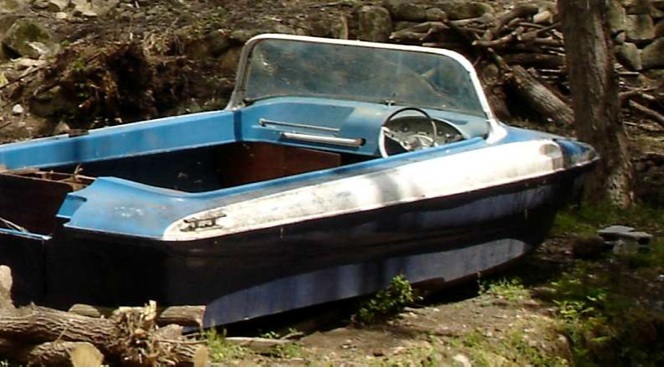 [added 5/18/2009]
---
Dana Tomkins' 1964 Johnson Deluxe
I picked this boat up from the original owner. He is 88 years old. He wanted it to go to a good home. He thought of this boat as one of his children and had a hard time parting with it. I told him that I would cherish it, and I will. I have had it for about two weeks and have worked on it every day, sanding, buffing, general clean-up, and some mechanic work too. Still have to get the gauges working and some other minor stuff, but had it out today for the first time and it handled the Hudson river beautifully.

Owner: Dana Tompkins
Engine: V-6 155HP
Location: Poughkeepsie, NY
Model number: 121201E
Hull serial number: I-3750


[added 10/4/2010]
---
196? 17' "Bat Boat"
A friend I worked with said his dad had an old boat for sale and since I have had an odd boat in the past (Fageol a 4 stroke vertical inboard) I thought I would give this A try. This is a heavy boat and has a lot of power and speed. I bought it in 1995 and sold it to my dad in 1998. He died in 2000, I bought it back and still have it. Have had a great deal of fun, skiing, tubing & fishing. Can't believe something so old works so good. Windshield works, all lights and most Guages.

Owner: Jim Bryant
Make: Johnson
Model: 17' Deluxe
Engine: V-6 155HP
Location: Brighton, Ontario Canada.

(click on photos to enlarge)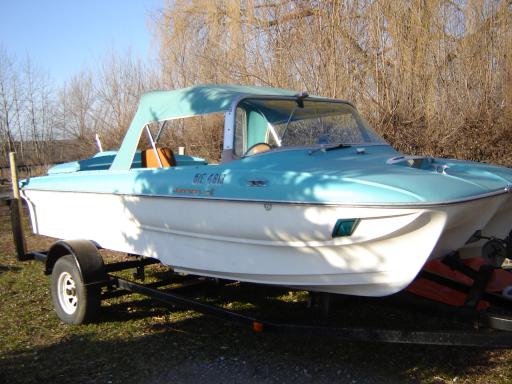 Ready to go.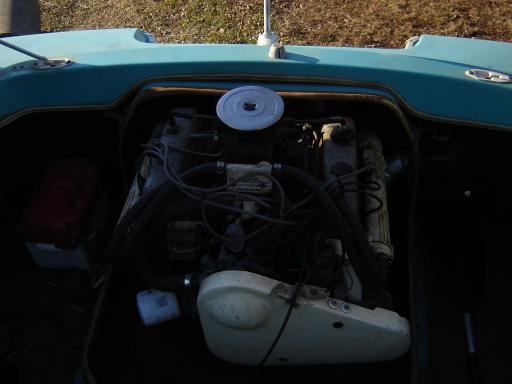 6 pack of power.


[added 2/3/2011]
---
Johnson deluxe 17' in Holland!!
We've bought this boat in the city of Leiden. Dutch town with canals and lakes nearby. The boat was devastated and we had to put hundredths of manhours work into it.

Unfortunately it misses some original parts like the windscreen, inboard motor and dashboard but we've repair and modified it quit well. We build in music and lights and installed car seats into it.

It has an outboard 9.9 HP motor attached to it so it won't be able to plane. But because we mostly use it to go through the canals of medieval Dutch city's like Utrecht and Amsterdam we don't have to

Owner: Michiel van Oostrum & Matthias Alberts
Boat Name: Second Nature
Make: Johnson
Model: 17' Deluxe
Engine: Outboard
Location: Utrecht, The Netherlands
Model number: Comes later
Hull serial number: Comes later



[added 3/6/2012]
---
Dr. Volt's 1965 Johnson Deluxe 150HP
Here is the vessel I have been working on for the last year and a half. I just got it going this week. My father bought this boat new in 1965. It is a Johnson Deluxe 17. It has the 150 hp V-6 with the OMC "Electramatic" electric shift stern drive.

This is a very well built, well engineered boat. All aspects, including the trailer are custom engineered by OMC, not assembled at a dealership. Stainless fittings are used throughout.

Notice in the picture of the instruments, the windshield is tilted upward. There is an electric motor that raises and lowers the "wrap around" windshield (which is made of real tinted glass, not plastic).

The engine is very quiet because it has a gasketed engine box. The engine and outdrive float on rubber mounts and the outdrive pushes the boat via the motor mounts, not the transom.

The tri-hull design handles really great. It corners level and tracks true. It has a step in the hull like a hydroplane. When stopped, all the passengers can move to one side and it does not tip to that side. It does ride a bit rough in big waves, but you just slow down and you can go safely in very rough water. The steering on the wonderful OMC outdrive sweeps 90 degrees, and at idle the boat will pivot about its own center.

It ran well for years, many many people learned how to water ski behind it. Then it was neglected for the last 8 years. I went through it and got it going again. Primarily I cleaned the fuel system and relubricated everything.

I replaced the outdrive tilt motor, the tilt shaft, and the worm gear. I am still having problems with it not tilting up every time I think I need to replace the bronze bushings on the tilt shaft. When the tilt gears are disconnected, you can lift the outdrive up and down by hand, so the pivots are ok.

The OMC electric shift gets a lot of bad-mouthing, but it has worked well on this boat. We were always careful to use the right kind of oil in the shifter and I'm sure that helped. It has an oil pump in the outdrive and that helps, too. The electric shift allows the throttle lever to work much more smoothly than a mechanical system. This, and the 90 degree steering makes docking maneuvers easy.

We took it to the marina and it drew a crowd. It gets thumbs up from the cognoscenti on the water.

Owner: Dr. Volts
Make: Johnson
Model: 17' Deluxe
Year: 1965
Engine: V-6 150HP
Location: Charlotte, NC


(click on photos to enlarge)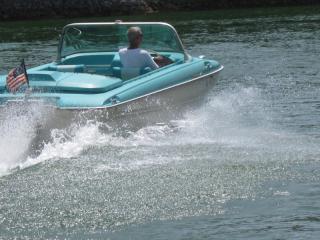 Stern View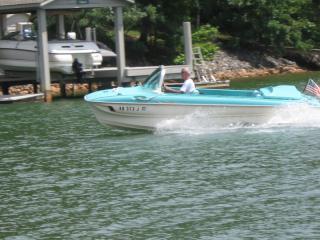 At Speed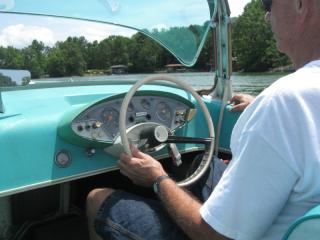 Instruments


[added 8/24/2012]
---
1963 OMC 17' Deluxe
I'd purchased this boat May 2012. I seen this boat and I know that it would be the one for me. I will be launching this boat at the end of July 2014. If things goes as well as I think it will. I will be try to do a full restore.

Owner: Gordon White
Make: OMC
Model: 17' Deluxe
Year: 1963
Engine: I-4 120HP
Location: Victoria B.C. Canada
Model number: C10152



[added 7/8/2014]
---
1964 Johnson Deluxe Resto-Mod Chevy 327 with 800 Series Stringer
I purchased my Deluxe in 2012 and spent 2.5 years rebuilding her. I added a 300HP Chevy 327 and 800 series stringer. still have more work before she in finished. Feel free to contact me at andrewandwilla@hotmail.com it you want to chat about these old boats.

Owner: Andrew Gleason
Boat Name: "Minnow Bucket"
Make: Johnson
Model: 17' Deluxe
Year: 1964
Engine: V-8
Location: Easley, SC
Model number: 121201E
Hull serial number: I-3461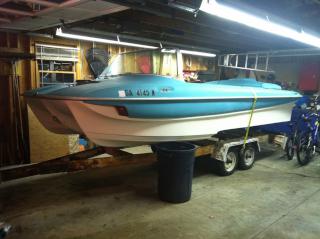 The day I brought her home...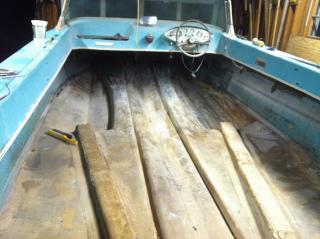 Deck and wet foam removed...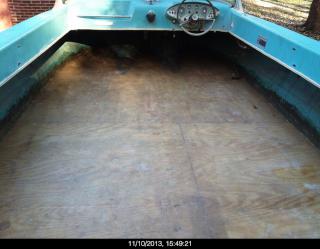 New deck and foam completed...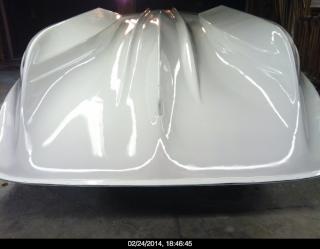 Bottom painted...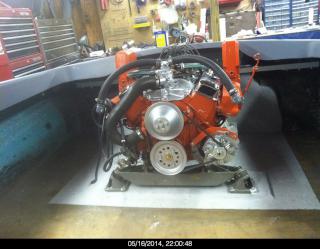 Engine mounted...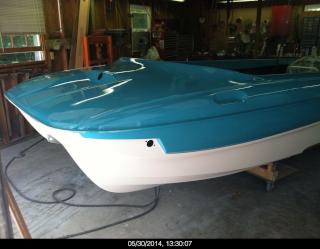 Topside painted...
Launch day...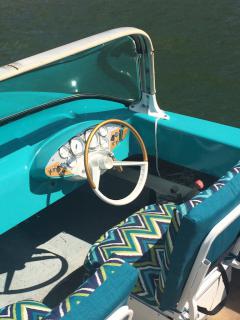 Front seats, dash, steering wheel


[added 4/21/2015]
---
1964 Johnson Deluxe Chevy 327 800 Series Drive
Pictures of my custom 1964 Johnson Deluxe with a 327 Chevy and 800 series outdrive.

Owner: Andrew Gleason
Boat Name: Ghetto Galley
Make: Johnson
Model: 17' Deluxe
Year: 1964
Engine: Other
Location: Easley, SC
Model number: 121201E
Hull serial number: I-3461



[added 7/15/2018]
---
1965 Johnson Deluxe 6/15/2015
Well the boat was brought into the family not long after I was. My grandfather purchased it not long after I was born (1990). We spent a lot of time in this boat over the summers. Till life happened, and it got stored out at the farm. It sat out there from about 03 to 08 when I rescued it. I have gotten the carbs rebuilt, new carpet(which I need to replace again), new fuel pump, water pump.

But there is still a lot I need to do to get her seaworthy again.

For one, the main big problem, she is not taking water into the engine. The summer before last I rebuilt the lower unit, replaced the impeller to no avail.

I am in need of a few odd parts, as well as expertise on these boats. I love her with all my heart, and want to get her on the water again.

Make: Johnson
Model: 17' Deluxe
Year: 1965
Engine: I-4 120HP
Contact: damienfish08(at)gmail.com
Location: Eureka SD
Model number: 131302L
Hull serial number: 4782

---
Vintage first year production 1962 OMC 17 Deluxe
A time capsule for sure and back in service this year, was a great summer project. I think she is just gorgeous.

Owner: Paul Brabant
Boat Name: The Jetsons
Make: OMC
Model: 17' Deluxe
Year: 1962
Engine: V-4 80HP
Location: Deep River , Ontario , Canada.
Model number: 9750015
Hull serial number: C10003



[added 8/21/2015]
---
1966 Johnson spotted and purchased 6/18/17
Found this beauty on a local website listed for $1 or make offer. Offered $100 and brought her home the same day. He must have loved her and now I do too. Runs beautifully first family outing in a few days.

Owner: Michael Covarrubias
Make: Johnson
Model: 16' Reveler
Year: 1966
Engine: V-6
Location: Riverside, ca



[added 6/19/2017]
---
1963 OMC Dual Deluxe
I picked up this 1963 Dual Deluxe to restore eventually and also a 1964 Johnson single engine for parts. Does anyone have a trailer with the original data plate? They are missing on both of my trailers. I don't know if there are any OMC archives where I could find out the info on the trailer that was sold with the boat? A long shot I am sure but maybe someone has a scrap trailer that they could sell a data plate from? I need them for both a 1963 OMC 975600R 17' and a 1964 Johnson 975696E 17'. Even pictures would be a great help! Thanks!

Owner: Bob Standley
Make: OMC
Model: 17' Dual Deluxe
Year: 1963
Engine: V-4 88HP
Location: Seattle, WA
Model number: 975402R
Hull serial number: 1078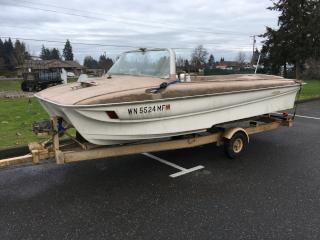 1964 parts boat


[added 3/7/2019]
---
1964 OMC Deluxe - 383 SBC and Dominator Jet Drive Conversion
Found in a barn and wanted to make the ultimate head turner. Completely gutted and rebuilt with Berkeley/Dominator Jet Drive and a built 383 GM Small Block. Custom Built Hot-Rod inspired tuck and roll interior and Sun deck. 16oz of Orange Metal Flake over Hemi Orange paint Boat will do 55mph before overpowering the hull while throwing a 130ft. rooster tail. Head turning mission accomplished!

Owner: Jeff Garner
Boat Name: Old's Cool
Make: OMC
Model: 17' Deluxe
Year: 1964
Engine: V-8
Location: Crystal Lake, Ontario, Canada
Hull serial number: Unknown



[added 9/15/2019]
---
Johnson deluxe 1965
I just got this johnson from a professional. The boat has been abandoned for decades. I plan to do a full restoration by next year. The boat is very damaged. The boat no longer has any equipment. There's just the hull and the engine covers. No engine, no dashboard, no seats, no original steering wheel, so a big job. Fortunately the windscreen is still there and the glass has been removed to avoid a breakage problem.

Owner: EVB
Make: Johnson
Model: 16' Deluxe
Year: 1965
Engine: V-6 155HP
Location: FRANCE



[added 5/19/2020]
---
After decades, out of the garage!
A chance encounter while boating in my 1964 Evinrude "Sweet Thang" on the Columbia River in Astoria, Oregon introduced me to Pete. Turns out he had a 1964 Johnson 17 Deluxe - and it had been in storage for nearly 25 years. Pete had bought it in San Diego from the original owner and had never had it in the water. Of course, I had to go see this boat. It was all original - no holes cut in the dash for an 8-track player; no fishing rod holders, no real damage! Long story short, Pete wanted me to have it - with the promise I'd clean it up and get it in the water. And so, here's where it begins...

Owner: Mike Davies
Boat Name: Lil' Dude
Make: Johnson
Model: 17' Deluxe
Year: 1964
Engine: V-4 88HP
Location: Seaside, Oregon, USA
Model number: 111201T
Hull serial number: I-2723


(click on photos to enlarge)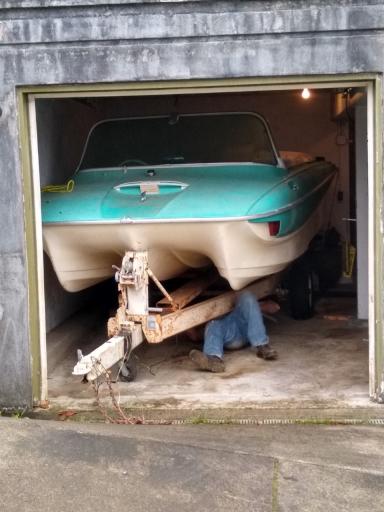 After decades, out of the garage!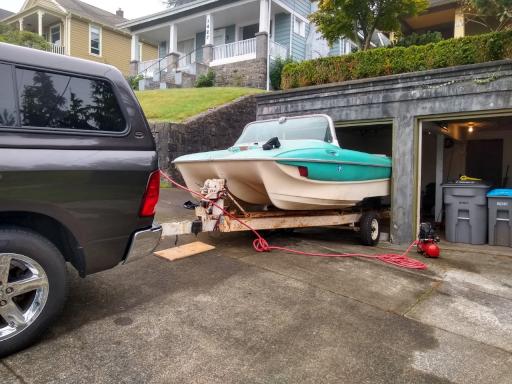 Out of the garage - barely an inch!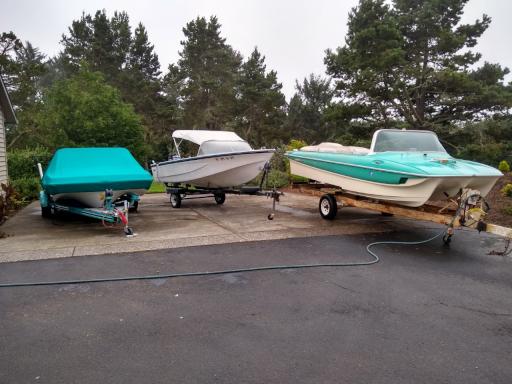 Join the fleet!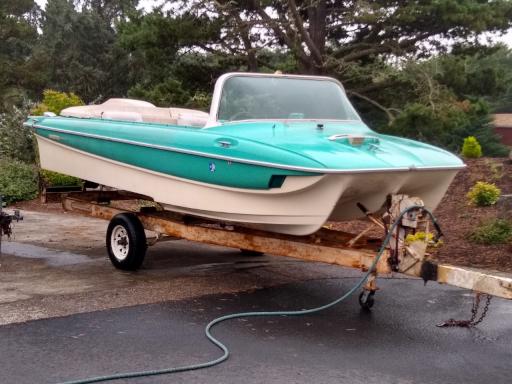 First wash in decades!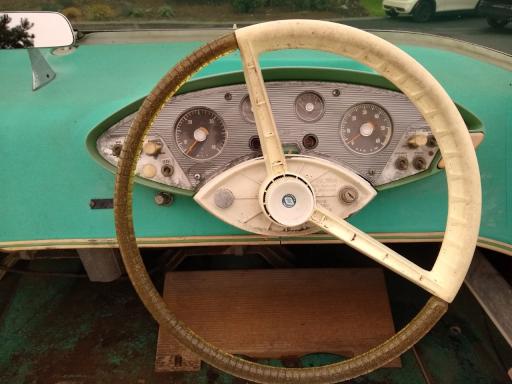 No dash alterations!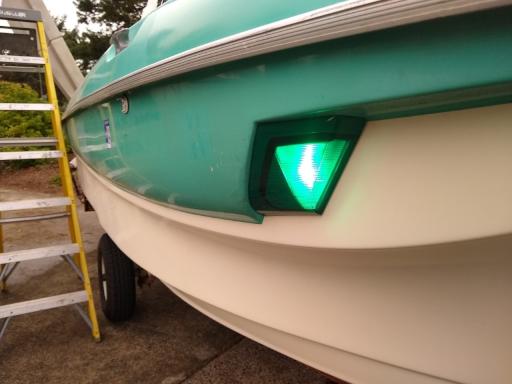 New battery - lights on!
Original under seat life preservers!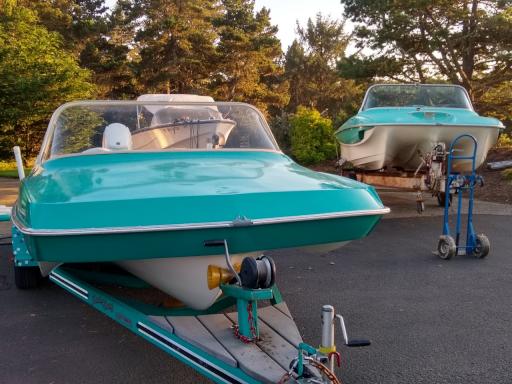 OMC twins - from different mothers!


[added 10/11/2020]
---
Corvera
Owner: EVB
Boat Name: Corvera
Make: Johnson
Model: 17' SeaSport
Year: 1964
Engine: V-6 155HP
Location: France!



[added 3/16/2021]
---
EVB's 1965 Johnson Deluxe (en France!)
Out of garage....There will be work to fix it up!

Owner: EVB
Make: Johnson
Model: 17' Deluxe
Year: 1965
Location: France!
Model number: 121202?
Hull serial number: I-4209



[added 7/24/2021]
---
17' Deluxe with Mercruiser
submitted by EVB

Owner: Julien
Make: Johnson
Model: 17' Deluxe
Location: French Atlantic coast



[added 7/31/2021]
---
Second 17' Deluxe with Mercruiser
submitted by EVB

Owner: Julien
Make: Johnson
Model: 17' Deluxe
Location: French Atlantic coast



[added 7/31/2021]
---
1963 OMC Deluxe in Antibes France
OMC 3.0l 140 hp (1990's GM?)

via EVB.

Owner: Andr�
Make: OMC
Model: 17' Deluxe
Year: 1963
Engine: I-4
Location: Antibes (France)



[added 8/11/2021]
---
Back to Gallery Index