OMC Boats For Sale (2006)
The following boats have been reported as for sale. Nothing more has been confirmed. Dated information has been left in place for reference.
To post or update an ad here, send mail to omc+forsale01@ultimate.com.
Please send ad text as you would like it to appear. Remember to include geographical location and contact information!!
---
1970 (1968?) Sportsman 155 12/29/2006
1970 (1968?) Sportsman 155 with V-6, new motor, with approx 15 hours use. Sat for a while from previous owner so I bought new silicone plug wires, cap, rotor, points, misc. new Cabela seats but have original seat frames and the top bows are all complete. Evinrude tilt trailer.
Asking: $1200
Location: Near Dubuque, Iowa
Contact: Tim Miller 319-327-0006
---
1965 17' Deluxe w/150HP Inboard/Outboard 11/30/2006
This is a 65 17' Deluxe With OMC Outboard and Chrysler 150-HP V6 Engine. Motor runs GREAT! Needs a new interior. Has all hardware, new red bimini top, small hull repair (non load bearing, small patch). The electric windshield works, needs greasing, needs new trim motor goes down fine need to give a little help going up, available from eBay for about $80. Has extra large fuel tank installed. Engine is in excellent shape and has been maintained well. Has original trailer in good shape.
I'm not sure what to ask for it, let's start at $1200 or best offer.
Location: Cottonwood, AZ
Contact: 928-634-0047 or email: omc4sale(at)nx-01.us
---
1969 Johnson Reveler 155 HP 11/16/2006
Boat is in good condition. The motor runs but is not pumping water. Includes original trailer. One owner.
Asking: $1,000 OBO.
Location: Vermont
Contact: Sharon at (802) 479-0388 or send email to Sharon(at)babycangotoo.com.
---
1966 Sportsman Parts 10/31/2006
Combination Bilge Blower/Pump, rebuildable condition. Misc gauges, steering parts, including wheel.
Lee Shuster
801.585.5552
lee.shuster(at)utah.edu
---
1966 Evinrude 19' 200hp I/O boat 9/28/2006
Boat is a gullwing tri-hull design. Very stable at speed and planes well while having a shallow draft. Has a 200hp 300ci buick V-8 motor. runs great, had a miss/backfire at 5,000 rpm so i unbolted the intake and ran out of money/time. Would pull 2 skiers at 1 time with 5 people in boat. Original trailer with new axle. towed it just fine with my 98 s-10. Needs a little TLC. Pictures on request.
I paid $1200 for it but the wife say it has to leave our driveway NOW so i will sacrifice it for $900 and will deliver it for up to 125 miles from Chico,CA
Contact: ccpanel(at)yahoo.com
Location: Chico,CA 95926
---
1969 Evinrude Explorer V6 08/31/2006
V6 - IO all original and in excellent condition. Was stored inside year round. I am interested in selling it to the right person. Someone that would appreciate her value and worth.
Contact: Lance Lewandowski 715-543-8087
Location: Manitowish Waters, WI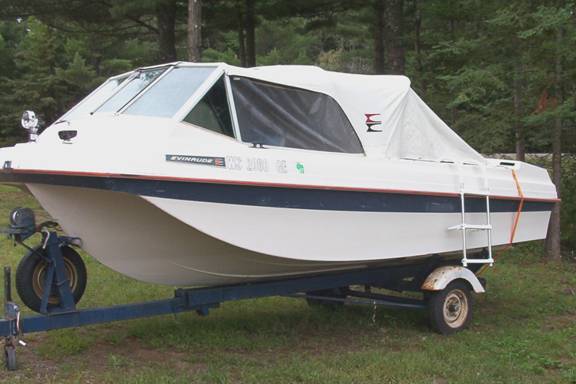 ---
1965 Johnson Deluxe 150HP 8/24/2006 (SOLD)
Johnson 1965 Runabout 17ft. deluxe. OMC 150 hp stern drive. Model #121202L, Serial #I-4366. Buick 6 cylinder, 1800 lbs, 8 person. The boat became a mom and son project. Had it for 3yrs. Runs great down the river. Has the original dual axle boat trailer.
The boat has all six side compartments, replaced the seats not like the original. Used the sit frame's for the new seats. Kept the torn seats. lights work on the boat. Has the wiper arm. Needs the motor. Rebuilt the carburetor, replaced a coil. The engine doesn't burn oil. Replaced the stern last year from an woody boat that took the same omc motor. The boat has a service manual.
Turns heads in the water or sitting out in the yard.
---
1963 OMC 17 Dual Deluxe 8/24/2006 (SOLD)
Very rare first year issue for the dual. Boat needs full restoration. origional du v4 engines intact turn over with compression. Original outdrives intact, some chips in propellers and one scag on the outdrive units.
Hull in good condition no rot inside, one small gash near the front hook. Interior needs full restoration. Needs new windshield. This boat will be the talk of the lake and there are only a handful of these duals remaining. Get your fiberclassic now!
Color: Bimini Blue
Asking: $1000
---
Evinrude Explorer 8/10/2006
This boat was used almost all of her life in the upper mid west where she was meticulously maintained and always garaged between use. A little over two years ago she came to western NJ and was used very little on the lakes and rivers in PA and NJ, a number of months ago I came into her ownership and are currently looking to sell her to a deserving collector. I have never had her in the water and to the best of our knowledge she has never been in salt water. Take a close look at all the pics and you will agree she is nearly a perfect showroom example.
Boat: The boat has two forward Evinrude seats which are in very good (only some signs of fading) condition. There is a large open cockpit space behind the forward seats followed by the engine box with jump seats on each side. The only interior issue I can find is that the original floor covering appears to have shrunk and there is a 1/2 inck space betwwen the floor and cockpit sides that are not covered with the vinyl floor covering. The interior of the boat is definitely a 9 out of 10 and would be a 10 if it were not for the floor covering issue.
As you can see in the pics the vessel also has it's original Evinrude factory canvas top, side curtains, and back drop. These items are in excellent condition and the top still has the care instructions sewn in the zipper. There is also a custom made mooring cover of green duck canvas which needs some attention, probably a 5 out of 10 but a great pattern.
There is a spinner type depth indicator which is true to the year of the boat mounted between the forward seats. I am not sure in this depth finder works but the transducer is in place and it is all there.
The boat has no major hull damage, and is in nearly excellent condition throughout. The only hull flaw I can find is some gel coat chipping on the lifting strakes on the hull. It appears this gel coat damage is the result of an attempted loading when not centered on the trailer. There is no significant fading and all the decals and identification signs are in palce and unbroken.
Motor: The motor the original 155 hp Evinrude (Buick) V6 inboard/outboard. The motor was last serviced in the fall when put up for the winter at which time it ran great. It was reported that the engine had been extensively gone over before it was shipped to NJ. We have no records to back this up but given the condition of the motor it is not hard to believe. The outdrive still has the original Evinrude blue paint on it and shows no signs of past or current damage. The engine has not been started this year and we do not pan on running her here in salt water before her sale.
Trailer: The trailer is the original Evinrude trailer and is in great condition. The appearance is very good with all the original decals (including tire pressure on the fenders) with a bit of surface rust but structurally the trailer is solid. The trailer features torsion axels with a hydralc braking systen and has a chrome Evinrude hub cap (unfortunatley the other is missing). The trailer is setting on it's original tires which made the 70 mile trip to our my garage but I wiuld consider new tires or putting her up on a car trailer for any extended travel.
I am asking $3250.00 for the boat but will entertain serious offers.
Location: Southern Coastal NJ.
Contact: Steve: sfmoser (at) comcast.net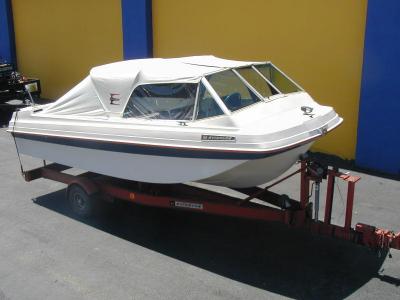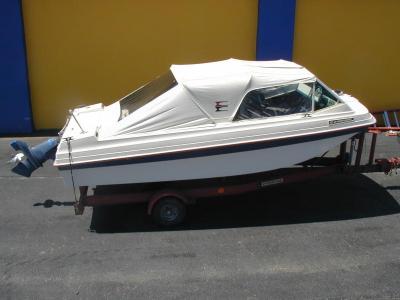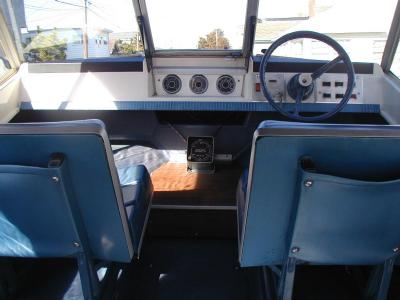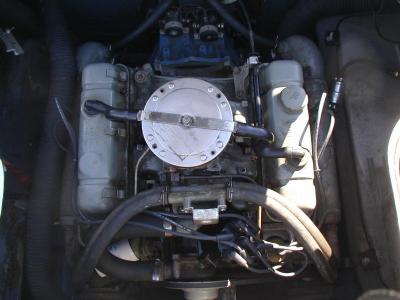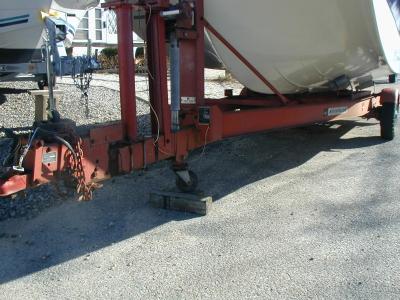 ---
Johnson SeaSport 17' 120HP 8/6/2006
Original trailer, runs good, low hours on 120 hp engine.
Contact: radostats1 (at) aol.com
Location: Unknown
---
Johnson/OMC 17' trailer 7/26/2006
Original factory trailer for Johnson Deluxe. $350.
Location: Prescott Valley (Central) Arizona.
Contact: Ed Berns ebbco2002 (at) Yahoo.com
---
OMC Dual Deluxe 7/26/2006 (SOLD)
I have come to the realization that I have way more projects than time so I am moving some stuff out. This Dual Deluxe REALLY needs someone who will do her up right, I got it out og upstate NY a number of years ago but have never gottm to do anything with her. Those of you who know OMC boats this is a RARE boat and should not be wasting away any longer.
She will need interior or upholstry type work as well as cosmetics and mechanical. The twin DU motors are in place as are the drive units. The gauge assembly (special to the Dual Deluxe) is also in place and in good condition. You are buying a bare hull woth hardware and mechanicals but will be the talk of the lake when finished. More pics available to serious parties.
---
1964 Johnson Deluxe 7/10/2006
Needs TLC inside and out. Needs motor: the old v6 155hp is there but in pieces. Has the original trailer with I beam const tilt. $1000.00 or best offer.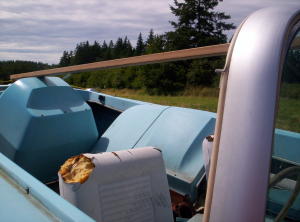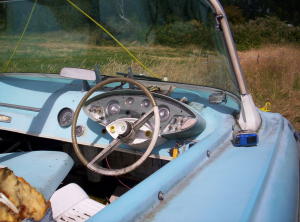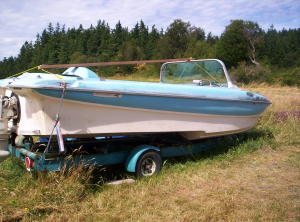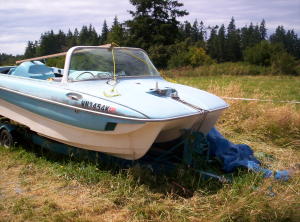 Location: camano washington (near seattle)
Call: 425-387-4581
---
1968 Sportsman 155 6/22/2006 (SOLD)
I have owned this 1968 16' Sportsman 155 for 5 years. It is a great boat and all original, as you can see from the pictures. I am only the 3rd owner. It starts very quickly and is a strong runner. The engine is a GM V-6. It has the original Evinrude trailer which is extremely rare! It has been stored inside all of its life. My reason for selling is that I simply have too many toys. It has been in the water every summer I have owned it. I have kept it on a lift so the bottom is clean with no stains. It has a full cover and the top is original, and includes the original clear side curtains and back-drop.
---
Sweet '16 with 115hp Outboard 6/16/2006 (SOLD)
I used this boat for the last four seasons. The motor is an Evinrude 115 hp Starflight model 115499B which is a 1974. This motor is in very good condition and has been nothing but reliable 100% of the time. The boat is solid, naturally the seats could be redone as well as the canvas. The trailer hauls very nicely.
New windscreen two years ago, New floor carpet as well This year the electic motor on tilt and trim does not work, started to be sporadic last year. Prop was stolen had 13.25 by 21 in pitch If your e-mail can accept large file up to 10 meg I have vids I can email to you with other pics.
(click on photos to enlarge)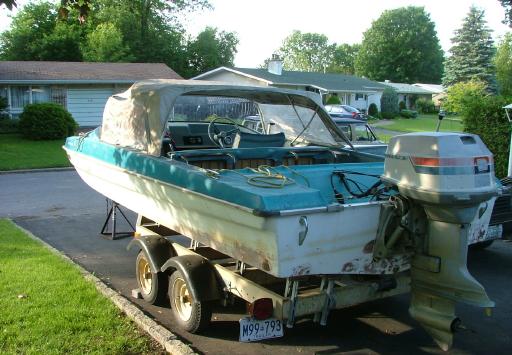 ---
Chevy V-8 350ci 225hp Engine 5/26/2006
I have a OMC/Chevrolet 350 Cubic Inch 225 HP engine that I pulled out of a boat. My 307 runs fine and I don't anticipate ever having any problems. What I was after was the 22/16 OMC outdrive in case I ever need it for my 1970 Surfer. I ran the engine and winterized it prior to pulling it out of the boat. I'm asking just $300.00 for the engine. So if you need an engine, here's you chance. A small block Chev is a small block Chev and it would work in place of a 307 if so desired so if you have a bad 307 this would be the way to go. My phone number is 218-327-1506 up in northern Minnesota so of course never any salt water and also somewhat short boating season so the engine isn't all worn out.
Location: Minnesota
Contact: John Webber 218-327-1506
---
1965 Evinrude Playmate 04/30/2006 (SOLD)
After being owner of this spectacular boat for over 11 years, I finally have come to the difficult decision to find a new owner / home for it. In 1995, while driving home from work, I spotted this boat for sale in a grocery store parking lot. It really caught my eye due to the unique stylish design. I immediately called the seller and arranged a meeting to take a look at it.
When I first inspected the boat, needless to say, I was less than impressed with the condition. There was dirt and oil in the engine compartment, numerous missing parts, a rough running engine, and a complete lack of any owner history. The seller was offering the boat and trailer for $1,800. I made an offer for $1,400 and he accepted with no questions. At the time, I had no idea how special and collectible this boat was. I later learned that the 1965 Evinrude Playmate was marketed to the "sporty" Corvette buying consumer of the early 60's. It originally listed for sale in 1965 for $2,995.
Over the course of about three years, I spent a lot of my spare time cleaning and doing limited restorations to the boat. After using it for the summer boating season in 1998, I garaged the boat and have not launched it since.
A few years ago, during a visit from one of my son's classmates father, I showed him the boat in the garage and he could not believe his eyes. He noticed that the boat had a chrome tag from Grand Lake Marina in Grand Lake, Colorado. He immediately asked me if I knew anything about the history of the boat. I told him how I became the owner and had no idea about its history. He then began to tell me about how in the late 1960's, he attended summer camp at Grand Lake and that this boat was used to teach kids how to water ski at camp. He remembered how special the boat was and how the 90 hp I/O would really get up and go! He also mentioned that this boat was really special to him because he kissed a girl for the first time in it! I guess that's why they called it a "Playmate"!
The engine still runs but needs some "TLC" to get it back in good form. The interior is very clean but needs some restoration to the gauges and fixtures. The exterior has some minor body damage that has been patched, but no leaks. At this time, I am asking $1,500 for the boat and trailer.
(BOAT HAS BEEN SOLD)
---
1965 Johnson Seasport V-6 4/3/2006 SOLD ($1500)
We are selling a 1965 Johnson Seasport, pictures attached. We are the second owners of this boat (we bought from the original owner 2 years ago).
The boat is in great condition. The boat has been garaged for its entire life and has had annual servicing each year. The boat has never seen salt water. The boat comes with the original cover and the original winter cap (covering for boat with windows, I guess it is used for driving the boat in the rain). It also comes with very old water skis and miscellaneous flotation devices. We did some work on the boat over the last two years, including replacing the lower end gears and a little fiberglass work. We have had a great time with this boat, but it is time for us to move on.
We had such a great time with this boat, it feels like you are driving a T-Bird across the water.
We also have the original owners manual and the Johnson repair book (200+ pages with detailed instructions for working on the boat). I believe the trailer is original, but it has been modified with a second axle.
I can provide more info about the boat and trailer if you send an email. We are asking $2,000 for the boat and trailer. The buyer will need to pick the boat up in Orland, CA.
---
1970 Johnson Surfer 19' 210HP 3/19/2006 (SOLD)
1970 Johnson Surfer, 19' with chevy 210 HP 307 cu in engine and OMC outdrive. All original. Was running before draining oil, sounded fine.
Depth finder on dash
Stereo in glove box
New intake manifold - suspected of leaking water into the engine.
Outdrive has had fluid changed - no water found in the lower unit.
Upper gearcase lubed and swivels greased.
Intermediate housing has been lubricated
Swivel of outdrive has been lubricated.
Fuse panel unplugged and needs cleaning
Oil has been contaminated by water, most has been drained. Filter won't come off.
Original Johnson trailer
Good tires on mag wheels, new spare tire on original rim.
excellent hull
very good condition original seats (dark green) w/ custom protective covers over them.
I'm at a standstill with this gorgous boat. The Johnson trailer is included as well as a new spare tire that cost me $75.
I'll sell it as-is, where is, for my investment of $1,300.
It is pictured on the gallery pages.
---
1968 Johnson SeaSport II 155 2/26/2006 [SOLD]
Moving to Germany, so this boat that has been in the family since the '70s needs a new home with someone that can get her back in the water. Boat was originally in Kentucky, before being moved to Florida.

Last time in the water power went down and had low compression on 2 adjacent cyclinders on the port side. No overtemp light indication, and exhaust manifold water passages partially clogged

Current condition, heads have been off for awhile, purchased OMC gaskets and never had time to have heads checked. Needs new exhaust manifolds (cracked from rust,) one manifold end to thermostat has cracked hipple, one manifold end elbow has cracked. Needs engine water pump due to rusted impeller and fuel pump.

After setting all the parts together (on the engine), all of the cast parts for cooling have cracked from rust, being off the engine, thermostat housing, waterpump, exhaust manifolds and caps and elbows. The engine was turned over by hand before the heads were set back in place.

Floor covering has "sunburn", bench seats have cracking around corners and rear "jump seats" need refinishing.

Hull in very good condition has a scar on front keel from missing rolller on trailer, however did not leak after repair.

Top fiberglass is dull but does shine up when waxed. has bow cover (needs snap grommets replace) and top (not inspected)

On original Johnson trailer. I have replaced the tires and tubes.


[added 02/16/2006]
---
Parts 2/7/2006
1970s OMC O/B Pin Prop Style Outdrives and parts (gears, housings, aluminum props, , one stainless prop, carburetor, water pump housing).
E-mail for pictures. erions(at)adelphia.net
Outdrive parts 2/1/2006
OMC 25:25 ratio outdrive upper housing gear set for Buick V6. VGC $85 311-289 16P prop - appears to be freshly rebuilt & never used $85. I also have a box of 64-67 vintage OMC drive parts including a very nice lower unit housing for 120HP and up. a high profile 4 bolt housing and top cover, early upper unit hsg. with tru-course, etc..
email hystat(at)hotmail.com
---
OMC 90 HP outdrive for sale 1/5/2006
V4 2 stroke 85HP engine siezed, intermediate housing, and working outdrive as used in Sweet 16 etc of the period.
$350 for all.
Location: St Catharines Ontario
Contact: Rob Laughton 905-937-0264
Boats for Sale (2007)
Boats for Sale (2005)
Back to omc-boats.org