OMC Boats For Sale (2005)
The following boats have been reported as for sale. Nothing more has been confirmed. Dated information has been left in place for reference.
---
1968 Sportsman 155 12/17/2005 SOLD
Looking to sell my recently aquired boat. I am unsure of the year for certain, although I believe it is a 1962 to 1969...somewhere in there. [very clearly a 1968 Evinrude Sportsman 155. My family owned the identical boat from 1968 to 1982 -Mike Julien]
V-6 Buick. Starts,runs & shifts. Has been sitting for several years. Typical fuel issues need to be addressed. Boat will need a new waterpump in the stern drive. I am including several photos, take note of the condition of the ball gears....LIKE NEW....unreal!! Power tilt works excellent.
All original. OEM seats and carpet. Gel coat in near excellent condition for its, needing only a wax job to remove slight oxidation. Late model E-Z Loader roller trailer.
---
1967 Evinrude Sportsman 120 11/11/2005
I have a great boat that needs a home, this boat has been in my family since 73, and is in good shape. It has been on the trailer for about ten years, but was kept covered, and the seats and top are like new. Looking to sell. Please contact me.
Location: Okalahoma City, OK
Contact: Roger Smith 405-641-2559
---
1968 Evinrude Sportsman 155 10/20/2005
For sale cheap! 1968 sportsman 155. The V6 engine in this boat runs perfectly and starts instantly. The outdrive is currently not functioning. The lower unit jams when it tries to shift into both forward or reverse. I have a new lower unit that I purchased as working but have yet to install. The seats need redone but the carpet and floor and everything else is pretty good. No soft spots. The hull has a couple of repairs where it cracked from beach landings. I will sell the boat for nearly any reasonable offer (without the trailer). With the trailer I would have to get $800.00 for the boat.
Location: Northwest Louisiana.
Contact: Bryan McCoy 870.235.5151 bryanmccoy(at)peoplepc.com
If you are sincerely interested I will send you pictures.
---
1966 Evinrude Playmate Corsair 10/20/2005
Evinrude 1966 Playmate Corsair with Merc 1000 engine and Playmate trailer. In excellent condition just needs some cleaning and polishing. Trailer is also ready to go. Boat was last used in 2003 in Wisconsin. Engine is in excellent condition as well. Pictures available. Location: Winona Minnesota (could be delivered within a 250 mile radius for slight charge.)
Contact: Call Ron at 507-457-0960 or email rontoyz(at)hbci.com
---
1968 Johnson Seasport 9/30/2005
I ran across this boat and bought it for the trailer. I noticed that it must of been one original inboard/outboard delux when it came out in 1968. I researched and found that there are some who restore this. Before I use my saw on this I was wondering if there is anyone who needs the parts or entire boat and trailer. I hate to cut it up if someone could use this orginal boat. It even has an eletrical shift which I am sure would be hard to find. Fun project if I had the time.
Location: Florence, Ky
Contact: daaat_41042(at)yahoo.com
---
1974 350/225 HP Chev/OMC engine
1974 350/225 HP Chev/OMC engine pulled out of a 1974 Silverline boat. Ran good when pulled three months ago. I just thought it would be good to have an extra outdrive for my 70 Surfer so I'm keeping the outdrive and I don't ever anticipate needing the engine (probably not the outdrive either but you never know) I will be keeping the peripherals such as starter, alt, manifolds etc. Asking $300.00.
Contact: John 218-327-1506
Location: Northern Minnesota
---
1967 Johnson Reveler 9/8/2005
Restored 1967 Johnson Reveler and Johnson trailer. Only items not replaced are the original seats. Primarily fresh water boat. Painted with algrip in 2004. Asking $2800.00.
Location: Ft. Lauderdale, FL.
Contact: Tony 954-920-0300 (day) 954-792-1865 (evening).
---
1964 Johnson 17' Deluxe 8/16/2005
Hate to do it but up for sale is a 1964 Johnson 17' Deluxe. Bought it from a guy on this board (Skip Redman) in Buena Park, CA. Boat is currently in Hemet, CA and asking what I paid for it $1250 including the trailer. It needs some work but is a great start to get going for what I'm asking. I currently have no pics, but please direct all inquires to rockrawler@msn.com as I dont often read the posts any longer due to lack of time on the web. I will answer any and all questions via e-mail at that address. My family has decided to pursue another hobby than boating and this is now just in the way.
Location: SoCal (Hemet, CA)
Contact: Terry: Rockrawler(at)msn.com
---
1965 Johnson Deluxe Runabout 8/5/2005 DEMOLISHED
1965 Johnson Deluxe Runabout, 88 HP V4, I/O and Original factory trailer, all for $500.
I bought this boat even though I already have a Glasspar boat under renovation and have run out of work-space. This was a rare boat and I couldn't see this boat being destroyed or scavenged for parts. I do have other pictures I can share with any prospects.
NOTE: Boat demolished, trailer for sale as of 7/2006.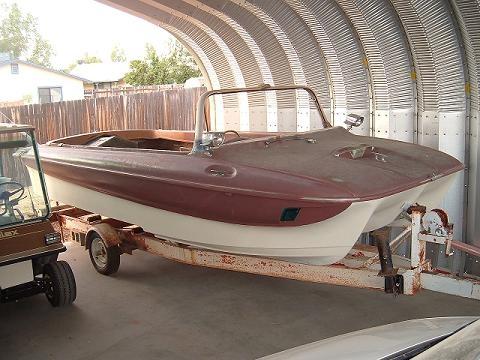 ---
1967 Johnson Caprice 8/1/2005
This is a restoration project. This boat has not been run in years. I saved it from a bulldozer.... Paid more than I should have for it but I did not want to see it destroyed. I put new tires and wheels on the trailer. It is a Johnson trailer. I have never tried to start it..... when I don't know anything about something I don't fool with it. I am not into boats.... I was looking for an old car, truck or tractor. I found a boat instead. The woman's ex husband bought the boat in 1968 in Michigan and brought it back to Mississippi. It does not have Mississippi registration numbers on it. Makes me think it was never used in this state. I don't know. I do know that it has been in an old barn for the last nine years. All I have done to it is wash it and try to clean it up.
Location: Laurel Mississippi
Contact: Ranblowe(at)wmconnect.com or 601-426-6872.
[Added 08/01/2005]
---
1969 Johnson Seasport 8/1/2005
I have a 1969 Johnson Seasport that looks great and runs just fine, except at this point I think it needs a waterpump. I am looking to sell this to someone who appreciates these boats.
Location: Southern Wisconsin (just south of Madison)
Contact: Ray Lunder, raylunder(at)yahoo.com hm 608 868-2805, cell, 608 921-2868.
---
1971 Chris Craft Seasport 7/22/2005
Spotted for sale on minimerchant.com
16' Chris Craft with I/O v6 165hp with Johnson outdrive motor runs but needs work replaced outdrive impeller with new.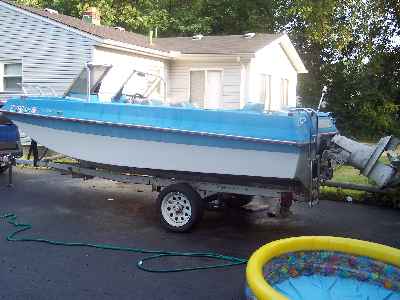 Location: niles, OH 44446
---
1969 Evinrude Sportsman 7/16/2005
1969 Evinrude 16' Sportsman for sale. To my knowledge it is all original. The boat ran great the last time we used it which was 2 years ago, at which time it was winterized and covered. The interior is a little rough the seats show alot of wear and tear, but everything is solid. The trailer is original and has good tires. The boat is located in Escanaba Michigan 49829. With a little work this boat could be restored to it's original glory. All serious offer's considered.
Location: Escanaba Michigan 49829
Contact: Jake Messenger: kmessenger015(at)charter.net
---
1970 Johnson Seasport 7/9/2005
I have invested a lot of money in new parts. I bought it approx. 1998 and just don't have time to finish fixing it up. I am willing to take offers if anyone is interested. Can provide more information upon request. Engine runs, new carb, new tilt motor, alternator, etc.
Location: West Virginia
Contact: Paul Eggleston moggy59(at)verizon.net
(click on photos to enlarge)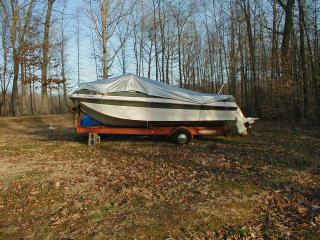 ---
1969 Johnson Reveler 6/19/2005 (SOLD)
I have a 1969 green and white johnson reveler less outdrive on trailer. Interior very good, motor runs, original top.
---
1973 ChrisCraft Dolphin 19' Gull Wing 6/17/2005
1973 ChrisCraft Dolphin 19' Gull Wing 9 passenger. 240HP 307 CI GM V8. Extra (for parts) motor, outdrive and intermediate housing available. Will sell all or separately. Hummingbird debth/Fish finder installed, 2 props Ski/cruse. Johnson trailer. Cover. interior fair to good. Mostly original. Make reasonable offer. rjonesy53(at)aol.com Soon to change. Call 641-797-2602 Snail POB 98 Fertile Iowa 50434 Bob Jones. Boat located at Fertile Iowa 8 Mi north of Clear Lake. North Central Iowa.
---
1964 v4 OMC 90hp 2 stroke & sterndrive 6/11/2005
For sale 1964 4v OMC 90hp 2 stroke motor, intermediate housing and sterndrive the package is complete with the exception of the steering guide wheel where the steering wire connects. The motor and sterndrive came out of a 1964 OMC 17' deluxe and will fit in many of the boats listed on this site. The motor turns over but has medium compression 85-90lbs on each cylinder. The outdrive is complete I don't think there was any water in the oil, but I can't guaranty it.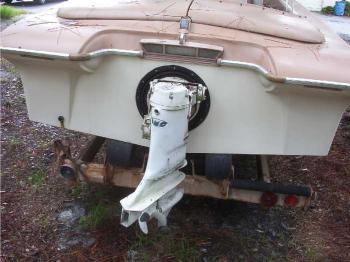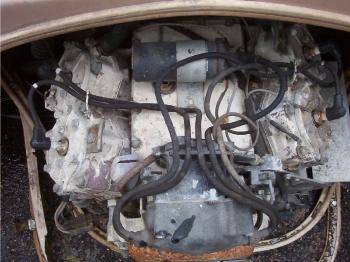 I would like to sell the entire package, but will part it out I don't get any interested buyers.
The Items are in Denver, CO and I a willing to palletize and bring to a drop ship location Contact Brian @ brianknelson(at)comcast.net
---
1967 16' Evinrude Sportsman 90 6/30/2005 (SOLD)
1967 Evinrude Sportsman-16 ft.-90 Horse-2 cycle- 4 cylinder. Runs great and looks great. It's on a extra heavy duty Shorlander Trailer From what I hear this boat is getting to be quite a collector. The boat runs very well. The lower unit needs seals. I am asking $1000 (the trailer alone is worth that).
---
1968 Johnson Caprice 90HP 5/22/2005
1968 Johnson Caprice, very solid. 90 HP Johnson inboard. Spent $600 (incl tune-up and new impeller) to make her very reliable, runs like a charm. Never in salt water. Trailer is in perfect shape. Would sell for $1400obo. Call Pete 386-246-3918 Palm Coast, Florida (boat originally from Pennsylvania) petrs23(at)bellsouth.net
---
1966 Evinrude Playmate 90HP (SOLD) 5/11/2005
14+' Model #312403R
90hp I/O V-4 I/O #DU-13EE
Have original Evenrude tip trailer
Purchased this boat from the original owner last year. The last time she has seen water was in 1988 - since then has been stored in a shed. Recently replaced the fuel pump, lower pump. Flushed gas lines and got her started - kept backfiring every 2 seconds (seems to be a carb timing issue). Everything is still there - minus the canopy cover. Also have the original owners manual. Just looking for a new home for her - there are too many projects at my home and feel that she need someone who will provide her with the proper attention she deserves.
Known needs:
Tires on trailer need to be replaced.
Wiring in trailer need to be repaired
Timing of the carb needs to be adjusted
Interior is faded

[SOLD 5/17/2005, LAST ASKING PRICE $400]

---

Johnson Surfer 4/25/2005

I acquired this hull boat last summer and my wife is telling me it has to go.

The story is, I was interested in a short block chevy engine for a car project. The original owner, approximately 12 years ago, had totally restored the boat and placed a new chevy engine in it. He had it on the water once and had a outboard drive problem and brought it in for the winter. He then passed away.

His widow just wanted it out of the yard, and there it is sitting in my yard and I am not getting any younger.

I removed the engine thinking it would be a rusty, frozen after so many years in the elements. Upon taking the engine out and disassembly I found it to be pristine (a time capsule) with no rust and appears to never have been started. The widow said the boat had never been in salt water. The engine turned out to be a high performance 1970 350 C.I. camaro engine with a number of performance modifications.

I am happy with the engine but do not need a second project although I have thought about it many times.

All the fiberglass and hull are in excellent (how you condition. Same with aluminum, chrome and glass. All vinyl needs replacing. Comes with bell housing, lower unit and all gears and belts.

Mod. # 0507016
Serial # is WI 38677.

The boat would come with all the engine marine conversion parts and just needs a carbureted short block chevy engine from 1967 to 2004. Marine conversion parts include: Exhaust manifolds with good hoses, intake manifold and Holley 4-barrel, starter, alternator (still turning) water pump, flywheel, harmonic balancer, fuel pump, etc.

The boat is in central NH/Lakes Region.

Hope someone has some interest before I decide to keep it.

Jim Van Valkenburgh jcvanv(at)metrocast.net

---

1970 Johnson Frontrunner 2/27/2005

I have owned this boat for the past 20 years and have kept it in great shape. It is starting to show its age though. I've used this boat as late as last fall 2004 up in Green Bay Wisc. I've been as far as northern Minn. to Lake Erie to Tablerock with it and its never but once let me down. I blew an axle hub in Madsin Wisc. and had to replace the axle assy. It really turned out for the better because it now has a leaf a spring axle instead of the original swing arm type. I also have larger hubs on it and therefore have 15in 16 ply tires which handle the boats weight much better than the original I believe 12in tires. The trailer is the original other than the axle . I rewired it and installed new lights with the stop and tail lights being LED's. I'm a mechanic and done the work myself. I'm also known to be very meticulous with my work. I just think it time for me to get a newer boat and found this web site with the hope that someone out there is looking for a project and loves this boat as I have. I've put many a walleye muskie, and such in this boat. Here's the story on the condition of the boat. It basicly would need new rollers, which I found out the hard way when in Green Bay last fall coming off the trailer I put a small hole in its nose. So some fiberglass repair is needed there. I also did a fix to the wiring around the starter loom section. The wiring coating has become brittle due to age and is cracking and peeling. There was no shorting out or burnt wiring. The passenger side exhaust manifold started to leak exhaust last fall also. It does not leak water only exaust. When I first got this boat I had to repair the same problem by brazing the hole. Certainly the best fix for both the wiring and the manifold would be to replace with new but I never looked into the possibility of finding new parts I just fixed the problem myself. The engine runs perfect and believe it or not still idles perfectly. I remember when I bought the boat The owner told me theat this boat runs so well you cant even hear it idle and it purrs like a kitten. I actualy bought it without ever hearing it run and putting it in the water to test out. I guess Im what you would call a believer in a persons word, especially a boater and fisherman. The other concerns are the floor around the live well in the center is becoming a little soft and would probably need attention. The out drive is in good condition but does take in a little water. Its done that since I've owned it.I have replaced some seals and gaskets but it continued to seep. What I do is change out the oil every season and it serves me fine. I've also replaced the tilt motor and it works fine. The last item would be the gas gauge is inoperatve and for some reason I always have forgotten to fix it. It has the original blower/bilge pump which I've managed to keep the blower going but the pump part has rusted the impeller parts away. I've also replaced the steering cable itself in the past. That pretty much tells the history and present condition. I also have a fairly new heavy duty aircraft custom tarp for it along with the original sun top, side curtains, and full rear enclosures, which may have been add on's. I would really like to see this boat go to someone who would bring it back to original and am glad to see a site for this. I'm not quite sure of a selling price although by looking over the site it has at least given me some idea. I hope to hear from someone and find a new owner.

Contact: Raezn147(at)cs.com

---

Sportsman 155 1/17/2005

You will see the gas tank has been removed from up under the bow. In looking at the tank it appears to be very good shape and solid. Everything that you see in the above photos is available for sale. The items that are in great shape are the Windshield, the Hull, the frames to the seats and the trailer with the spare tire.

I have a Sweet 16 "Never Been Kissed" that has been rebuilt. I have done the following on this last go around:

New transom
New floor
Custom made SS built in 27-1/2 gal gas tank
New paint - White on the outside/Dark gray on the inside
New carpet-dark gray
New cushions on the white power coated frames.
New rubrail with new vinyl inset piece/black
Re-chromed cleats and stern eyes (way too many monies)
Rebuilt 1985 115 hp Yamaha OB engine
New steering cable system
New engine controls
New boat and engine cover
Re-painted Evinrude Trailer
New white 'VIVID' bottom paint

This was the boat that my family used and that my Dad and I had many years of fun. When I am in the boat, my Dad is in the passenger seat and we are both smoking cigars. Yeah.

This has been a major project and we still have some things to do but we are almost done.

The sportsman 155 hull is/was in better shape than my Sweet 16. If I had not put so much into my boat, I would have swapped hulls.

Contact: david.avedesian(at)comcast.net

---

Boats for Sale (2006)
Boats for Sale (2004)

Back to omc-boats.org