OMC Boats For Sale (2013)
The following boats have been reported as for sale. Nothing more has been confirmed. Dated information has been left in place for reference.
---
update 11/25/2013
Boat Name: no name
Make: Evinrude
Model: 17' Custom
Year: 1964
Engine: Other
Asking: free
Contact: bjoyce(at)cogeco.ca
Location: milton ont

---
1967 evinrude rogue 200 11/2/2013
19' rogue w/300 buick v8 new carpet,seats boat is solid no rot anywere with all aluminum tandum axle trailer

Boat Name: candy apple
Make: Evinrude
Model: 19' Rogue
Year: 1967
Engine: V-8
Asking: $1,500
Contact: billydamott(at)earthlink.net 386-365-8205
Location: white springs fl.

---
1968 OMC DUAL DELUXE ALL OR PARTS 10/19/2013
I have A 1968 dual deluxe and trailer both motors ran when stored and have the top and new rubber seals for out drives would be a great restro needs home, bimini blue and 4 props boat floor was replaced and foamed and new marine carpet added. been sitting for 15 years

Make: OMC
Model: 17' Dual Deluxe
Year: 1968
Engine: I-4 110HP
Asking: 1000.00
Contact: randy(at)lurelightning.com
Location: Minnesota

---
Original Johnson Boat Trailer 17' 10/9/2013
JOHNSON MOTORS 18-21 FT TANDEM AXLE BOAT TRAILER. There is 18' from where the boat rests in front to the end of the trailer. Will easily accomidate a 18'-21' boat. The total length of the trailer is 22'. Trailer is missing 1 tire, I do not have tire or rim. The other 3 tires will need to be replaced at some point. The trailer travels fine down the road. The weight rating states 2770lbs for the boat as indicated on the trailer tag. The width between the fenders is 56". The lights work. Trailer also has surge brakes.This is a solid I beam steel construction trailer with very little rust, very solid. This is probably considered a project trailer. Had boat on recently and towed fine. Sold boat so trailer is for sale.

Make: Johnson
Model: 17' Dual Deluxe
Year: 1969
Asking: $800.00
Contact: johnhalabrin(at)sbcglobal.net
Location: Glen Ellyn IL

---
62 and 65 10/3/2013
Make: OMC
Model: 16' Deluxe
Year: 1962
Engine: V-4
Asking: 600$ for both
Contact: tcrash8(at)gmail.com
Location: Ossineke

(click on photo to enlarge)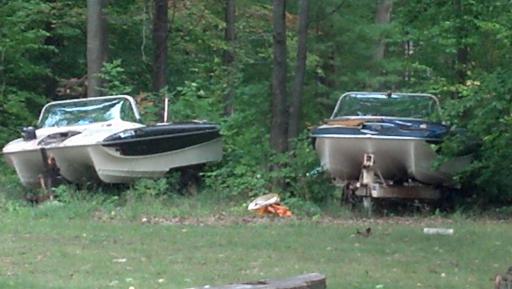 ---
1970 Johnson Surfer 8/21/2013
I'm the second owner of the boat and have owned it since 1990. It runs great. the floor is starting to get soft and I'm not up to the task although it won't need it right away. Mechanically excellent. Price is for boat only. Shorelander trailer with surge brakes and a spare tire an additional 500

Make: Johnson
Model: 19' Surfer
Year: 1970
Engine: V-8 210HP
Asking: 1500
Contact: jpw1955(at)msn.com
Location: Grand Rapids MN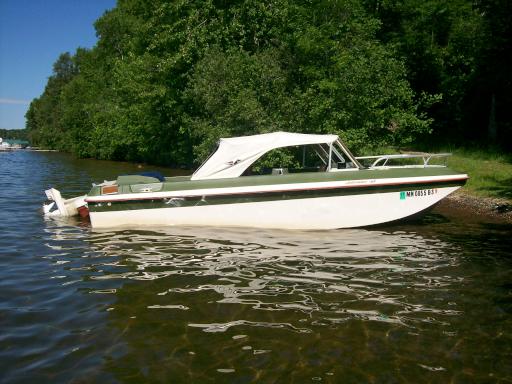 ---
1967 Johnson Caprice for Sale 8/7/2013
Second owner of 1967 Johnson Caprice 90I/O. Many kids learned to water ski behind this boat.

Boat Name: Sweet Tea
Make: Johnson
Model: 14' Caprice
Year: 1967
Engine: V-4 90HP
Asking: $2,000
Contact: dlw5248(at)aol.com
Location: Woodland Park, Bitely Michigan
Model number: 1967 312704E

---
1967 Evinrude Sportsman 120 6/23/2013
Rare Vintage Bowrider: 1976 Evinrude Sportsman 120 For Sale Owner will take best offer and will sell boat on July 30, 2013. Contact Tom Allen at 931-864-3146 to view boat. Copy Link Below in you Internet Browser to see Photo Gallery of Boat: http://eaglecreekphotos.shutterfly.com/pictures/30

Boat Name: Sportsman
Make: Evinrude
Model: 16' Sportsman
Year: 1967
Engine: I-4 120HP
Asking: Best Offer by July 30, 2013 Sale Date
Contact: Tom Allen, 931-864-3146, tom(at)sunsetmarina.com
Location: Dale Hollow Lake Byrdstown TN 38549
Model number: 234504E
Hull serial number: WI 21593

---
1964 OMC Johnson 17' Deluxe V-6 w/OMC Trailer 6/15/2013
This Tri-hull is in need of a total restoration. I purchased it when I bought my property 7 years ago, so I know it has not been run for 7 years. The engine turns freely. The trailer looks to be original to the boat. model #975600R 2800lb capacity. This is an 8 passenger.

Make: Johnson
Model: 17' Deluxe
Year: 1964
Engine: V-6 150HP
Asking: 1500.00
Contact: cgrinchen(at)msn.com
Location: Maricopa, Arizona
Model number: 121101E
Hull serial number: I2842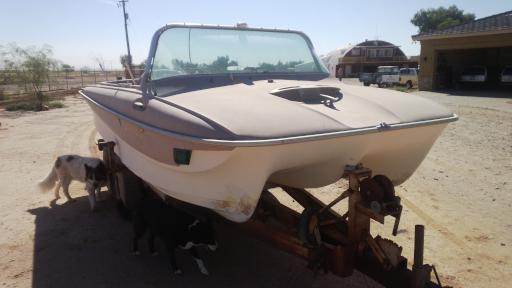 ---
1969 Johnson Seasport for sale! Goffstown, NH 5/19/2013
1969 Seasport For Sale! Location: Goffstown, NH. Boat runs. Outdrive in very good condition. See photos! Asking $1900.00 Trailer in Excellent condition with all lights working. Everything original except seats have been recovered. Seat backs original with Johnson logo. Check out photos in gallery. Tune up the motor and put it on the water!

Make: Johnson
Model: 17' SeaSport
Year: 1969
Engine: V-6 155HP
Asking: $1,900.00 or B/O Must Sell!
Contact: Email: hunter.edu(at)comcast.net or call (603) 854-4100
Location: Goffstown, NH
Model number: 224206A
Hull serial number: WI-32834

---
1966 OMC 17' Deluxe w/ near new V-8,Trailer. Stored indoors for over 40 years 4/10/2013
Fresh water use only. Stored in a wharehouse for over 40 years. Incredible original condition. Excellant gelcoat condition. 2 years ago a near new small block V-8 307 Cu In 225hp was installed with upgraded outdrive. Original Johnson trailer with new tires,bearings,axle and springs. Everthing works including electric opening windshield. View at www.ramarinebrokerage.com or call Rick Augusto 954-249-7565

Make: OMC
Model: 17' Deluxe
Year: 1966
Engine: V-8
Asking: 7,995.
Contact: ramarine55(at)yahoo.com
Location: Fort Lauderdale

---
1968 Johnson Revler 4/5/2013
I ended up with this boat as payment for a little work I did for a guy. I had a mechanic check it out and he got it purring like a kitten but when I put it in the water it wouldn't rev up. Any help would be appreciated or I am also open to selling or parting it out.

Boat Name: Revler
Make: Johnson
Model: 16' Reveler
Year: 1968
Engine: V-6 155HP
Asking: $400.00
Contact: 231-920-0685
Location: Manistee Mi

---
1968 Evinrude Rogue II 210 with 350 V8 Engine 300hp through hull exhaust...See Videos 3/31/2013
Evinrude Rogue 210 Gull Wing Hull (very stable) rated for 9 people or 2000lbs. Big 19.5' long closed bow inboard / outboard omc drive. This is a wonderful ski or family fun boat. It has a recently rebuilt Chevy 350 cid engine with low hours(around 50) and is rated conservatively at 300hp with 2.02/1.60 Summit heads, 10:1 hypereutectic pistons, high performance connecting rods, Competition Cams camshaft. Runs perfect on regular unleaded gas and still gets decent fuel economy. It has a bimini top for shade when you want it or it folds down out of the way when you don't. Kenwood radio with amp, pioneer speakers and ipod dock. Depth finder. Through hull exhaust with baffles, not loud but throaty. Tandem axle trailer with nice tongue jack, spare gas can rack and l.e.d. lights included. Comes with spare prop, life jackets, boarding ladder, anchor, lines, fire extinguisher, first aid kit, tube, tow rope, waterskis, everything needed to safely and legally enjoy the lake. This boat is lake ready now. No work needed or required. This is not a project. Please see my video taken at Patagonia Lake on 3/6/13. I am willing to take this boat to Canyon Lake or Patagonia Lake to demonstrate it for a prospective buyer for the cost of gas. Please note, this is a large boat and will require a vehicle that can pull a combined boat/trailer/gas/gear weight of at least 3500lbs. Come and take a look, you won't be disappointed.

Boat and trailer are currently registered and titled in my name.

$4500.00 may consider trade for jetski or???

email or call 52O-73O-438four (no text) se habla espanol

All emails without a contact phone number will be ignored due to spam.

Make: Evinrude
Model: 19' Rogue II
Year: 1968
Engine: V-8
Asking: $4500
Contact: k2500tk(at)yahoo.com
Location: Tucson, Az.


boating at Patagonia Lake 3/6/2013:


demonstrating tight turning radius:

---
1968 Roge Parts available, complete boat, Chev 283. 1967 Reveler parts available, complete boat and 1 parts Boat 3/22/2013
I have three projects I do not have time for and am selling parts. Complete 1968 Rogue and complete 1967 Johnson Reveler as well as 1968 Reveler parts boat. Let me know what parts you need.

Photo's coming soon

Make: Evinrude
Model: 19' Rogue II
Year: 1968
Engine: V-8
Asking: Open
Contact: dbrucearmstrong(at)msn.com
Location: Turtle Lake, WI
Model number: coming soon
Hull serial number: coming soon

---
Boats for Sale (2012)
Boats for Sale (2014)
Back to omc-boats.org