OMC Boats For Sale (2012)
The following boats have been reported as for sale. Nothing more has been confirmed. Dated information has been left in place for reference.
---
sportsman 155 12/6/2012
This boat has not been run in years and trailer is inoperable. The boat is free for the taking (many good parts, including very good outdrive). Just bring trailer and I will help.

Make: Evinrude
Model: 16' Sportsman
Year: 1965
Engine: V-6
Asking: best offer
Contact: fmeehan1(at)aol.com
Location: Cape May, New Jersey
Model number: 224506A
Hull serial number: WI29651

---
1964 Johnson Deluxe and trailer for sale 12/12/2012 (SOLD)
I am restoring another '64 Johnson Deluxe, so I have removed most of the unique parts from this boat. The boat itself has the usual cracks, has not been registered since '98, but it looks like water got between the floor and the hull as the floor has bulged up. The engine looks unmolested and complete, except the coil is missing. I tried to manually turn over the engine, but it's stuck. The outdrive unit looks to be in good shape, but I do not know what it looks like on the inside.

The trailer has been shortened, but it pulled well at highway speeds. It has brand new tires and a reusable (magnetic) lighting kit. I might consider delivery if it isn't too far from 06019. I'm asking $225 to cover the cost of the tires and the lights, but I'm open to any offers and am anxious to sell.

Make: Johnson
Model: 17' Deluxe
Year: 1964
Engine: V-4
Asking: $225
Hull serial number: 1516

---
1962 OMC Deluxe Seats for sale 11/21/2012
Looking to sell a Complete set of 5 seat frames c/w with mounting tabs and pins from my 62 Deluxe boat.......I want to add new seats to my boat The cushions are in terrible shape but frames look mint Open to best offers as I have no idea what they are worth Steve

Make: OMC
Model: 17' Deluxe
Year: 1962
Engine: V-6
Asking: BEST OFFER
Contact: underwater749(at)hotmail.com
Location: Waterloo, Ontario Canada

---
Johnson 17' seen on Craigslist - Fresno area 11/15/2012
I saw this on Craigslist. Central Calif.

http://sacramento.craigslist.org/boa/3368575058.html

Make: Johnson
Model: Deluxe
Engine: V-4
Asking: $750
Location: Fresno

---
OMV V4 2-stroke engines and outdrives for sale 10/30/2012
I have two of these engines and outdrives for sale. Changing to 4-stroke engines. These engines are complete and running and the outdrives are intact and operational. Drop-in and go. Will sell for $750 each.

Make: OMC
Model: 17' Dual Deluxe
Year: 1963
Engine: V-4 88HP
Asking: $750 Each
Contact: nautilusrestorations(at)yahoo.com 864-638-0999
Location: Lake Keowee, West Union, SC

---
1964 OMC Deluxe V6 10/24/2012 (SOLD)
Good solid boat, complete but needs a new floor but is useable as-is. V6 has good compression. Has original seat frames. Windshield works. Trailer has four brand new tires and all new wiring. Will sell for $1,300.

Make: OMC
Model: 17' Deluxe
Year: 1964
Engine: V-6
Asking: $1,300.
Location: West Union, SC

---
1968 evinrude rogue 210! AMAZING DEAL! 10/18/2012
I have for sale a 1968 evinrude rogue 210. A beautiful boat with a newly rebuilt 350 engine in it. has close to no hours on it. it has 2 new seats, new side panels, new stereo system, new lower unit, everything you could want. I hate to see this boat go because i love it so much. I just need the money and have to make sacrifices. the boat is being stored at the lake right now but can be picked up for sale. it comes with trailer, I also have original trailer if interested in that. (not shown here but i can switch it over if wanted) for any info call/text me 870-nine19-86zero8

Boat Name: Madamn boat
Make: Evinrude
Model: 19' Rogue II
Year: 1968
Engine: V-8
Asking: 3000 obo
Contact: sanz.ruff(at)gmail.com
Location: mt. home Arkansas


(click on photos to enlarge)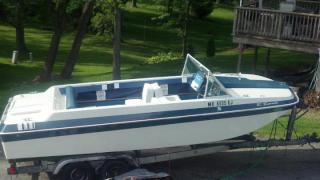 seats and stereo can be seen here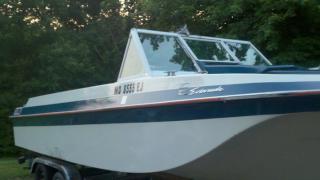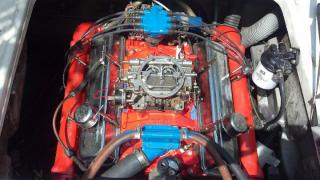 ---
1986 Seasport-II 155 9/23/2012 (SOLD)
1968 Seasport-II I got from my dad; since moving to colorado I just don't use it anymore.

Engine starts easy and runs smooth and quiet. Main seating replaced with bass-boat style adjustable pedestals and buckets. Newer bimini top and kenwood stereo system.

needs the rear-most seats (alongside engine) re-upholstered and new seats/foam in the bow.

Has the original johnson trailer. This boat was originally sold in the treasure valley of Idaho (boise area) and never left till I broght it colorado. It's spent most of it's life in drydock on it's trailer.

Make: Evinrude
Model: 16' SeaSport (II)
Year: 1968
Engine: V-6 155HP
Asking: 1500
Location: Outskirts of Denver, Colorado
Model number: 224205S

---
OMC-BOAT forsale: 1964 & 1967 Evinrude Sportsman boats 09/17/2012
I live in So. California in North Orange County, Buena Park to be exact. I have 2 Evinrude Sportsman that I would like to sell. The 67 is a pretty much complete and running boat with the Buick V-6. I purchased it a few years ago from a gentleman in Arkansas and towed it home. After getting it checked out and serviced at a local boat repair shop, I took it out a few times and it performed perfectly. The only thing that I didn't like was that it had been "customized" cosmetically with a few aftermarket additions and I wanted to make it as stock looking as possible. The 67 has a Bimini top. The 64 has all the original top parts that I intended to put on the 67. I purchased the 64 Sportsman with the intention of transferring parts in order to achieve that goal. I got some of it done, but have not found the time to complete the job. I purchased the 64 in No. Calif., about 600 miles away and towed it home. The gentleman that I purchased it from told me that it ran, but that there was a problem with the outdrive unit. Since my outdrive functions perfectly, that did not deter me from the purchase.
Both boats have solid floors and could be good to great boats with a little work. Neither has ever been in salt water. Both have the original trailers with excellent tires. The 64 trailer had some bad tires, so I replaced them with new ones. Both of these boats can be towed just about anywhere on the existing trailers.
I had some automotive paint mixed to match the 67, but never got around to spraying it. I have the paint and extra parts that will go along with the boats, as well as some literature (shop manual, parts list, etc.).
While I would love to get at least the 67 completed, reality has set in. I am 72 years old and realistically will never get around to finishing what I started. I would love to see an enthusiast that would finish what I started get one or both of these boats finished. Almost everything is there to finished at least the 67. These boats can be up and running (especially the 67) with very little effort. I will accept any reasonable offer.
If anyone is interested, please either call me or send me an email with your phone number so I can hopefully answer any questions you might have. The price will be reasonable and will depend on a few variables that I will discuss over the phone.
Asking: negotiable depending on what is included
Location: Buena Park, California
Contact: Skip Redman 714-203-9133
---
1964 Johnson Runabout w/Chrysler 105 runs good for sale 8/11/2012
Boat in good shape, especially for it's age(48 years old!) has tilt windshield, original tilt trailer however tires are starting to crack. Floor good, one soft spot about the size of a softball, looks where everyone got in/out. Has cover, but has 2 rips about 2' long, repairable. All lights work on boat, bilge works but needs wired, seats in good condition but not mounted, comes with tank and new battery, indicator lights work on trailer. Chrysler 105 mdl 105671 dual carb. Runs good, needs TLC. Carbs leaked last time out. I've worked on them, but haven't had it out yet, hopefully today/tomorrow and I'll try to get some video as well. Don't want to sell, need new hub/bearings for Envoy, home bills, etc. Toys go first. Price includes 3 spares, anchor w/rope, additional rope, security cable+lock system for hitch/trailer.

Make: Johnson
Model: 17' Runabout Outboard
Year: 1964
Engine: Outboard
Asking: $2000
Contact: steelhawk67(at)msn.com
Location: Howell, MI

---
1970 Evinrude Exporer 7/22/2012
I am selling my "Dream Boat". A friend of my fathers had one of these, when I was a kid. Never thought I would find one. Well I did! And she is an awesome craft.But my health has forced me to try and find her a new home.In last few years, she has had her seats redone, new carpet, new trim motor, professional rebuilt carb, matching trailer restored. Of course Fluids, hoses, tuneup all redone.Not parting with her for any other reason. Lots of life left in this "ole" gal. She even has the "optional" 4 extra lay down seating (all redone) Gets lots of looks on and off the water.

Boat Name: Spontinaiety!
Make: Evinrude
Model: 16' Explorer
Year: 1970
Engine: V-6 155HP
Asking: $4200.
Contact: Please call or Text 314-600-4516, Email suv_doug(at)yahoo.com
Location: St Louis

---
Evinrude 16' Sportsman & Original Trailer 7/9/2012 (SOLD)
Found it up in Kings Canyon, California. It has been used in freshwater its whole life, covered, and in excellent original shape. Comes with extras. I have it in Oceanside , CA now, but won't be putting it in ocean, unless buyer wants a demo.

Make: Evinrude
Year: 1966
Engine: V-6 155HP
Asking: $1600
Location: Oceanside, California

---
for Sale 1968 "Sportsman 155" 6/26/2012 (SOLD)
Runs and drives as seen in photo gallery... The knuckles need replaced as the hoses... Newer tires on trailer (easy load 4 tire)

Make: Evinrude
Model: 16' Sportsman
Year: 1968
Engine: V-6 155HP
Asking: $500
Location: Conneaut, Pennsylvania

---
for sale 6/26/2012
Make: Evinrude
Model: 16' Sportsman
Year: 1964
Engine: V-4 80HP
Asking: 2000.00
Contact: sdalcantara(at)hotmail.com
Location: yreka california
Hull serial number: w114924

---
1970 Explorer 6/25/2012
I purchased this extaordinary boat last year. It was purchased from a dealer who took it in on trade from original owners family. It was garaged or covered its entire since new. The seats were proffesionaly recovered a few years ago. Since I have owned it, I have restored the original trailer, with close to oem color and new LED lights. Tires have lots of tread, but are showing signs of drying. On the boat i have installed marine carpet. Replaced all hoses on engine. Replaced fuel pump, Trim motor, all fluids,rebuilt carb from National carb of jackson Flordia, installed same era boarding ladder and platform. and the best thing I did was clean and seal the boat with Vertiglass sealer. It made the whole boat look new again. People see this boat and are amazed with its looks and performance. Unfortunately I have to sell for personal reasons. I am looking for someone who will appreciate this classic "GLASSIC". I have only put about 15 hours on the boat (Hr meter shows 100X) She runs and shifts excellent. WILL TEXT PICS ON REQUEST

Make: Evinrude
Model: 16' Explorer
Year: 1970
Engine: V-6 155HP
Asking: 5000.
Contact: Ph# 314-600-FOUR FIVE ONE SIX, E-MAIL suv_doug(at)yahoo.com
Location: Saint Louis, MO

---
explorer for sale 6/9/2012
I bought my boat 20yrs. ago from the original owner. I had seen it when it was new and I was 12 yrs. old. I love the boat and have many happy memories of it.I have maintained it and it still runs great. Covers and seats are getting oxidized. Hull is excellent. Is usable as is and would be a great restoration project.

Boat Name: Abby Normal
Make: Evinrude
Model: 16' Frontrunner
Year: 1971
Engine: V-6 155HP
Asking: 2,500
Contact: 810-231-0781
Location: whitmore lk. mi.

---
For Sale 6/2/2012
FOR SALE.......

210 hp Marine 307 Chevy. Recently rebuilt. Less than 10 hours since rebuild. Originally from OMC Boat. Asking $900 for complete drop-in with intermediate section. Might consider including complete OMC I/O unit for the right price. Purchaser pickup in Alanson, Michigan.

Make: OMC
Year: 1971
Engine: V-8 210HP
Asking: $900
Contact: rcurnow(at)centurytel.net
Location: Alanson, Mi


(click on photo to enlarge)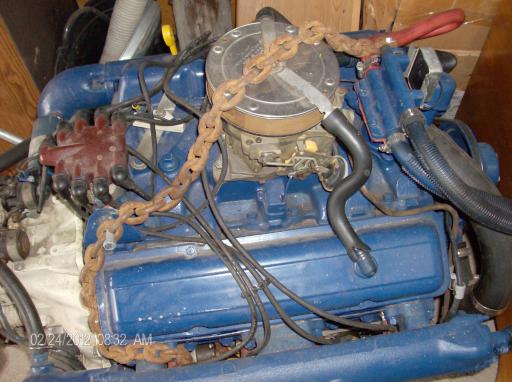 ---
EVINRUDE 16' TRI HULL SWEET '16 WITH GULL WING DESIGN 5/30/2012
ORIGINALLY INBOARD/OUTBOARD AND CHANGED TO OUTBOARD. ORIGINALLY CABLE STEERING CHANGED TO PUSH/PULL. THIS IS A 16' EVINRUDE SWEET '16 MODEL MANUFACTURED IN 1965. IT IS A FIBERGLASS TRI HULL AND FEATURES A GULL WING DESIGN WITH WRAPAROUND GLASS WINDSHIELD. I DO HAVE THE TITLE. INCLUDES A TRAILER. PRICE DOES NOT INCLUDE JOHNSON 50 HP ENGINE. Boat is in good condition. Retiring and moving out of state so need to sell. Garage kept.

Make: Evinrude
Model: Sweet '16
Year: 1965
Engine: Outboard
Asking: $200
Contact: ODDGIRL17(at)GMAIL.COM
Location: NORTHEAST PHILADELPHIA

---
OMC 17' DELUXE PARTS FORSALE 5/28/2012
I purchased this boat from a fellow in New Brunswick $2000 on his word that the boat was in good condition.Payed $3300 to have it shipped to me. When boat arrived the trailer was rusted & cracked, boat had been driven over rocks and was full of horible patchs and cracks,out drive mount was cracked right thru, motor was seized up. So i stripped the parts on the boat that i can sell and hopefully make some of my money back.

List of parts....Windshield & motor it works,fuel tank & brakets, sterring wheel & gauges, full wiring harness front to back, some engine parts alternator,starter, full canvas top no frame, 4 seats in pretty good condition.

Make: OMC
Model: 17' Deluxe
Year: 1967
Engine: V-6 150HP
Asking: neg
Contact: 780 461-2774 rbbirm(at)shaw.ca
Location: Edmonton AB Canada
Model number: 465023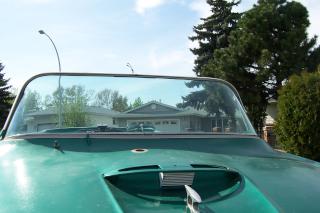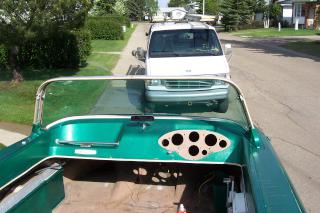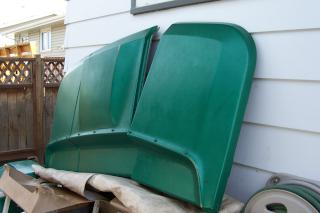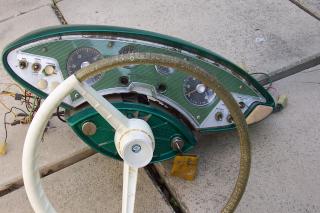 ---
1968 Johnson SeaSport II 5/26/2012
Make: Johnson
Model: 16' SeaSport (II)
Year: 1968
Engine: V-6 155HP
Asking: $800 Boat and Trailer
Contact: dave(at)fastgraphics-fast.com
Location: Leesburg, FL.
Model number: 224205
Hull serial number: W125240

(click on photos to enlarge)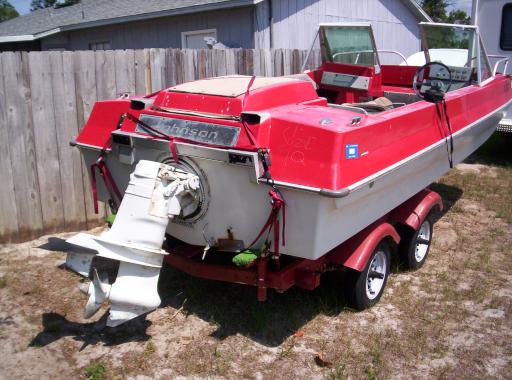 Boat & Trailer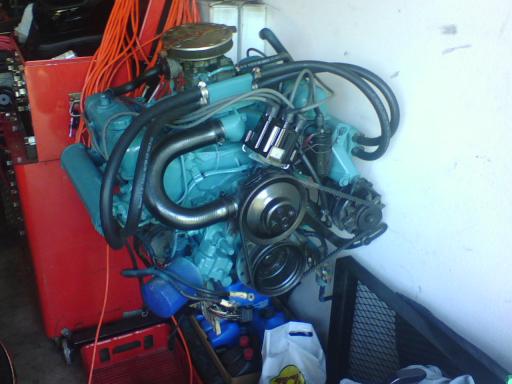 Engine during Freeze Plug Change
---
1970 Evinrude Sportsman 155 3/27/2012
I was a dealer of Evinrude Boats and Motors. Been in storage 15 years. One owner (myself), MINT condition inside and out, all upholstery original. Electric power tilt, bow and stern lifting (and ski towing), power tilt control and rudder direction indicator, four deck seats, forward handrails, front cockpit cover, convertible top, walk-thru tinted safety glass windshield with sunscreen and hinged center panel. Compartment with removalbe cooler and glove compartment, back-to-back fold-down seats. Built-in rod and ski storage troughs. Four storage compartments. 19 gallon fiber glass fuel tank under forward floor. Original Evinrude trailer.

Make: Evinrude
Model: 16' Sportsman
Year: 1970
Engine: V-6 155HP
Contact: rjvj(at)charter.net
Location: Spicer, Minnesota 56288
Model number: 27010
Hull serial number: 35768


---
1966 evinrude playmate 3/27/2012
found this boat upstate new york from original owner.its in very good condition. and all original. except for the fuel tank it was replaced a few years ago. all gauges and lights work. trailer is in good shape tires will need replacing soon.its never been in salt water.floor is strong, no soft spots.i will send more pictures if interested

Make: Evinrude
Model: 14' Playmate
Year: 1966
Engine: V-4 90HP
Asking: $1500.00 obo
Contact: please call bill (at)718 759 8227 hemdog1(at)hotmail.com
Location: queens, new york


(click on photo to enlarge)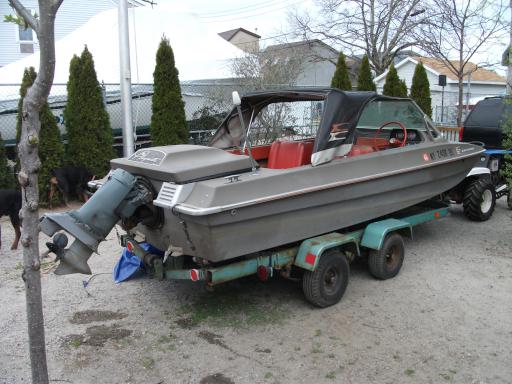 ---
Boat For Sale 3/25/2012
It has a 1978 75 hp outboard well maintained good runner!!

Make: Evinrude
Model: 14' Skilark
Year: 1965
Engine: Outboard
Asking: 2000.00 obo
Contact: bbroofing(at)msn.com
Location: Waukesha WI
Model number: 302402L
Hull serial number: WO 10414

---
Looks - Like new 1968 evinrude rogue 2-- 19'- 210hp v8 original engine and out drive with trailer 3/4/2012
I bought this boat in North Carolina last year, put new carpet in it and recovered side trim and back seat. engine runs good no smoke and start everytime. Boat looks like new. Trailer original, built for this type boat 3 new tires, disc. brakes. trailer pivits for easy loading. This is a colectors item and in the year of 1968 one of the best ski boats lots of room for skiers and skis. my boat at that time would pull up 12 skiers with lots of power. GOOD Fishing boat ice down containers under back seats - handles great in rough water. Need to sell asking $2,000.00 or make offer. contact Tom at 1-270-493-0293 located in N.C.

Owner: Tom Baas
Boat Name: none
Make: Evinrude
Model: 19' Rogue II
Year: 1968
Engine: V-8
Location: North Carolina
Model number: 441605s
Hull serial number: no hull number in 1968 -- S/N--W14999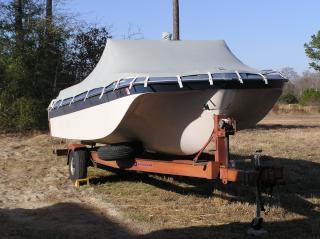 Boat with cover on trailor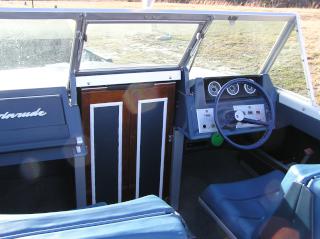 Inside boat coolers under back seats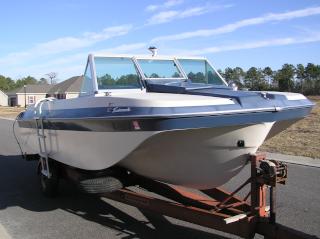 Boat and trailor
---
Parting-out 1968 Evinrude Sportsman 1/4/2012
I have a sportsman with a bad outdrive and cracked block so I'm parting it out. I have everything but the drivetrain: complete windshield and brackets, rear hatches, fuel tank, steering wheel, front and rear seats, gauge cluster, ignition panel, emblems, switches, controls, lights, rails, cleats...everything.

Make: Evinrude
Model: 16' Sportsman
Year: 1968
Engine: Other
Asking: Various-Reasonable
Contact: matriarchyacht(at)yahoo.com
Location: West Union, SC

---
Boats for Sale (2011)
Boats for Sale (2013)
Back to omc-boats.org