OMC Boats For Sale (2011)
The following boats have been reported as for sale. Nothing more has been confirmed. Dated information has been left in place for reference.
---
Rebel Windsheild 12/14/2011
1967 Rebel windsheil, tinted at top, hinges and hardware still attached.
Make: Johnson
Model: 16' Reveler
Year: 1967
Asking: 100
Contact: markzplumber(at)yahoo.com
Location: kalkaska michigan

(click on photo to enlarge)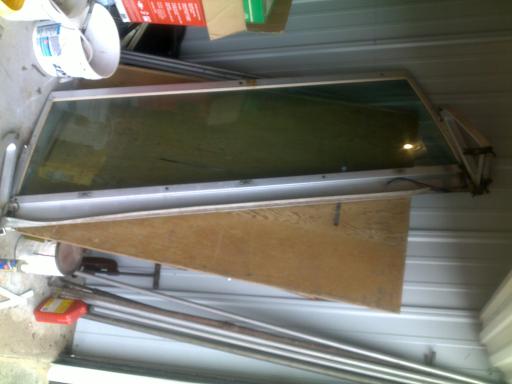 ---
1969 Johnson Reveler 155 hp 11/28/2011
1969 Johnson Reveler 155 hp and original trailer for sale. Includes owner's manual and custom-made boat cover. One owner. Used only during the short summer months (July and August) in Vermont.
Engine runs but loses speed. Hull in excellent condition. Steering cable recently replaced. Needs new upholstery and windshield.
Make: Johnson
Model: 16' Reveler
Year: 1969
Engine: V-6 155HP
Asking: $1,000 or best offer
Contact: email: sharonbernard49(at)gmail.com or phone: (802) 225-6052
Location: Peacham, Vermont

---
Free--1964 Johnson -- Boat only, no trailer. 11/8/2011
This is my old boat I sold years ago. The current owner just emailed me and asked if I wanted the boat back with no trailer. If not they were going to take it to the dump! That would be a shame. It was running well when I had it but wasn't handling the rough Arizona lakes very well. If you are interested in this cool old boat send me an email and I will hook you up with the current owner. Time may be running out to save one of these classics. The price can't be beat! dsteward@hotmail.com
Make: Johnson
Model: 17' Custom
Year: 1964
Engine: V-6
Asking: FREE! Boat/no trailer
Contact: dsteward(at)hotmail.com
Location: Prescott Arizona

---
65/66 14' Evinrude Playmate Boat with Matching Evinrude Trailer 11/2/2011
For sale is my 1965/1966 Evinrude Playmate boat. It has a matching Evinrude torsion axle trailer with new bearings. It was pulled from the states to here and its a very good trailer. Comes with tires, just not pictured. The sides will wet sand and buff out, the seats and carpet should be done to make it perfect. It comes with an extra engine as well. It is a V4 evinrude powerhead from an outboard mounted sideways to an evinrude outdrive. The boat has a fold down front windshield. This would be a great winter project for someone that likes doing cosmetic stuff like wet sanding, buffing and replacing interior. The boat has all the hardware and little pieces that are often missing and the hull is good. I haven't even looked at the engine but I have a spare that was a runner. The interior is orange and I think it has a stereo as well. The original top is there but the upholstery is shot on it. the trailer even has teh original tie downs on the sides for the back!
I have no time to finish or use this boat and I want it to go to a good home. If you know what it is and are going to finish it and enjoy it write me and we can talk about price. I paid $1500 for it plus I have almost $1000 into bringing it back to Canada but I realize I am not going to recoop my money from it. At this point I just need it moved as its not helping it sitting outside and I need to clear the yard. If I can't sell it before the snow flies its getting stripped for parts and the boat is going to the dump and I really don't want to do that. I am asking $1000 OBO, and can help with delivery if I get reimbursed for gas, etc. Boat is located near orillia, ontario
Make: Evinrude
Model: 14' Playmate
Year: 1966
Engine: V-4
Asking: $1000 OBO
Contact: stv_river_rocket(at)hotmail.com
Location: Orillia, Ontario

---
OMC 17' parts 9/22/2011
I have parted out a 17' OMC with 88hp motor and outdrive. All other parts are available also. I will sell cheap. I would like to see them used instead of stored. Major parts beside motor and OD are 3 seats, fixed windshield and many other small parts. I am near Sanford, FL, just north or Orlando.
Thank you.
Model: OMC 17'
Contact: robertspatsy1(at)juno.com 407-328-1560
Location: Sanford, FL, just north or Orlando

---
OMC Stern Drive 8/23/2011 (SOLD)
I have an OMC Sterndrive that was on a 1970 Evinrude with a V6 155 motor. My original outdrive was stolen, and I bought this one new back in 1988. It was only run for less than 8 hours when my motor blew, and I ended up junking the boat. I kept the drive thinking I might run across another boat, but I wish I had keep the old boat now. The drive has been sitting in my garage for years. The drive is a long shaft, electric shift, with true course steering. I believe it has a .62 gear ratio. Available local or arrange shipping.
Make: Evinrude
Year: 1970
Engine: V-6 155HP
Asking: $500
Location: Mooresville, NC

---
1967 Evinrude Playmate 14' for sale 8/14/2011
1967 Evinrude Playmate with trailer. Good condition, runs well. New seats, carpet, gas tank. Trim motor rebuilt. New bilge pump.
Make: Evinrude
Model: Playmate 14'
Year: 1967
Engine: V-4 90HP
Asking: $1,600/offer
Contact: Don Bergstrom 612-670-5756 ersatz(at)centurytel.net
Location: Birchwood, WI
---
1964 Johnson boat; V6 Buick runs good 8/13/2011
Make: Johnson
Model: 17' Deluxe
Year: 1964
Engine: V-6 155HP
Asking: 1,000.00
Contact: 270-903-3427 ampbuddy(at)aol.com
Location: Owensboro, KY

---
1968 Johnson Surfer 200HP 8/2/2011
Very good condition. New canvas, water pump. original trailer has new axle, tires and brakes.
Make: Johnson
Model: 19' Surfer
Year: 1968
Engine: V-8 200HP
Asking: 3,000 or B/O
Contact: dad-da-destroyer(at)hotmail.com 612-325-3078
Location: st paul,minnesota

---
Evenrude mod# 0-5705 ser# 202401E sweet 16 hull 7/31/2011
i picked up the boat knowing it was special and somone would give their two front teeth lol for it
Make: Evinrude
Model: Sweet '16
Engine: Other
Asking: 1,500 bro
Contact: edgydogg(at)yahoo.com
Location: west paris maine
Model number: 0-5705
Hull serial number: 202401E

---
1969 johnson seasport 155 v6 parting out or for sale 7/31/2011
Make: Johnson
Model: 16' SeaSport (II)
Year: 1969
Engine: V-6 155HP
Asking: 1500 .00 obo
Contact: jessejobbins call 1 231 638 3384 or 231 788 2593
Location: muskegon mich
Model number: 0477010
Hull serial number: wi38802

---
1970 Evinrude Sportsman 155 7/29/2011
Original manuals and advertisements. 3 props, spare tire for original trailer. Located in Saugatuck MI at Tower Marina.
Make: Evinrude
Model: 16' Sportsman
Year: 1970
Engine: V-6 155HP
Asking: $4400
Contact: williamlindow(at)comcast.net
Location: Saugatuck Michigan

---
1964 OMC 17 7/18/2011 SOLD
This boat is in great running condition. Used most weekends through July and August to get from the marina to an island cottage and back. Professionally maintened and stored at the marina since new. Aquired from original owner two years ago, but just not using it.
Make: OMC
Model: 17' Deluxe
Engine: V-6
Asking: $500 OBO
Location: Muskoka, Ontario

---
project boat 6/23/2011
This boat dropped into my lap; previous owner had to get rid of it. Engine hasn't run in ten years but has compression and turns over. Hull needs minor repairs; damaged putting on wrong type of trailer...looking for someone willing to put effort into restoring as it is a very unique watercraft; already have a 1966 Chriscraft cabin cruiser that takes up my time but treats me well out on the water. Unsure of exact year and make; would welcome comments. Also can be reached @ 705-493-1802. Can supply pictures as I'm not sure if I can attach any to this site.
Make: Evinrude
Model: 17' Deluxe
Year: 1965
Engine: I-4
Asking: $750 cdn
Contact: bmorin5(at)cogeco.ca
Location: North Bay, On, Canada

---
1968 Evinrude rogue 210 6/19/2011 (SOLD)
This boat has low hours. Has been Marina maintained, mostly been kept in the garage when not in water. Been used every summer. Has a custom road cover, original trailer with new axle and tires. Fiberglass and interior is in good shape. 2500.00 or best offer.
Boat Name: Tipsea too
Make: Evinrude
Model: 19' Rogue
Year: 1968
Engine: V-8 210HP
Asking: 2500.00 OBO
Location: Muncie, Indiana

---
Evinrude/Johnson axles 6/6/2011
Asking: 100.00 each or make an offer
Contact: alttabtoggles(at)hotmail.com
Location: Houston, Texas area

(click on photos to enlarge)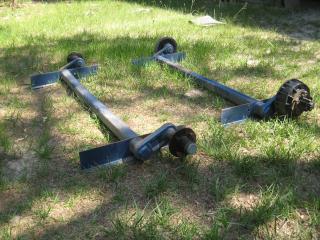 Axles for 16' Evinrude/Johnson trailer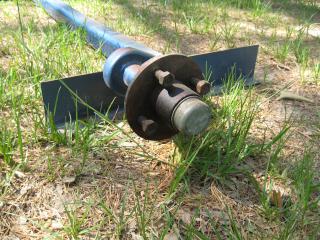 standard hub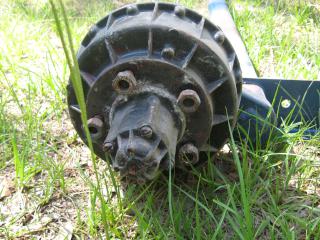 brake hub without internal parts
---
1970 Sportsman 155 5/20/2011
I have owned this boat since 1987. My father owned a boat sales company that sold Starcraft, Evinrude, Signa, Cobalt, Browning, Lund. He sold the business in 1977. I have always been partial to Evinrude boats. I have owned a Sweet 16, a Playmate (I still have). And the Sportsman 155. Over the past 5-6 years the Sportsman has been getting weathered being stored outside. My wife wants me to sell. I am hoping that someone who loves these old boats could restore or use it for parts. Matching Evinrude trailer.
Make: Evinrude
Model: 16' Sportsman
Year: 1970
Engine: V-6 155HP
Asking: 800.00
Contact: becwartile(at)aol.com
Location: Dubuque, IA.

---
1963 OMC 17' Deluxe Parts Boat 5/19/2011 SOLD
This is a parts boat only.. There must be someone who needs some of these parts for a restoration project.
Make: OMC
Model: 17' Deluxe
Year: 1963
Engine: Other
Asking: $100.00 o.b.o.
Location: Inver Grove Heights, Minnesota
Model number: 975001S
Hull serial number: 1263

---
64 Sweet 16 5/11/2011
64 Sweet 16 I bought 4 years ago and redid the floor and new paint.
Make: Evinrude
Model: Sweet '16
Year: 1964
Engine: Outboard
Asking: $1550
Contact: timjaquith(at)yahoo.com
Location: Brookfield, Ct

---
62 OMC 17 Runabout Parts 4/30/2011
I have a 62 OMC Runabout I want to part out: windshield, running lights, dash plate (but cracked) complete engine 88hp v4. Gear housing in lower unit is cracked, tilt works. Need any thing just call or email or text.
tim
Can send pictures of any part you would like.
Make: OMC
Model: 17' Runabout Outboard
Year: 1962
Engine: V-4 88HP
Asking: just ask and make offer
Contact: tcrash8(at)gmail.com; 989-884-4409 (call or text)
Location: Alpena, MI (Northeast Lower)

---
1963 OMC 17 Deluxe 4/20/2011
I was given the boat by my Step Father but cant seem to find the time to restore it. Its in great shape and from what I can tell its all original.
Make: OMC
Model: 17' Deluxe
Year: 1963
Engine: V-4 80HP
Asking: Best offer
Contact: lindsay_treena(at)yahoo.ca
Location: Calgary, AB Canada

---
OMC Propellers 172491 172492 4/16/2011
I have two OMC propellers that are in very good condition. From what I've read, these fit OMC sterndrives from the late-60's and/or early-70's.
1) OMC part number 172491. It's a 14 x 15 R stainless steel prop with 3 blades. 2) OMC part number 172492. It's a 14 x 17 R stainless steel prop with 3 blades.
I will ship if you pay for the actual shipping charges from zip code 15146. Each prop weighs about 12 pounds with box and shipping materials.
Feel free to email with offers or corrections on the above info....
Make: OMC
Asking: $150.00
Contact: m2(at)alaia.net
Location: Monroeville, Pennsylvania, USA

---
68 Sportsman 155 4/13/2011
Purchased this awesome boat last year (2010), with intentions to totally restore. Started to do just that, until recently came upon a 71 Explorer, that is water ready. Decided to buy that boat and pass this "Classic" on to someone else. She doesn't need alot, and is in VGC. Only asking what I have in. Please call or e-mail, if interested. Thanks, Doug..
Make: Evinrude
Model: 16' Sportsman
Year: 1968
Engine: V-6 155HP
Asking: $800, OBO
Contact: (314) 600-4516 suv_doug(at)yahoo.com
Location: St Louis, MO

---
1969 Rogue 210 4/1/2011
Have owned this boat at least 25 yrs. Bought it from 2nd owner in South Carolina. Had it in the water every year except one to the best of my knowledge. Does not have original motor, that was smoked when I got it. Stuck an 1977 350 c.i. that came out of a Nova. Top half of that motor has been rebuilt once and am confident it would still run O.K. Trailer is all there except brakes. Installed a new Overtons gas tank 2 years ago. Basically this would be a parts boat for the right person. Have a spare upper unit and parts of the lower unit. May be interested in parting out but would rather sell whole. HAVING TROUBLE GETTING PICTURES CAN EMAIL THEM TO INTERESTED PARTYS.
Make: Evinrude
Model: 19' Rogue
Year: 1969
Engine: V-8
Asking: good offer
Contact: bernie363(at)windstream.net
Location: Frewsburg, New York

---
1964 Johnson 17 3/16/2011
I bought it last Summer. It was not in running condition from sitting, but the engine turns over and appears to have been maintained. I cannot a test the out drive for the same reason - but again all appears well maintained. I pulled the gas tank to have it boiled out and pulled the carb. to have it rebuilt, I thought that the gas system should be cleaned before trying to start it, neither have been reinstalled. I have also bought pieces over the internet to replace items missing or in need of repair that I will work with you for pricing. Attached is the only picture I have of the boat.
Make: Johnson
Model: 17' Deluxe
Year: 1964
Engine: V-6
Asking: $850.00
Contact: Flathead(at)optonline.net
Location: Long Island, New York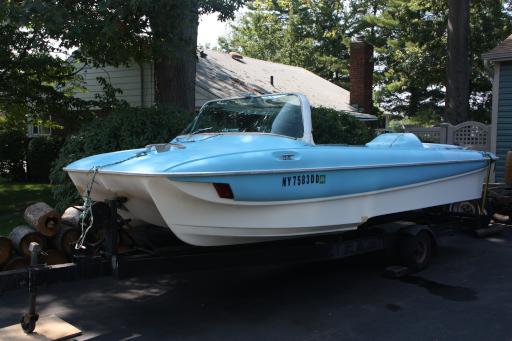 ---
1968 Evinrude Rogue II 210 3/7/2011
This is a 1968 19ft Evinrude Rogue II 210 inboard, outboard boat. Original paint, top and interior. Top will need to have some spots stiched and probably the rear bench seat will need a new cover. I believe that the original engine is a 283 chevy and it starts right up every time. This boat has been in our family since 1970 and has never broken down. Have almost new custom cover for it and also two new tires. Looking to get $1300 out of her or will consider trades of equal value such as golf carts, motorcycles, dirt bike, 4 wheeler, 80's mustang, sailboat or lawn tractor.
Make: Evinrude
Model: 19' Rogue II
Year: 1968
Engine: V-8 210HP
Asking: $1300
Contact: iceref63(at)nc.rr.com
Location: Apex, NC

---
Evinrude Sport 16 3/7/2011
Got this boat from a local resident last summer. It's pretty much complete but needs some engine work and cosmetics. Would like to sell to someone who will restore or needs it for parts.
Make: Evinrude
Model: Sport '16
Year: 1965
Engine: Outboard
Asking: 500 obo
Contact: matthews_x(at)yahoo.com
Location: Elk Rapids, MI

---
1966 OMC Dual Deluxe For Sale 2/9/2011
The registration says 1966 but I think it is a 1964. I have worked very hard to bring this boat back to life. My first project was to gut the floor and remove all the wet foam, rebuild the deck and refoam it. I pulled both engines and cleaned them up, new carbs, head gaskets, good compression on all cylinders, many new electrical parts, new fuel lines, tanks pulled, cleaned, new float guages, new seals in the outdrives, props rebuilt, trailer wheels have 100 miles on them, new rollers, lights, wench, strap. Needs an interior but the boat runs fine and I'll even throw it the anchor. All manuals, parts catalogs and spare parts. If I had any sense I'd part the thing out and make money but then all that work would be for nothing and this rare bird would be lost forever. I have many more pictures of the "work in progress". The tough stuff has been done now it needs someone to put the finishing touches on the classic. The "before" engine picture is in the
"Sightings" section
.
Make: OMC
Model: 17' Dual Deluxe
Year: 1966
Engine: V-4 88HP
Asking: $1800
Contact: micmasters(at)roadrunner.com
Location: Buffalo NY

---
1970 Johnson Surfer for sale 2/2/2011
Bought this boat 5 years ago with great intentions. I had to replace the engine due to water getting left in the original block. Right now it has a freshly rebuilt GM 350 running approx 350 HP. It also has a brand new prop designed for the upgraded power. Boat is in excellent shape outside but needs some cosmetic interior work. All mechanical parts work perfectly but it is in need of an exhaust manifold as one is cracked. This was actually the issue that broke the proverbial camels back. I'm ready to send this baby down the road to someone who truly appretiates it. If interested I can provide photos.
Make: Johnson
Model: 19' Surfer
Year: 1970
Engine: V-8
Asking: 3000 OBO
Contact: justinahamer(at)gmail.com
Location: Arlington SD

---
1968 Evinrude Sportsman 155 1/13/2011
1968 Evinrude 155 Sportsman and trailer. This is truly all original, NOT a restoration boat. Found sitting inside a garage for the better part of 20 years in upstate NY on a freshwater lake. NEVER been in saltwater. Mint condition inside and out. Carpet, all upholstery original. Runs absolutely perfect. Motor and outdrive have less than 100 hours on them. Must see to appreciate.
Make: Evinrude
Model: 16' Sportsman
Year: 1968
Engine: V-6 155HP
Asking: $6800 OBO
Contact: andy(at)andyscustomcarts.com (941) 356-9769
Location: Bradenton, FL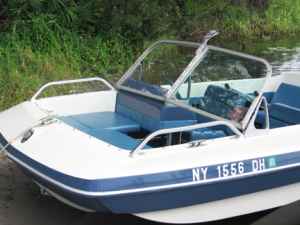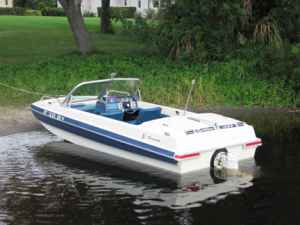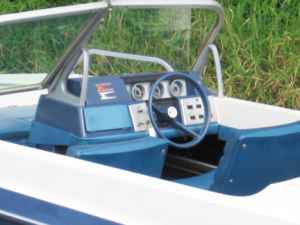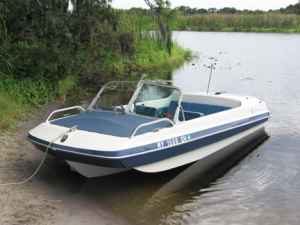 ---
1967 Johnson Caprice V-4 90 HP 1/6/2011
For sale nice 1967 Johnson Caprice that is in all original condition, except for new seats and carpet. I still have the original seats and convertable top but they would have to be recovered. The engine is a DU-14DR 90hp. This boat is fully operational with no known problems. Have used the boat twice this year. The lower unit was apart when I got the boat but has been repaired. This is a really pretty nice boat and will go 34 mph on smooth water. It has a nice matching Johnson Trailer with all new bearings and seals. I have all the original paper work and manuals for the boat and trailer. Please call me for more info and I will fill you in completely on the history of the boat. Also, look at the sightings part of this website for
additional photos
!!
Make: Johnson
Model: 14' Caprice
Year: 1967
Engine: V-4 90HP
Asking: $2,200.00 or best offer
Contact: Call Bill at 313-682-4770 or e-mail at loweski(at)comcast.net
Location: Milford, Michigan
Model number: 312704E
Hull serial number: W122422

---
1966-1968 Johnson Caprice Evinrude Playmate Parts 1/6/2011
I have two complete V-4 90hp 2 stroke engines (one DU-13 and one DU-14) condition unknown. Was told that the DU-13 runs. One complete out drive and parts from three others. I parted out a 1967 Playmate and two 1966 Johnson Caprices, so I have a variety of parts for these boats. Included are: complete dashboard and steering wheel for a "66" Johnson Caprice, one electric shift Johnson control and more.
Please call Bill for more details: 313-682-4770
Engine: V-4 90HP
Contact: Call Bill at 313-682-4770 or e-mail at loweski(at)comcast.net
Location: Milford, Michigan
---
new vintage omc parts 1/5/2011
Asking: various: contact with wanted part for price
Contact: talltimbershp(at)yahoo.com
Location: Monticello, Indiana

---
Boats for Sale (2010)
Boats for Sale (2012)
Back to omc-boats.org