OMC Boats For Sale (2003)
The following boats have been reported as for sale. Nothing more has been confirmed. Dated information has been left in place for reference.
Boat Parts 12/22/2003
I have access to a lot of parts for the older evinrudes, and some of the johnsons. We had several of these with hull problems that we have parted out over the years, and actually still have a 19 Rogue running that I take out from time to time, and a 16ft Evinrude that has carbureator issues. As I said we have parts for these style boats, outdrives, some gears, I believe even some gauges and a steering wheel or two laying around. We also have a couple of the original trailers sitting up for sale. If you are looking for parts, a restoration boat, or a trailer let me know and I will see if I can help you out. Glad to see so many well cared for ones still out there running.
E-Mail me at miboatparts@yahoo.com
---
1968 Reveler 11/5/2003
I have a 1968 Reveler that has been in the family since new. I'm moving and can not take it with me. Its in very good condition and has a great trailer although it does need engine work. I will consider any offer.
Ken Peltonen
206 501 7958
Seattle WA.
---
1968 Evinrude Sportsman 155 9/16/2003
This was going to be my winter project this year, but due to unforseen reasons it's going to have to go. (As are a number of other toys) In any case, this boat is in need of a little TLC but could be a fine machine with a little bit of tinkering. I was really looking forward to putting it on the water next summer. The motor runs very well and sounds good. I was having some carb problems when I first purchased it but I rebuilt the carb about two weeks ago and those should all be settled. I aslo removed and steam cleaned the fuel tank as it was fairly filthy. The lower unit water pump needs still needs to have the impeller replaced in it. The part is available from Stone and Sons Marine for less than $30. I purchased a service manual for it that outlines step-by-step how to do this procedure and anyone who is mechanically inclined should be able to do it. Other than that, the boat shold be water ready. It does need to have a bilge pump installed in it and the blower pump re-installed. I believe there is going to be some additional wiring work that will have to be done as well, as there are several switches that aren't currently working. The trailer is a tandem axle and has brand new tires on it. It is in need of some wiring/lighting work, but other than that it is functional as is. I kind of hate to see it go, but situations beyond my control are forcing me to do so. I am asking $1000 for it, but that price is somewhat negotioable if someone if seriously interested in it.
Chad Chambers
114 N Saddle
Enid, OK 73703
(580)234-5086
cj5guy at intercorp.com
---
1970 Evinrude Sportsman 155 9/2/2003
Truly a rare boat, kept in excellent condition. Only two owners, meticulously cared for. Fresh water only. Unique gull wing ride, extremely stable, great for kids. Hate to part with her; moved into bigger boat.
Buick Marine 225 cu. in. V-6 155 HP; Lower Unit completely rebuilt last year; New lift motor and clutch pack; New top and side curtains; Mooring cover; New Boarding Ladder; Rebuild original combination bilge pump and blower; New deep cycle battery; ACCESSORIES: Life Jackets, New Fire Extinguisher, Fenders, Anchor Lines.
Original Evinrude Trailer Ser. # 21739 (new 6 ply tires)
Original Brochure; Owner's Manual; Trailer Manual
$3,000
Contact John Knudsen 603-770-4279
---
Johnson Runabout Wiper Motors 6/12/2003
For sale: a pair of wiper motors and chrome arms from a Johnson runabout. Not sure of the year. Date codes are 2-28-63 and 1-14-65. There is also another number WWF12A23-220. If these can be of help to anyone, email me at jambrina@videotron.ca. Make an offer. I am reasonable and would love to help someone. James
---
1964 Evinrude Sweet '16 with 1964 75HP 5/14/2003
I must give up the boat, motor and trailer my Dad bought new in '64. I have put 97% of the hours on it. Evinrude Sweet 16, blue over white, Evinrude Starflight 75 hp motor, and Evinrude tilt trailer (new tires and wheels, someone stole the originals). This boat runs & starts good, always shedded, never set out. It has light blue polyolefin carpet, 4 blue/white seats, 2 original 6gal. tanks, complete original top. The trailer tongue has been lengthened to accomodate my van in a tight turn. This is a classic, in good shape, ready to go. Have original sales material, and sales receipt, when purchased new. $2500. Jeff Casten. email: castenfarm@juno.com or call (785) 759-3520 (Eastern Kansas)
I also have a '65 Evinrude Sport 16 boat, Evinrude trailer w/power winch & bearing buddies, '96 Evinrude 70hp motor w/ tilt/trim (not running, has cylinder damage) w/19hrs on it. Boat is seal gray over white with red accent trim, 4 seats, fish locator/depth finder, other fishing accessories. Original white vinyl top, with side/rear clear curtains, front cover with wood bow: rain tight!! This boat has a custom made canvas cover, and has always been shedded, shines like new! Can take emailable photos if there is interest. Same phone and email as above. Somebody tell me what it is worth?
---
1966 OMC 17' Deluxe 4/20/2003
1966 OMC 17' Deluxe for sale in Ontario. Newer V-8 engine and 800 series outdrive. With trailer. $2500 OBO. Gary 561-585-9227
---
1967 Johnson Reveler 155HP 4/17/2003
1967 Johnson Reveler. Garage kept. All original and in good condition. OMC outdrive rebuilt in 2001. Comes with full enclosure and side curtains. 155hp GM V6 engine. Two props. Runs great. Includes trailer with new tires. Located in Somerset, Kentucky. $2250.00. Video available on request. Ed & Bonnie Kimble 317-881-1944.
---
1969 Johnson Reveler V6 4/4/2003
1969 Johnson Revler. This boat has a buick V6 inboard motor. Mostly all original, front seats have been recovered, missing some interior trim. Looks and runs Great! Trailer included. $2,500.00 or best offer. For more information and pictures please Email me at <Boatman@suscom.net> (The boat is located in Jersey Shore Pennsylvania).
---
OMC 17 Dual Deluxe 3/30/2003
I have just acquired a mid 60's OMC 17 Dual Deluxe, it almost seems a shame to sell all the parts by the pound but it my plane unless someone else tells me they need them. I only need the trailer and this is a complete boat with all the parts as best I can tell. Will take any reasonable other for any part of the boat. North Eastern Illinois.
JR. <jr5252@sbcglobal.net>
---
1966 Evinrude Sportsman 150HP 2/23/2003
$1250 - Restore or for parts
Bought this from the original owner in the '70's. We had a great time with it on the Elk River for many years.
Used on Elk River and Susquehanna Flats at the top of the Chesapeake Bay. Currently stored near Turkey Point on the Elk Neck Peninsula.
Includes:

1970 Teen TL Trailer
2 extra propellers
1 original OMC Sterndrive Owners Manual (Part No. 381101)
1 original Evinrude Parts Catalogue 1966 Sportsman (Item No. 4288/Part No. 977598)
1 original 1966 Owners Manual / Sportsman (Part No. 977088)
1 OMC Parts & Accessories OMC Propellers Literature (Part No. Acc 7402J)
1 electric motor for outdrive tilt
2 boxes of fuses
2 shear pins
4 cotter pins
1 Fram CG10 Fuel Filter
This is my first son cruising the Elk River in a 1966 Evinrude Sportsman. That's a barge traveling to the C&D Canal in the background. It has the original 150 HP inboard/outboard engine, and except for needing some new exhaust headers, was in good running shape last time it was winterized. Boat is for sale -- restorable -- operable engine and outdrive from 1966, extra props, and original manuals.
Contact:Mike Szep
Phone (410) 287-5618
E-mail: mikesr@szep.net
Click on photo to enlarge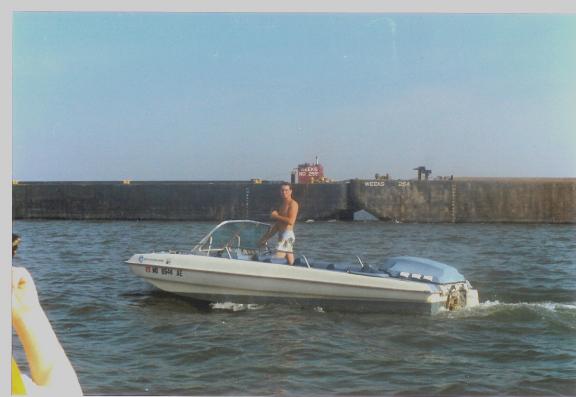 ---
Boats for Sale (2004)
Boats for Sale (2002)
Back to omc-boats.org