OMC Boats For Sale (2002)
The following boats have been reported as for sale. Nothing more has been confirmed. Dated information has been left in place for reference.
---
1966 Evinrude Sportsman 150HP 11/27/2002 (SOLD)
Due to a shift in my life of going back to school and the resulting lack of finances and space I am selling my boat.
It is a 1966 Evinrude Sportsman 150. Here are the details. Last winter I rebuilt the motor. It is a 1982 3.8 liter V6 made by Buick. It is bored out 40 thousandths. I had the crank ground down 20 thousandths. I put new main, rod and cam bearing in. I have all receipts. Earlier in this summer, I had problems with some power output while under a load. I disassembled and reassembled a lot of the lower unit looking for the problem. Fortunately, no problems were found. Instead, doing things bassackwards, I opened the carburetor and found an iron ore mine in the float bowl! I rebuilt the carburetor and have gotten rid of the lack of power problem. There is a aluminum prop. There is a brand new battery. There is a new (engineered) electric shift switch box. The remaining problem is the tilt mechanism. The tilt works but not all the way up. It is as if it runs out of juice. Perhaps a new electric motor would fix that. Since the wiring is old, many of the connectors had poor contact. The wiring on the entire boat has been gone through and is fixed. There is a new 500 GPH bilge pump. On the heavy trailer, there is new wiring, lights and jack. The trailer has the old style two-piece rims and a different bore axle spindle. New tires and/or wheels are needed. The old tires do hold air they are just not something I would want to take a long way down the road. I can always answer questions or take more pictures if you like. Just ask. I would like to be able to sell this to someone who can use the parts or work on the fiberglass to take out the aged cracks. Asking: $800. [sold for $500 5/2004 on eBay]
---
OMC Boat Litterature 11/25/2002
We owned and operated a boat dealership for 31 years and sold the Evinrude boats from 1968-1970. I still have some parts catalogs for these boats that owners of these models may be interested in.They are yellowed from age and are smudged but very legible. They contain exploded views of the components along with the part description and part order number. 1968 Playmate; 1970 Sportsman, Explorer, Sportsfisherman, Rogue II, Dolphin, and 1970 Boat and Trailer accessory parts book. Also the engine/outdrive parts catalogs for these boats. $6 each plus postage. Please email me direct: &lt linda(at)nu-z.net &gt
---
1969 Evinrude Rogue 19' 210HP Model 441506 9/23/2002
Second owner wanting to sell: 950hrs by first owner, now showing 1400hrs. No saltwater use ever. We bought it in the fall of 1988 and raised our two kids on it just like the first owner.
This is a clean, complete, dependable, family boat w/convertible top, side curtains, mooring cover all in good shape. Stay dry in those passing showers. Owner, trailer, and service manuals. Original trailer. Ready for the water. Pictures available by e-mail soon $1500.00/OBO. 937-426-6341 for more information. Dayton, Ohio. <bowtie(at)graphtronics.net>
---
1967 Johnson Reveler 155 9/20/2002
1967 Reveler 155 hp in good condition, no leaks motor runs great, year old battery, just put on new alternator, with original trailer minus tilt cylinder has new axle, dana greasable caps. It's a nice boat, runs strong. Asking $2000 or make an offer, you never know. I live in very southern Michigan near 80/90 tollroad and I-69, can be reached at m.popp(at)verizon.net or 1-517-369-8494
---
1962 17' OMC Canada Deluxe 9/5/2002
This early Canadian model (serial # C100003) is in very good original condition. It was purchased in Pembroke, Ontario on July 5th. 1962 then transferred to its 2nd. owner in Sept.1968. It has seen very little usage since that time as well as always being stored inside. I purchased it May 1993 and it has since been kept in storage. Last in the water in July 1999 running well, since then winterized & stored. As I'm about to have more time on my hands I've decided to replace it with something much more utilitarian. Here are the particulars:
1962 OMC 17' Deluxe Model # 975001S Serial # C100003
80 hp OMC 480 stern drive
c/w original manuals, parts catalogues for engine & boat.
c/w all original equiptment incl. power tilt windshield
original convertable soft top with side & rear curtains (windows)
5 deluxe seats c/w built in life preservers
1962 Teenee Model #OMC62 tandem trailer
boarding ladder & interior step
The only flaws that I'm aware of are one small hole in the original convertable top- about 1 1/2"x 2 1/2" & webbing under centre rear seat is broken. As this might possibly be the earliest & best of its model in existence I'm hoping to get $7500.(USD) but am open to offers. It is located in the Upper Ottawa Valley in Eastern Ontario. I can be reached at sones(at)magma.ca or (613) 586-2238 for further info & pictures.
---
1966 17' OMC Canada Deluxe 9/5/2002
My uncle bought it new in 66. I bought it off him in 81. Used it till 88 Dry stored since. I just replaced the engine and outdrive (originally had an 88HP, now 185HP). 305 Gm, 800 series outdrive. Rebuilt upper. New lower including housing and shift cable. I hate to sell but my wife just had a baby. Asking $3000.00US obo Boat is located north of Toronto Ontario.Comes with a trailer. 705-689-2460 561-585-9227 Kitwee(at)aol.com
---
1963? Johnson Deluxe 17' 9/3/2002
1963? Deluxe 17'
Second Owner
80? HP V4
on tandem axle trailer (not original)
$1,500
Model 975406R
located in northern central Pa.
Chris Morrell
(570) 537-2273
<morlc(at)npacc.net>
---
1970 Johnson Surfer 210hp 8/22/2002
| | |
| --- | --- |
| I haven't used my 1970 Johnson Surfer in over three years because I have other boats and never got around to using it. It has been inside all this time and last Fall I checked it out to make sure all was good. I syphoned the gas out and filled it again and ran it. This boat is a two owner boat and is in real nice condition. It has the original seats that do show wear but are very usable.The engine and outdrive are in excellent condition. I have never detected any leaks in the lower unit. I do need to replace the down solenoid on the tilt. They are readily available at any auto parts store. I have owned the boat for 10 years now. It has the original top. It comes with a shorelander trailer, not the original trailer because for the first 22 years it had been boathouse kept and they never had a trailer. I have set the price realistically at $2800.00 dollars in U.S. funds. Parted out it is worth the asking price. If interested we could arrange to put it in the lake and spend the afternoon together for one last cruise. You won't be disappointed. I live in Northern Minnesota. Thank You. John Weber 218-327-1506 <sherryl(at)paulbunyan.net> | (click on photo to enlarge) |
---
1966 120HP Evinrude Sportsman '16 8/20/2002
I have a project boat that I do not have time for and would like it to go to a good home for what I paid for it. The boat is an blue/white 1966 120HP Evinrude Sportsman '16 and it also had the original trailer.
Boat
Trailer
Manufacturer:
Evinrude (OMC)
Evinrude (OMC)
Year:
1966
1966
Model:
234503R
975985R
Serial No:
WI-19128
WI-0380
Length:
16 ft
16 ft
Engine:
120 Hp I/O
The Engine needs an exhaust manifold, the boat itself is sound but needs some TLC and elbow grease on the glass and the engine dog house needs to be replaced / rebuilt. The trailer needs new tires before it can be moved and possibly a new hitch receiver assembly. Neither the boat or trailer are currently registered. If anyone is interested in the boat I would like back the $500.00 I paid for it.
The Boat in located in Ontario, California (about 30 miles east of Los Angeles). Give me a call at 909-983-6211. Mike Spivey <mike.spivey(at)worldnet.att.net>
---
1971 Chris-Craft SeaSport Gull Wing 8/15/2002
Yes, that's right, 1971 Chris-Craft Gull Wing. 155 I/O in perfect operating order & condition. Everything works on this 16' open bow. Interior and exterior are in excellent condition. Purchased in 2001 from the original owners (older couple who moved to a retirement community). Completely refurbished Evinrude Trailer and New mooring cover. Comes with lots of extra props and key mechanical components. Also included are the (oem) OMC Repair Manual, Parts Catalogs and Literature. This boat is a real rare find in this condition. Located in Southeastern Wisconsin (Hartland, Wisconsin). $3,000 obo. Contact Bob Rowe (262) 367-8050 or browe(at)milwpc.com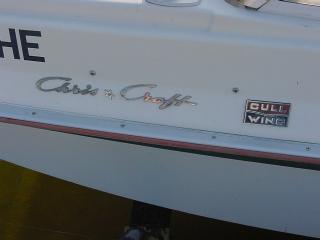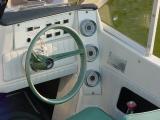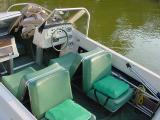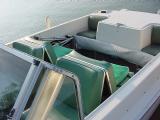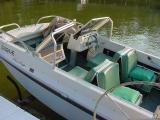 More Photos of this boat can be seen in the "SIGHTINGS SECTION"
---
1965 Johnson Runabout For Sale 8/5/2002
1965 Johnson Runabout For Sale! Boat and Trailer. So. California. Picture available. Contact: MRead54566(at)AOL.com
---
1966 Evinrude for Sale !! Cheap !! NE Pa. 8/2/2002
16' boat and trailer. Rough, but cheap. Ask for Steve. 570-226-4445 Best Offer !!!!!!!!!!!!!!!! NE Pa. www.Bakkermarine.com
---
1969 Evinrude Sportsman 155 7/10/2002
1969 Evinrude Sportsman 155 H.P. V-6 open bow. Full canvas with side curtains runs very well, fair to good condition. On 1974 Holsclaw trailer. Located in central N.Y. $2,500 OR B.O. e-mail kipphill(at)aol.com or call Jeff at 315-625-4518
---
1970 Evinrude Explorer 7/3/2002
1970 Evinrude Explorer, model #0037010, 17 ft., 150 HP with only 140 hours. Owner: Rick Curry (bought from original owner with 80 hours). Home: Owensboro, Kentucky. Boat has been in storage since 1992. Photos taken 6/23/02. rcurry9835(at)aol.com
(click on photos to enlarge)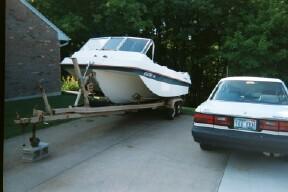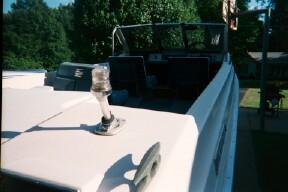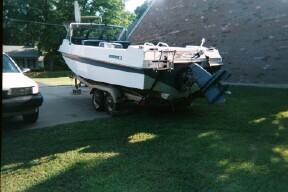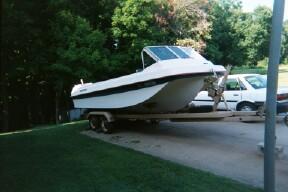 ---
Johnson and OMC 17' Deluxe boats with trailers 6/14/2002
I have three of these boats with various engines but all solid and with original I-Beam trailers. The prices are resonable at $200 for a decent boat with stuck v-6 and and no outdrive or trailer to $1000 for a decent v-6 , outdrive,with decent trailer and most of the seats, ladders, conv top, and inside step and all of the side storage bins and doors. Give me a call at 215-493-2255 (Washington Crossing, Pa, 30 minutes north of Philadelphia) or e-mail at sdohm813(at)aol.com Delivery possible to Chicago area.
Stan Dohm
---
1966 Johnson Surfer 5/15/2002 (SOLD)
ORIGINAL OWNERS MANUALS: BOAT, ENGINE, OUTDRIVE, TRLR, 4 hp JOHNSON O/B MOTOR w/ FUEL TANK (less than 25 hrs!) and O/B MOTOR MOUNT FOR KICKER, SPARE ANTENNA WHIP, 2 SPARE PROPS w/ extra shear pins, prop hub, SPECIAL OUTDRIVE LUBE PUMP, 6 LIFE PRESERVERS, FLARE GUN, 20'x30' COVER, AND MORE...This beautiful boat has been in my family since it was purchased new from Roseland Outboard (Chicago) in 1966 by my Uncle who was a physician. He took great care of it and we've done the same as the 2nd title holders since 1991. It's great on the river or the lake. We've even taken it from Hammond to Michigan City a couple times and had a ball. Now it's your turn! Fish'n'Ski or just joy ride. We have another boat and don't use this one anymore, so you should!
NOTE (after boat was sold);
BUCValu listed this vessel as having a value of $6,350-7,300 with the usual stipulations to add or subtract percentages for above or below average condition. Our package was clearly above average in every respect. What the market bears though is a different story. We got an offer only after lowering our asking price to $3,595 and sold the boat for 3K, which we had planned as our bottom line. While the BUCValu report left us feeling good, it was unrealistic with respect to the market. On the other hand, the BUC book shows a value for our '82 310 Sundancer far below what we would ever consider accepting as a sale price. Go figure.
---
OMC parts, manuals 5/11/2002
Complete omc johnson dealership parts and inventory valued at $150,000.00 also omc tools, equipment, computer, microfiche, parts books, manuals, paint etc. will take best offer over $30,000.
mike morris
386-467-2282
---
Johnson Reveler 2/28/2002
Jim Whaley has resurfaced, and reports;
There are a couple more available OMCs in Weedsport NY, at "Discount Marine", contact Wayne Murray, 315-834-6843 <whhm(at)earthlink.net> Also I think he has some other OMC outdrive stuff. Sending a pic of a Reveller, there's also a Johnson Deluxe there with original trailer.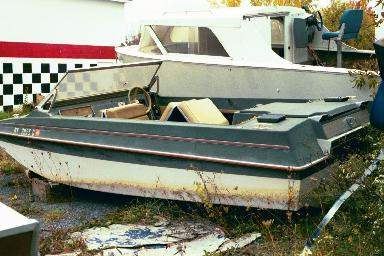 ---
Boats for Sale (2003)
Boats for Sale (2001)

Back to omc-boats.org