From: jd <jdood@...>
Date: Tue, 11 May 2010 17:11:37 -0700
(CAPS USED FOR CLARITY)

n May 11, 2010, at 3:20 PM, Lee Shuster wrote:

> JD,
>
> There's a ton of free info on my website including wiring diagrams
> and charts that will help you verify if you coil and ballast
> resistor are connected correctly. From the photo, it is impossible
> for me to verify, because the wiring colors have been altered from
> original (not at all unusual, but difficult to visually verify
> without physically tracing everything out.

HERE'S A NOTED PHOTO WHICH SHOULD MAKE THINGS CLEARER:

> You should learn to read a basic wiring schematic and then get
> yourself an inexpensive multimeter so you can verify a circuit's
> continuity. See: http://hhscott.com/evinrude/docs/
> electric_all_66.htm and http://hhscott.com/evinrude/wiring.htm
> Such a meter would also enable you to measure the resistance of your
> ballast resistor in ohms and compare it to the published
> specification.
>
>
> Ignition Coil Terminals:
>
> ( + ) Coil IGN Supply (Start) - RED/WHITE 16g wire (I) - (9:00) and
> PURPLE wire to Starter Motor (full voltage on Start)

** I SEEM TO BE MISSING THIS ONE (ALTHOUGH ONLY '68 DIAGRAM SHOWS
THIS. OTHER TWO DIAGRAMS SHOW IT COMING OFF THE BR)

> ( + ) Coil IGN Supply (Run) Ballast RED/WHITE 18g wire To Coil
> ( + ) from ballast Resistor Output

HAVE THIS ONE (PURPLE IN MY PHOTO).

** BUT ALSO HAVE ANOTHER WIRE TO POS OF COIL - RED ONE COMING FROM
DISTRIBUTOR

>
> ( - ) to Tach -- GRAY/RED 16g wire -- (Tacho PPSignal)
> ( - ) to Ign Points -- BLACK 18g wire -- to ignition points inside
> distributor

HAVE BOTH THESE

>
> Engine Ballast Resistor:
>
> ( + ) ballast Resistor Input RED 18 "I" or IGN-On (I+B) Position
> Switch

HAVE THIS ONE (PURPLE IN PHOTO)

> ( + ) Ballast Resistor Output RED/WHITE 18g wire ( + ) IGN Supply
> from Ballast (reduced voltage on Run)

HAVE THIS ONE

>
> Getting the proper coil for your application is easy. You can go
> with just about any coil designed to run with 12-volt applications
> using an external ballast resistor. Once the engine is running the
> coil will operate on about half the voltage that a properly
> regulated alternator is putting out. Just make sure to compare the
> outside diameter with your existing one, so it fits inside the
> existing mounting bracket.

WELL, AFTER TODAYS TRIP TO NAPA I NOW HAVE A 3RD COIL TO TRY. THE
ONE THEY GAVE ME FOR A '69 JEEPSTER PER BC''s SUGGESTION
>
> If I can say this politely, you are starting at the wrong end of the
> ignition system. You're worried about the secondary (high tension-
> voltage) side and you haven't determined it the primary side is
> working properly. It is true they are joined at the hip so to speak,
> but get inside that distributor and inspect/replace the breaker
> points and condensor. Get a new rotor and cap while you're at it.

I HAVE THE PERTRONIX IN THERE
>
>
> /LEE

SO AS BEST AS I CAN TELL I HAVE THESE TWO PROBS GOING ON:

1) NO WIRE FROM EITHER COIL OR BR TO STARTER SOLENOID

2) RED WIRE FROM PERTRONIX GOING STRAIGHT TO POS OF COIL, WHEN MAYBE
IT SHOULD BE GOING TO POS OF BR INSTEAD (?)

WHAT DO YA THINK?

>
>
> -----Original Message-----
> From: omc-boats-bounces@... [mailto:omc-boats-bounces@...
> ] On Behalf Of jd
> Sent: Tuesday, May 11, 2010 10:57 AM
> To: bchowk@...; Evinrude 70's & Johnson Boats of the 1960's
> and
> Subject: Re: [OMC-Boats] spark
>
> yeah you might be on to something here. here's the situation with
> the coils. ran it last year with a Napa coil (can't remember exact
> # but i think 907). Thinking it might be bad, took that coil into
> Napa for replacement. They could find the coil i had in their
> system. So then we did the wild goose chase of me telling them to
> check a " '70 or '71 Buick Skylark, or maybe a Kaiser Jeep V6 Odd
> Fire Buick 225 CID 155". (I still am not clear on what to ask
> for but I think that's close). Also said it was from an OMC boat,
> etc. He came back with an almost identical looking coil, maybe #912
> or something. Said it was the one referenced everywhere and also
> said it was the common one by several other boats (bayliner, etc).
>
> So slight chance I might have wrong coill. But I checked things,
> tried to start, etc with my PREVEIOUS coil in there and still got
> nothing. But as you say, maybe that one was wrong too, but got me
> by last summer until it developed just enough corrosion inside to
> die. Especially after sitting all winter (?)
>
> 1) I don't wanna screw with this, and rely on some Napa guy thumbing
> through books and ending up with something that "should be right".
> Can you tell me exactly where to go and what exact coil I should be
> getting (ie whatever you and everyone else have in your boat)? I'll
> just go buy one. No more trial and error.
>
> 2) I have a functioning ballast resistor. I don't use any voltage
> meter, just my lighted screwdriver thing. The BR is getting power
> via a red wire to it. This is a photo i took before i went shopping
> for a new coil a few days ago (and so i would be able to get the wires
> back as they were). I hooked up the new coil this exact same way.
> See anything out of whack?:
>
>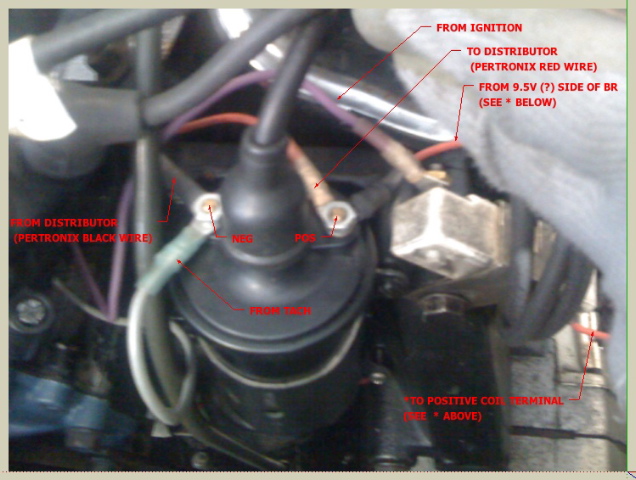 Received on Tuesday, 11 May 2010