From: Lee Shuster \(L1hhs\) <lib1@...>
Date: Mon, 20 Mar 2006 09:56:55 -0700
Hi Paul,

Sorry we didn't get to meet last summer when I was in the Twin Cities
for a weekend visiting my son.

Just a couple of suggestions on your navigation light issues:

1) Have you thought of using the flat stern nameplate "space" to mount a
recessed "circular" aft-facing sternlight. My boat is also missing the
"Sportsman" nameplate (66's read 150, while 67's read 155) I've toyed
with the idea of using the space for a sternlight or using for a boat
name. Just have to think up a good name.

2) Also regarding the bowlight bracket: You might want to consider
mounting a small combo (green/red) navigation light just ahead of the
cleat. I noticed that Bill Green's 67 Sportsman has this mod. It makes
it a lot more convenient than having to stop and get the "snakehead"
pole out of the clips, insert it, and fiddle with the wiring plug. I
plan on doing this, for safety's sake.

See attached file: nav_light.jpg

Let us know how the carb/manifold conversion works out. (Don't forget
the newer of the two carbs has the leaner main jets installed). One
great thing about Holley's products is they are well supported.

Lee Shuster
Salt Lake City
http://hhscott.com

-----Original Message-----
From: owner-omc-boats@... [mailto:owner-omc-boats@...]
On Behalf Of Paul Hamilton
Sent: Saturday, March 18, 2006 3:59 PM
To: omc-boats@...
Subject: [omc-boats] Evinrude Name Plate

Hello All,

We have had about a foot of snow the last week so boating looks even
farther
off than it actually is. Not too early to tinker around though.

Last spring I noticed that the Evinrude Sportsman name plate on the back
of
the engine hood was a bit loose around the edges. I made the judgment
that
this was one of those things that had probably been that way forever and
trying to pry it off and reattach it was only likely to make things
worse.
Of course it fell off within a couple of weeks, somewhere between here
and
there. Does anyone have a lead on one, a parts boat perhaps? I have
the 66
Sportsman, so I think the 63-67 models would apply.

I also need a bracket for the bow light. I have one but it has been
glued
back together, victim apparently of a seemingly obvious design issue;
open
the split windshield, smack the bow light, break the bracket.

I am also going to change out the manifold and install the 4 barrel
carb. I
purchased from Lee last year. I also purchased an HEI from Lee and I
(more
importantly my wife) was very happy with the improved starting power.
Now
I'm even allowed on the lake at night!

I think it added some zip as well, but I was running a different prop so
I
couldn't be sure.

Paul

-----
To get off this list send mail to omc-boats-unsubscribe@...

-----
To get off this list send mail to omc-boats-unsubscribe@...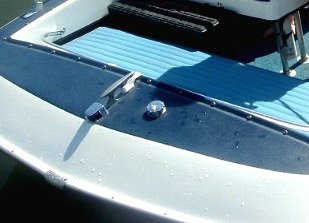 Received on Monday, 20 March 2006