OMC Boat Literature Gallery
I've also indexed sales brochures by year.
---
John Ward's photos of showroom brochure, 1964 price list, "test station report", Starflite V-90 manual. [added 9/16/1999]
---
Jim Orfino sent in this Ad for the Evinrude Sweet '16; [added 10/17/1999]
(click on photo to enlarge [638K])
You've never been able to drive a 16-foot boat into a big wake, full bore, without getting your bottom spanked. Not until Evinrude launched the "Sweet-16."

It's a new design concept.

Basically, a deep-V hull (traditionally soft riding). But there the similarity ends. Two outer keels at the chines give her wide-track stability.

What happens between the stabilizing keels is more important. Water thrown up into spray channels creates hydraulic lift. The shock of pounding waves is absorbed.

The bigger the waves the greater the lift.

You ride on a cushion of spray. And not a drop comes aboard. If you expect to get wet, you'll have to wait for a rainy day.

One ride will tell you why we call her "Sweet-16."

Just 16 feet from stem to stern. Rides wakes and seas more like a 20-footer. Has more walk-around room than most 18-footers. Trailer and all fir a standard 20-foot garage.

The more you about about boats -- the more you'll appreciate the Sweet-16. Also available in a convertible Sport-16 model. Both models in outboard or inboard stern-drive versions.

See them at your Evinrude dealer (listed in the Yellow Pages) or write for free Evinrude Boat Catalog. Evinrude Motors, 4196 N. 27th St., Milwaukee, Wis. 53216.
More Evinrude ads, with Evinrude boats;
---
Jeff Mogensen has this information on the original maker of mooring covers for OMC boats, the Pfferkorn Awning Company of Sandusky Ohio; [added 3/22/2001]

(click to enlarge)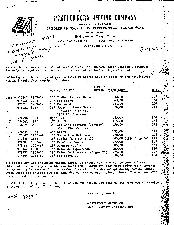 Nielsen Canvas Co, formerly Pfferrekorn Canvas, the Original Equip supplier of OMC boats' mooring covers still has the patterns for all the OMC boats, as well as Chris-Craft and Lyman. Contact Robert Nielsen for details at: nielsencan@aol.com (419) 625-0521
---
Andy Perakes scanned this Johnson literature from his 1967 Reveler; [added 1/27/2002]
---
Tom Conroy sent these photos of 1969 Johnson Sales literature that came with his 1968 SeaSport; [added 7/14/2002]
---
Don Mandelas sent these photos from 1967 Evinrude sales literature:
"I am not a boat owner either, but I do share your appreciation of these boats. To me they were ahead of their time in design and performance. Here is an ad I thought you might enjoy.
Great web site."
(click on photos to enlarge)
<! playmate-->
<! sportsman-->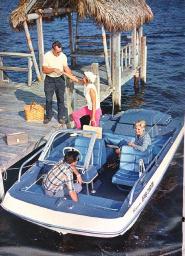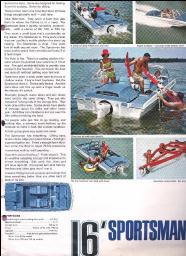 <! rogue>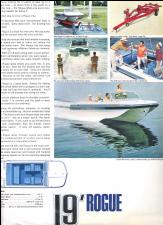 <! specs, trailers>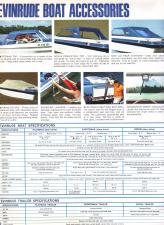 <! aquanaut>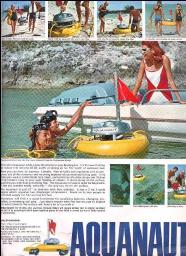 <! back page>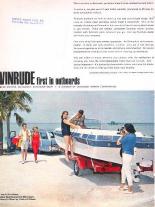 <! sportsman cutaway-->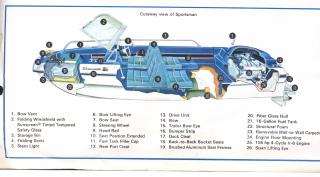 From the bottom of a page that was advertizing the full line of evinrude outboard and inboard motors;
<! outdrives-->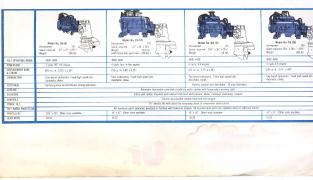 "My Favorite boat was the 1967 Evinrude Sportsman. To me it was best for all around use. I think this advertisement describes it well."
(click on photos to enlarge)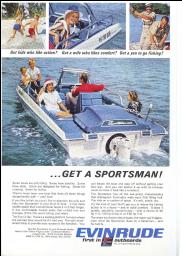 [added 9/17/2002; updated 10/4/2002]
---
Ed and Bonnie Kimble's 1967 Reveler
We own a 1967 Johnson Reveler and love it. We thought you might enjoy this ad that appeared in 1967.
This boat is for sale (as of 4/17/2003)
Ed and Bonnie Kimble
---
Jeff Casten's 1964 Evinrude Literature
(see his 1965 Sport '16 Outboard)
[updated 5/20/2003]
---
1967 Evinrude trailer specs and photos
from Donna Kreiter
[added 6/5/2003]
---
1965 OMC Canada Brochure for Johnson models
from Lee Shuster;
[added 5/28/2005]
---
1964 Johnson Guide to Better Boating aka Johnson Pocket Boat Show
Found by Lee Shuster on eBay:
[added 5/29/2005]
---
1966 fold out Johnson Boat Brochure
from Lee Shuster:
(A transitional year -- both the old 17' and new 14'/16'/19' models)
PDF of brochure (med resolution)
[added 06/14/2005]
---
Caprice Page
Caprice page (from 1967 Johnson lit), from Kenneth Stokesberry.
(click on image to enlarge)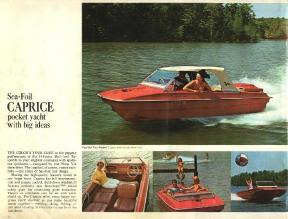 [added 6/22/2005]
---
Test Station Report on the Evinrude sweet 16 and sport 16
From Phil Budne:
c. 1964 Evrude pamphlet my father must have picked up while in Richmond, Va. on business. Many of the images should be familiar from the web site home page!


[added 6/29/2005]
---
Boat Construction (from 1965 Evinrude Boat brochure)
From Lee Shuster: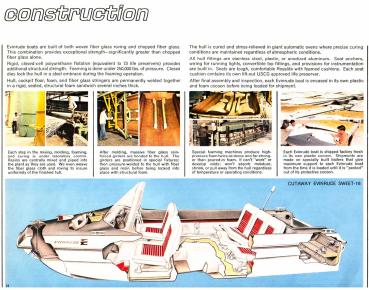 [added 8/24/2005]
---
Canadian OMC17 Color Brochure
Lee Shuster writes: I recently purchased this OMC 17 full-color (Canadian) brochure from what I expect is early 1963 (as the only engine listed is the 488).
[added 01/01/2006]
---
1967 Johnson Surfer Owner's Manual
[added 6/6/2009]
---
OMC17 Deluxe in Italy; Italian Boat Test
Hi Phil and congratulations for your website. I'm a former offshore and powerboat driver, and I love boats all around. One month ago I found an abandoned OMC 17 Deluxe and I bought it. Now I'm restoring the boat and your website has been very useful to comprehend many things about that crazy boat.

I hope it may be interesting for you this review of the boat: a true boat test- that I found on an old number (1963) of "QUATTRORUOTE", the most famous Italian monthly dedicated to cars. The boat is presented as a boat that can attract car drivers due to simplicity in driving and safety can be easily driven by a youth or by a lady that can hold a wheel in his hand. Original, innovative.. very expensive.

Interesting the boat test (it had an OMC 488): despite of the low speed Italian boats have always been much faster than that it's behavior on the water that conquests the driver: very "dry", you can turn as narrow as you like is fast and excelerates quicky; a perfect boat for someone that wants to have fun with all the family. In the next months I'll send you the photos of the boat. Due to the new environmental rules: I live in Venice and I make an intensive use of theboat- I will be forced to put a totally new engine; probably a Mercruiser 3.0 mpi or a small diesel, but all the rest will be original; with attentions to ALL details, like a vacuum-tube stereo by Radiomarelli monophonic of the early 60's. I forgot to mention, I'm an art dealer -- that explains the passion for this crazy old boat.

Best.
Dr. Jacopo Scarpa
www.scarpa1953.com


[added 07/24/2009]
---
1971 Chris-Craft Gull Wing catalog
Seen on eBay

(click on photo to enlarge)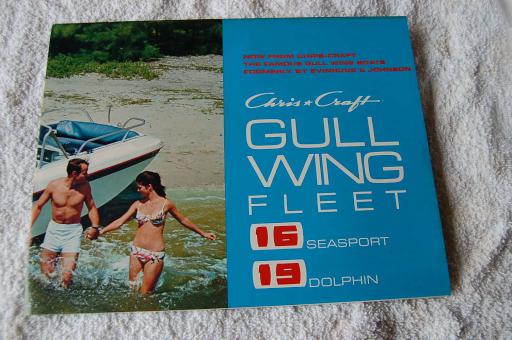 [added 10/8/2012]
---
1973 Chris-Craft Catalog

[added 8/22/2014]
---
Back to Gallery Index