Johnson SeaSport Photo Gallery
1968, 1969 and 1970 16' SeaSports. The SeaSport name was also used from 1964-1966 on 17' models with a different design.
Chris-Craft continued to manufacture the Seasport after OMC ceased production in 1970.
---
Johnson Seasport
Johnson Seasport. Sighted by Jim Whaley Feb 1999
[added 2/16/1999]
(click on photo to enlarge)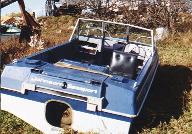 ---
Tom Conroy's 1968 Johnson Seasport 120
See the 1969 sales litterature that came with the boat.
Here is a boat that I wanted about 30 years ago. It belonged to my boss then. He bought it at Imperial Marine in White Marsh Md back in 1968, along with a matching Johnson trailer. It spent about 7 years on the Chesapeake Bay then up to 1998 was in Bath NY on Keuka Lake. He remembered me and called saying the boat was for sale in 1998. I have owned it since. It's kept in Middle River, a tributary of the Chesapeake Bay (Back home again). The boat is about 98% original. The gel coat looks good, even the vinyl seat's are original, as is the 120hp Chevy 11 engine and outdrive. It uses and looses some oil but runs very well (36 knots top). The SeaSport gets a lot of attention all around Middle River as it's to my knowledge the only one still around in near original condition. Photo taken 7/13/02 at Hart/Miller Islands on the Chesapeake Bay. [added 7/13/02]
---
Jed Doty's 1969 SeaSport 155
Here is a pic of my 69 Seasport. The hour meter indicates 1900 hours, but I have no idea when the meter was installed. I have put 700 hours on the boat in the last 2 years.

My original intention was to restore her, but she has ended up as my work boat. I am a marine mechanic in Scappoose, Oregon and have even enlisted her to tow a 32 foot Uniflyte 40 miles up the Columbia River.

The engine and outdrive have never been rebuilt other than a new water pump in the drive and exhaust manifold and riser.

The only problem that I seem to have is that she won't go more than 3200 RPM. I've changed props and checked the timing. I suspect it's the carb, but just can't seem to find the time to replace it.

I'd like to find another Johnson to use strictly as a pleasure craft, but most seem to be located in other parts of the country.

Jed Doty
Scappoose, Oregon
[added 8/28/2003]
---
Scott Veazie's 1970 Seasport 155
I bought this boat last summer off of ebay not knowing exactly what I was getting. The buyer was very honest in that it did run great with a great trailer, hull in great shape, only needing a buff out. I was pleasently suprised after the 600 mile round trip (We made the whole trip in one day) with what I got. The interior was pretty worn, the original seats were there but very tired, with the bow and jump seats being covered over first with a solid layer of duct tape, then terry cloth towels stapled over that. A real mess and really nasty. The floor was super solid with green indoor/outdoor astroturf covering. Interior wood trim was rotting away and has been replaced by white vynil covered wood to match the custom home stitched (and nice looking I might add) bow and jump seats. The mechanics of the original seats were fine, but the cost of restoring them was prohibitive. The decided to finally break down and buy new lounge seats, they look good but are in no way as sturdy as the originals, which someday I'll fix. The guy that I had gotten the boat from had bought it from the original owner a year before, and it spent most of it's life between Idaho and Eastern Washington in Spokane. So I was basically the second owner, and with the boat came alot of receipts, including the original service manual, sterndrive intallation guide, and trailer parts catalog. I have since aquired the original parts catalog for 1970, reprint owner's manual from Ken Cook, as well as the 1970 Johnson boats sales brochure. The boat runs great, good lower end with no water in the oil. The original owner spent the time to keep the old V6 running good and keep the outdrive in good order. She's a blast to operate, plenty of power, oh-so-stable handling and a trailer that's built like a brick outhouse. The trailer is original but has had standard size 205 R 15's put on so tires are easy to come by. Trailer brake are a real asset too. Haven't had it for a full season yet so I'm looking forward to camping this summer and some skiing and tubing.
[added 4/16/2005]
---
Zach and Jen Stanley's 1970 Johnson Seasport 155
Our boat is a 1970 Johnson Seasport 155. The boat has been in Jen's family since new and we are so glad to have it. Here are a few pics from the summer we got it - I was cleaning her out. Plenty more pictures to come this summer! Zach and Jen Stanley, Seattle, WA.
Model 0477010
Serial WI-38784
[added 5/19/2005]
---
Glenn Halweg's 1969 Johnson SeaSport 155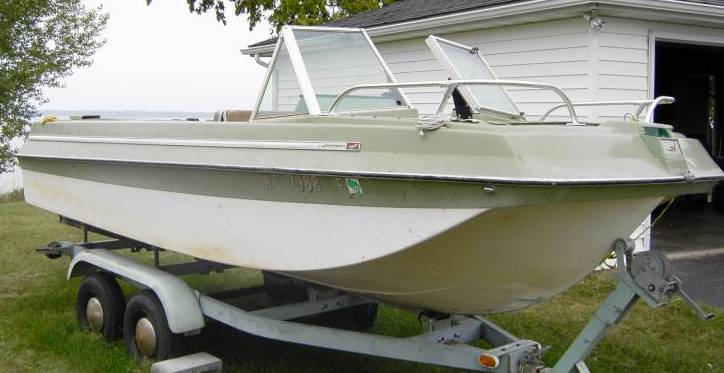 [added 9/7/2005]
---
1968 Johnson SeaSport II 155
My name is Bill Whitlock, live in Atlanta and am the new owner of a 1968 Johnson SeaSport II. It belonged to the father-in-law of a guy at my office and has sit in the front yard of his lake house for the last three years. Ran before they winterized it but the engine is in pretty ruff shape. Lots of rust. The drive looks like it's in better condition and the hull looks and sounds solid. Lots of work to do!
Model # 224205S
Serial # WI-26111
Boats name: "Boondoggle"
Location: Cumberland Harbour, St. Marys, GA.
(click on photo to enlarge)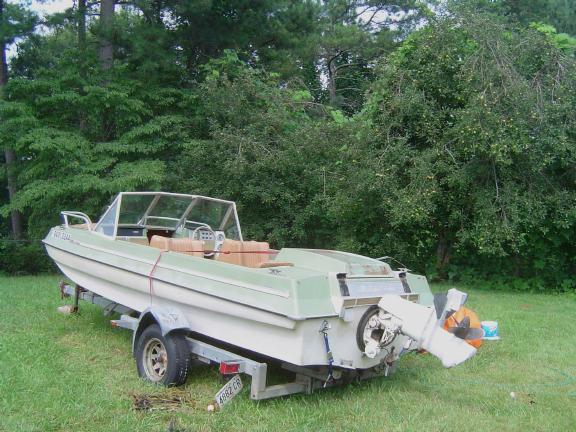 Bill also sent in a scan of a Boating magazine article on the 1968 SeaSport:
(click on photo to download/view PDF of article)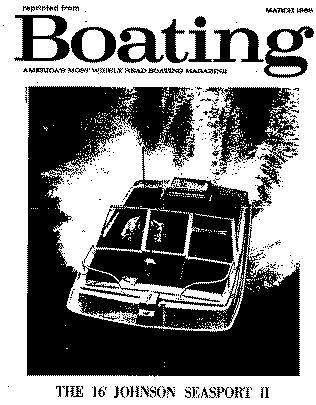 [added 12/20/2005]
---
Jeff Le Claire's 1969 SeaSport 120
I found your site looking up on information on the boat I just bought, and am enjoying the pictures and information thoroughly!

I'm sending you the initial pictures of mine - it's been stored in a barn for a number of years, then left outside for the last couple of years before it came into my possession.

It has a straight 4 with two carbs. The overall condition of the boat is good; the upholstery is shot, but I'm an upholsterer by trade and that's part of the reason I bought it!

These are the "before" pictures; I'll send you more as it progresses. (Sending in three separate emails because your email provider rejected it with six pictures)

Thanks for your site - it's great!

Regards,

Jeff Le Claire
Ferndale, Michigan


[added 07/26/2006]
---
Dwane and Pam Carter's 1970 Johnson SeaSport 155
I've had the boat for three years. Before I got the boat it was always garage kept. Everything on the boat works well and is all original. I have all the documentation and every reciept for all purchases and works since the boat was new. The motor was completely rebuilt in 1990 by the original owner. I have had many hours of enjoyment out of her and hope to have many more. Always interested in talking to all who share the love and interest of the life and times of the Johnson SeaSport.


[added 08/06/2006]
---
Ken Fingerlos' 1969 SeaSport-II 155
I bought it from my Dad, who bought it one day a few years earlier while Mom was out of town. He's since moved on to other projects, but I took this one on in hopes of cleaning it up and rigging it for water skiing and scuba diving.
So far it's gotten a new bilge pump, gas tank, carpet, and main seats. Currently working on recovering the front benches and rear seats.
Runs great! and still on the factory trailer.
Kenneth
A photo when new;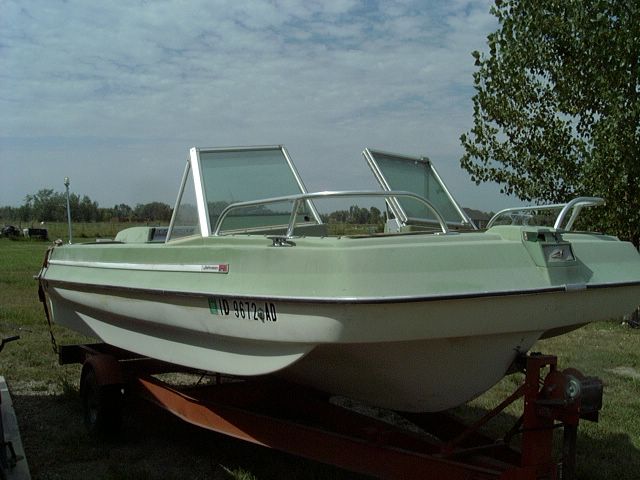 ---
Bob Baranoski's 1970 SeaSport 155
This boat belonged to friends of mine and was sitting For 10 years. The upolstery and top were shot, however the hull and motor needed only some TLC. The owners didn't have the time to restore her to her original beauty, so they sought out someone who could give her the time and appreciation she needed. The boat now resides in Chicopee Mass, and is still getting plenty of love and attention.

Bob Baranoski
Chicopee, Mass.


[added 06/14/2007]
---
1969 Johnson Seasport
Bought this old girl this summer (2011) from the original owner. He had lost interest in it (can you believe it???) and it had not seen the water in three years! I got it home and got to work rehabbing the motor and out drive, and cleaning her up with the help of my wife and daughter...we're very happy with the results!

[as of 5/19/2013 this boat is for sale]

Owner: Paul Bissonnette
Boat Name: Ms. Oscar
Make: Johnson
Model: 16' SeaSport (II)
Year: 1969
Engine: V-6 155HP
Location: Goffstown, NH



[added 8/5/2011]
---
1970 JOHNSON SEA SPORT II
Owner: EVB
Make: Johnson
Model: 16' SeaSport (II)
Year: 1970
Engine: V-6 155HP
Location: FRANCE
Model number: 477010 GREEN



[added 1/23/2017]
---
1970 JOHNSON SEA SPORT II
Owner: EVB
Make: Johnson
Model: 16' SeaSport (II)
Year: 1970
Engine: V-6 155HP
Location: France!



[added 8/19/2018]
---
Back to Gallery Index