Evinrude Sport '16 Photo Gallery
1964-67 Evinrude Sport '16s and Sportsmans. The styling was changed for 1968-69 Evinrude Sportsmans.
---
The Budne's 1964 Sport '16 Outboard
"Lady" on the Budne family 1964 Grey Sport Sixteen "Happy Daze"
(1965 90HP StarFlite S-90 not visible)
Silver Bay, Lake George, NY, 1969.
[added 8/18/1998]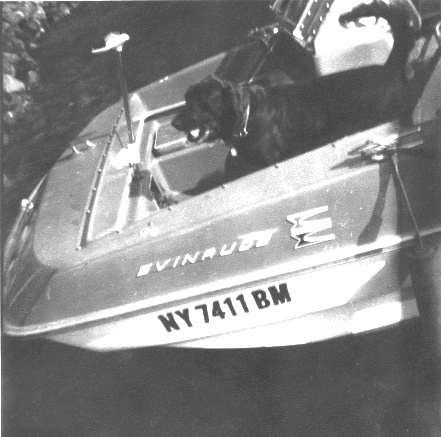 Reciepts (pink) for the boat 7/10/1964 ($1500) S/N WI-8389?. The first season we used it with the 1963 Lark V (selectric) and trailer (1963 Holsclaw) from our old boat (a 1963 Starcraft '14 Arrow). Neither must have been sufficient, the next (white) shows the purchase of an Evinrude trailer on 9/19/1964. We also replaced the 40hp with a Starflite V-4 90HP in 1965 (no reciept available). For completeness, the last receipt is for the Starcraft, purchased 7/4/1963.


[added 6/29/2005]
---
Lee Shuster's 1966 Evinrude Sportsman 150
Parker Family
1966 Evinrude Sportsman 150
in Santa Cruz, CA in 1995.
[added 3/17/1999]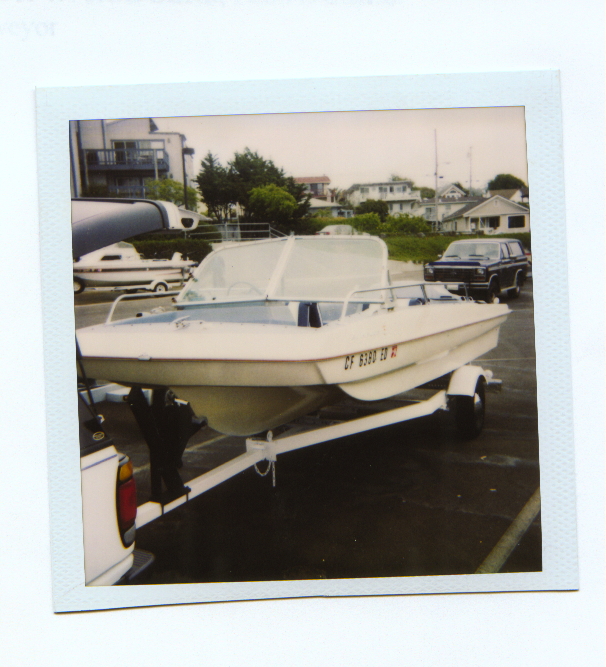 I was pleasantly surprised to come across your website showing all the vintage Johnson and Evinrudes. Attached is a photo of my '66 Sportsman 150. It's been in my family since new! Despite a current water pump gone sour, the boat is in overall great shape and we're still having lots of fun in the ol' gal.
Regards,
Barry Parker
San Jose, CA
Lee Shuster of Salt Lake City purchased this boat and has restored it:
click here, or on photo to visit Lee's Web site on the boat!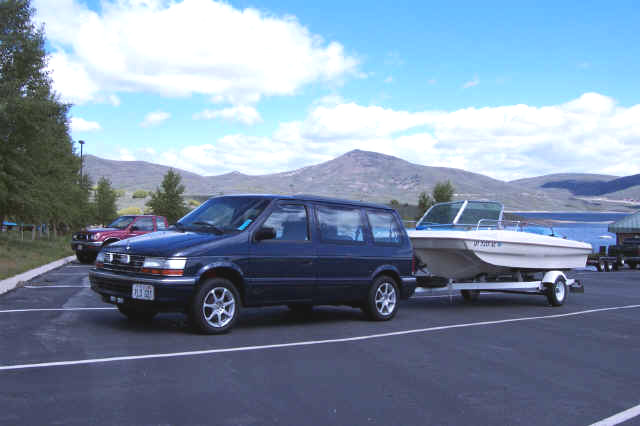 [added 6/1/2004]
Photo taken at Bear Lake, Idaho, August 2004 shows off the new front cover and matching mooring covers.
(click on photo to enlarge)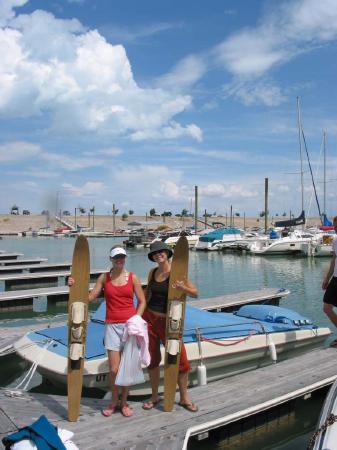 [added 12/20/2004]
(click on photos to enlarge)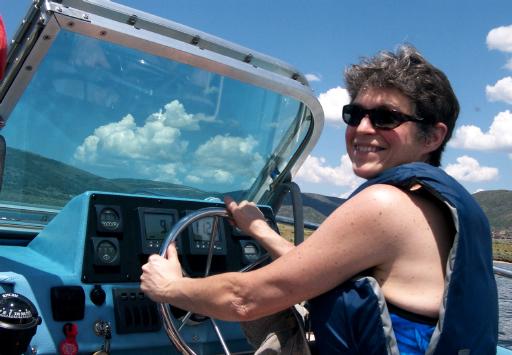 My wife, Linda at the helm. New steering wheel and digital gauges installed winter 2005 - 2006.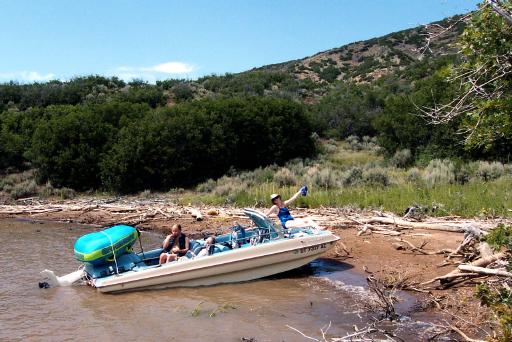 Beached for a picnic at Jordanelle Reservoir, July 2, 2006.



My wife, Linda. as a bow-rider.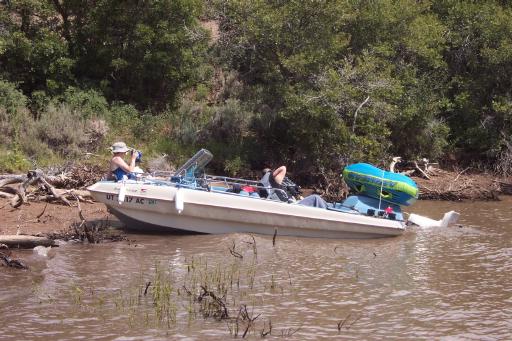 Jordanelle, 07/02/06 enjoying lunch.


[added 07/06/2006]
---
1965 Evinrude Sports '16
Russ Glindmeier sent in this 1966 photo of his parents in their 1966 Johnson Surfer followed by a 1965 Evinrude Sports '16 cruising in the Lower Granite Gorge of the Grand Canyon in Arizona (reached by cruising up river from the upper end of Lake Mead).
[added 10/11/1999]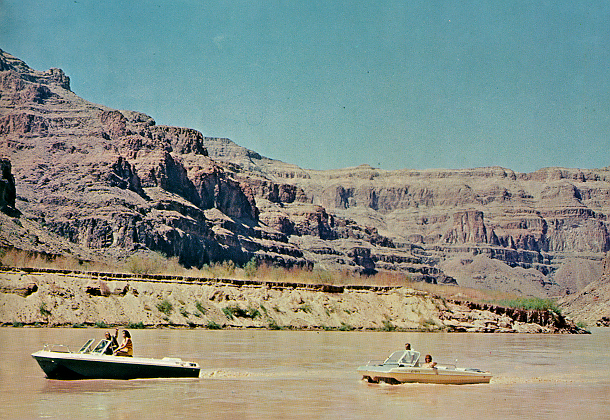 ---
Barry West's 1965 Sport '16 Outboard
Jeff Mogensen's 1965 Sport '16 Outboard during Spring Break 4/2000 at Lake Wateree, SC. Sold to Barry West, in Palatka, North Florida 9/2001
[added 7/30/2000]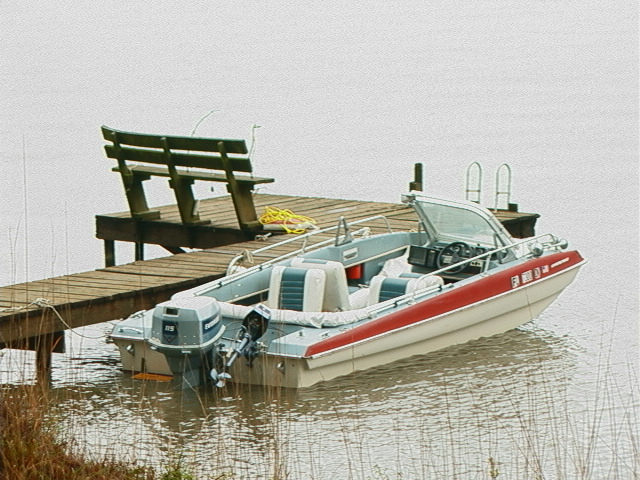 Barry West purchased the boat in September 2001:
I discovered a very bad crack in the transom and had to get a guy to do a fiberglass and metal plate repair and this has been very successful. We also filled the pitted fiberglass and a respray of the hull before sitting inside it and painting the rest of it blue. A friend and long time boat owner advised me on the work I carried out and the boat has now been completely rewired. It has a 3hp Evinrude kicker (1958) attached along with the 1986 Evinrude 115hp outboard. It looks fine with it's bimini up and has been quite a show boat here in Palatka (Florida). It has given much pleasure to myself and family and friends and hopefully will do so for some time to come unless someone with the right price comes along :)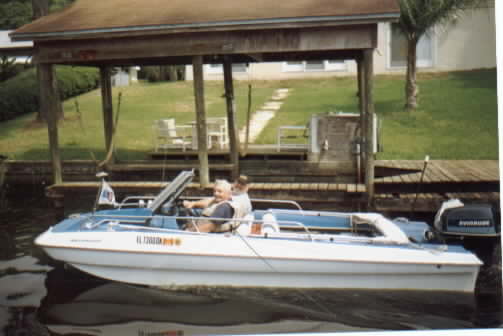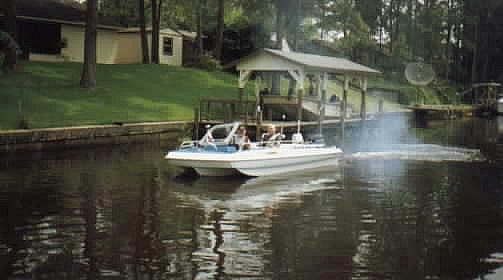 [added 1/9/2003]
---
John & Stacy Branch(?)'s 1967 155HP Evinrude Sportsman '16
model #224504
[added 6/12/2001]
---
Tim Giardina's 1964 Sport 16'
From the NY finger lakes region
[added 5/29/2002]
Tim writes:
It has a 1968 Evinrude Starflite 100-s outboard and the Trailer is a 1970 Little Dude. I absolutely love the boat and trailer it back and forth to the lake all the time! I wouldn't give up my classic for anything! Just wanted to let you know that I love your site! I tried for quite awhile to find Information on these boat with no avail till I stumbled across your site!
(click on photo to enlarge)

---
Eddie Culp's 1967 Sportsman 155 "Bat Boat"
I happened upon an Evinrude Sportsman (1967) in 2000 and purchased it from a car dealer who got it in trade. Its in tremendous shape for a 36 year old vessel. The old guy who had owned it (who in all fairness probably wasn't that old when he bought it new) had kept it garaged and covered in winters and took it out every year at least once. The only thing i have had to do to it is replace the carpeting as the original was plain worn out. She sees alot of duty on the Tennessee River. Usually around Florence AL or Clifton TN. Aside from the carpet shes totally original. She'll do about 38 to 40 depending on how much I've had to eat LOL. Here are some pics of her. We call her the Bat Boat as she is similiar in design to the glastron which was used for the 1966 Batman movie. Thanks for an informative and enjoyable web site. Nice to see some of the old vessels still running strong. Keep up the good work!
Enjoying a vintage vessel,
Eddie Culp
Lawrenceburg TN.
[added 8/22/2003]
---
Don Mandellas' 1967 Sportsman 155
After many years of searching I finally found the boat that works best for me. This is a 1967 Evinrude Sportsman, Model 224504E. It is powered by the Buick V-6 155 hp engine. The boat and motor are in good condition as well as the original custom made trailer, model number 9756445. I purchased the boat from the original owners in August of 2003. The boat came with a tonneau cover, top, side curtains, backdrop & mooring cover. With the purchase also came the original owners manual and service manual. What I like best about this boat is the floor plan, it provides a lot of room for a 16 ft boat. I also like cruising down the lake in this boat because it provides a dry ride and yet the free board is low enough that I can put my hand over the side and down into the water (so that I can cool myself on hot days). I like fishing from this boat because I have easy access to the entire boat, and I like beaching the boat and stepping off without getting my feet wet, this is a nice luxury on cold days. I am very pleased with my purchase and I am currently using the boat on Lake Roosevelt in Washington State.
New photo from sent February 2008, taken on "a perfect day":
(click on photo to enlarge)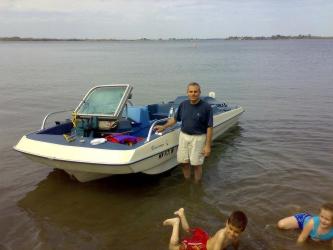 Model 224504E
Serial WI-23941
[added 01/31/2004; updated 03/17/2008]
---
Bill Green's new 1967 Sportsman 155
My 1968 Evinrude Sportsman called Class of '68 (the one I lost in an accident in 1999) is on the sightings page, with the title "Lost Dreams".
I finally found one I really like; I wanted to share it with everyone who visits this site. it's a 1967 Sportsman trailer & all I went to michigan picked it up about a month ago. it's a 155 V6 Buick with Evinrude trailer, original cover, original but covered seats done really well. but I need someone to tell me what to do about replacing the 3.5 inch rollers on the trailer. I can only find 2.5 inch x 9 inch bunk rollers. Email me at wgreen47(at)yahoo.com if you know where to buy the 3.5 inch rollers.
[Bill also found a 1966 Sportsman!]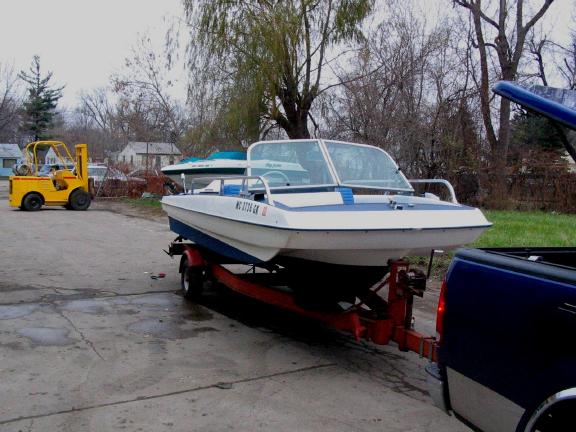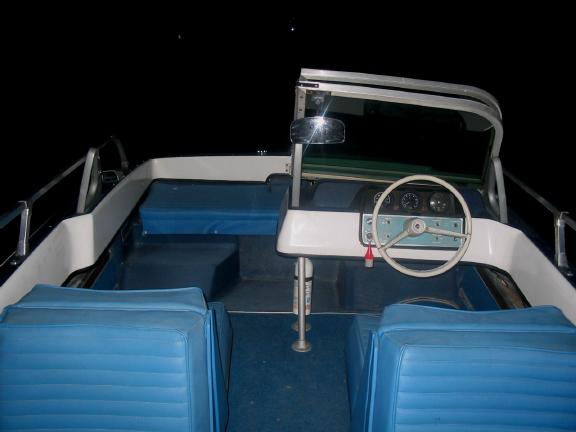 [added 02/26/2004] Here are some pics I took. I had to re-seal the intermediate housing it was leaking water in the boat. So I took the oppertunity to clean up and paint the motor. I powdercoated the manifolds and a few other white parts. The before pic is the bat boat owner Eddie Culp, mine was exactly like it... I forgot to take a before pic. Thanks Eddie.

Lee Schuster was instrumental in heading me in the right direction as to finding and hopefully curing the problem. I appreciate the help there.

The back of boat pic is of the led taillights and old style cateyes chrome rims not original but cool.

















[added 06/29/2006]
---
Jeff Casten's '65 Evinrude Sport 16 Outboard
Several people have seen my '64 Sweet 16 literature on your site, looked me up and asked to see the photos. Would you be interested in putting them in your Sport 16 photo gallery? Someone out there might like to see a stock original boat that shines like new!

These photos were taken May '03, of my '65 Evinrude Sport 16. It is factory "seal gray" trimmed with red accents. It has 4 seats (not shown), all side/rear clear vinyl storm curtains, front bow cover, downriggers (not shown), Humminbird depth finder/fish locater, rod holders, hour meter (60 hrs?), panoramic rear view mirror, trumpet horn, and 2 original 6 gal. tanks. Photos are with the top up and down. It has a custom made canvas cover. Fiberglass and chrome shine as well as the bottom. The bottom has no scratches, probably never beached. The engine (70hp) is not running, but is near new, with 2 scored cylinders (needs a new powerhead). This boat has been shedded and dry it's entire life. I need to sell the boat. . . . or trade (repair?) for another engine. How would a 115-130 hp engine be for this boat? I also have original manuals for '64 Evinrude Starflite 75 engine, and an Evinrude trailer setup manual. Some one give me an idea what they are worth?


[added 03/05/2004]
---
Eric Hansen's '65 Evinrude Sport 16 Outboard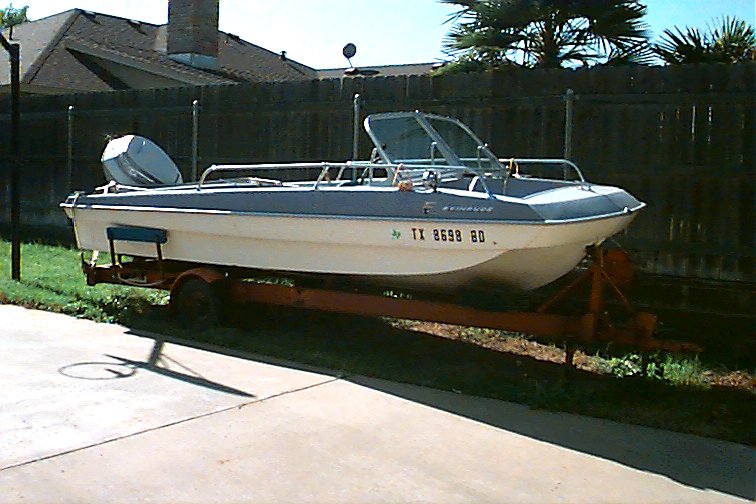 Here is a driveway shot of my 1965 Evinrude Sport 16'. My pal bought it from a friend who was in the Air Force and had to sell it before moving to D.C. - but it didn't run. After buying it, he gave it a good effort to try and get the engine running, but gave up mostly because he had been pressured into buying the boat by his wife who thought it was cool and nostalgic - and partly because he wasn't exactly sure what was wrong with it. After it sat aside his driveway for 2 years, I offered him what he'd paid for it - $500 - and he jumped on it.
I hitched up the boat and towed it straight out to the Auto Hobby Shop at Goodfellow Air Force Base with a pretty good idea what was wrong with it - which I had shared with my friend after he'd already given up on it. The guys at the Hobby Shop helped me isolate the problem on the Starflight 90 and we had it running within an hour. The distributor had jumped time, and the owner previous to my friend had positioned it 90 degrees out of time. After setting the points gap and repositioning the distributor, it fired right up.
After some tweaking of the carbs, buying a new battery and some gas tanks, and picking out some cool 'boat toys' (a tube, ski rope, boat cover), we were in business.
First trip out on Lake Nasworthy (San Angelo, Texas) was a blast - the boat ran like a champ and a good time was had by all. Later trips showed that she needed some attention with lower-unit seals and some major cleaning of the fuel system. After all that, and many trips out to tweak the needle-valves and timing, we got her up to around 32mph on the lake - not too shabby.
Unfortunately due to some paperwork issues, I never received the new title and her registration lapsed. She's been sitting in the same spot for a few years now, and thanks to an ill-fitting generic boat cover, the neighborhood stray cats have made a mess of the interior.
Thanks to finding this site (and Shuster's), I've found some new motivation and my mission is to now restore the Old Girl and her trailer back to operating condition and start enjoying her again. My goal is to have her ready to go for the 4th of July fireworks show that the Goodfellow AFB Recreation Camp puts on, right from the shore of Lake Nasworthy. I'm thinking it would be a blast to watch the show from the water.
Some of the things that need attention:
Trailer:
wheel bearings (don't know how old or worn they are - just going to replace them anyway)
wheels and tires (dry-rotted tires and and rust with old paint on rims
going to sand-blast the rims and paint, and install new tires)
paint (the whole trailer needs a new coat of paint - I'm torn between Evinrude Blue and basic white)
'drive-on' bunks (not equipped. Thanks to Shuster's detailed pics, I'm going to build some)
Boat:
new astroturf (completely torn up thanks to the cats)
new seats
new rod/ski racks
revive the gel-coat and/or paint as necessary
install a dive-plane (she's tired and takes forever to plane out with more than two people)
re-engineer the back-end to accomodate the fuel tanks and battery, also to provide better storage and seating. The previous owner made some makeshift seats out of wood and covered them with foam and vinyl - a good effort... but real cheesy. I'm going to weld some framework and brackets for a more permanent set-up that can still be lifted out as necessary.
install a real temp gauge (in conjunction with the light)
overhaul the engine - or at least replace seals as necessary
install a Ram-Air scoop onto the Starflight 90 cover... this thing needs to breath better (she actually runs better without the engine cover)
install a water resistant car-stereo system (maybe)
upgrade electrical system to accomodate dual batteries for extended accessory life. (maybe)
I'll post pictures on my website as I get stuff done. But I'm one of those people with WAY too many hobbies, so she has to wait in line behind the Jeep sometimes.
Eric Hansen,
San Angelo, TX
[added 12/31/2004]
---
Bill Franki's 1964 Evinrude Sport-16 with Starflite 90HP
Here are a few pics of my 1964 Evinrude Sport-16 and Starflite 90 motor. I thought you might enjoy seeing them. The boat model number is 204401E and the serial number is 7909. The trailer is a Holsclaw.
I bought this boat at the end of last season for $500 with the motor and trailer. I rescued it from a slow deterioration - it was left uncovered outside for long periods of time, and had become the home to many field varmints.
As you can see from the before and after shots, it needed some attention, but I have had a great time cleaning, restoring and repairing the mechanics of the boat and motor.
The "Double D" (note the registration number) is now alive, well, and roaming the Great Lake Ontario and vicinity. She's running strong and is a credit to the amazing over-engineering of this line of incredible runabouts.
Regards,
Bill Franki
Rochester, NY
BEFORE AND AFTER
(click on photos to enlarge)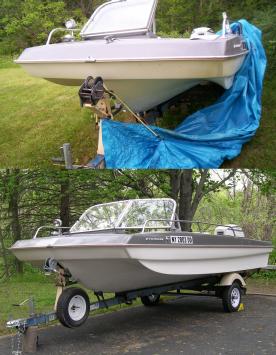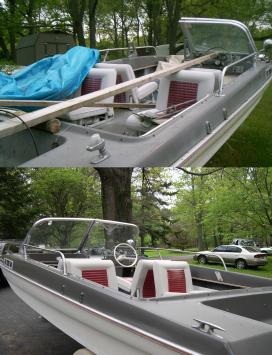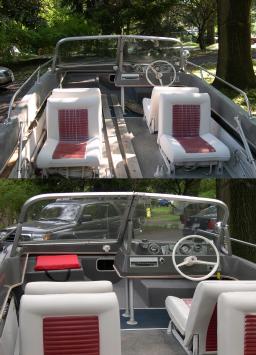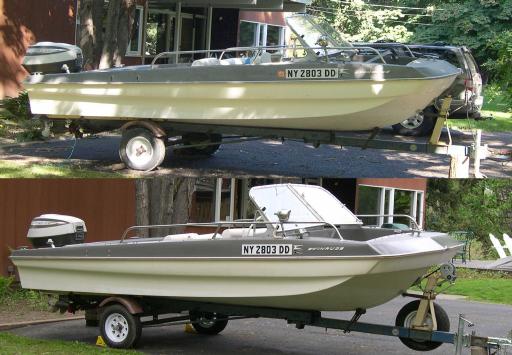 After Closeups (click on photos to enlarge)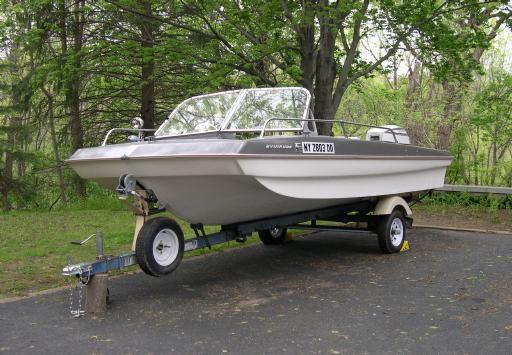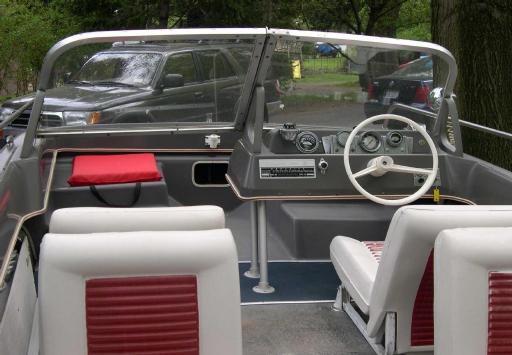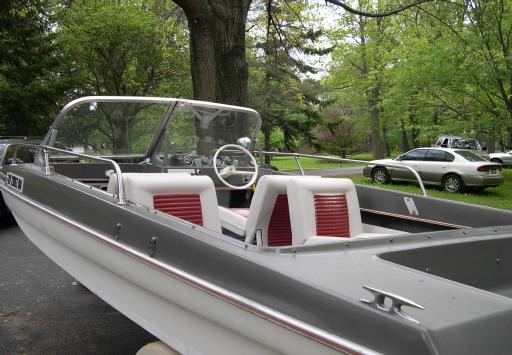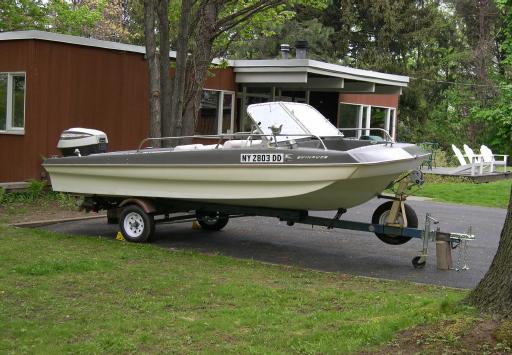 Cruising on the Irondequoit Bay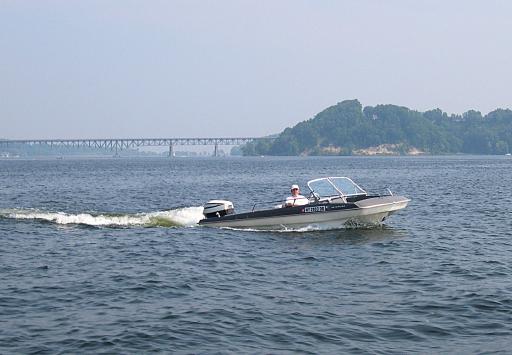 Cruising on the Lake Ontario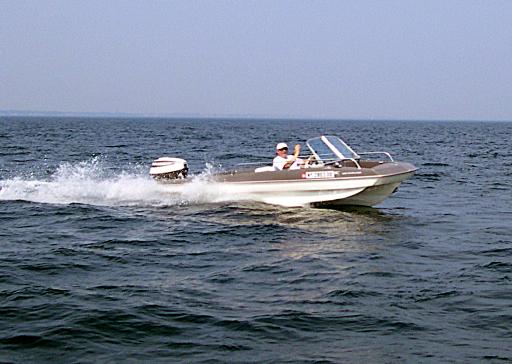 [added 06/26/2006]
---
Hanson Family Sport 16'
Her name is "Rude Pleasure" -aka "Rudy"
She is a 1965 Evinrude Sport 16'

In 1987 my Father and I found her rotting under about two feet of oak leaves. The transom was so bad that the fiberglass was the only thing holding the motor on. So we split the top from the hull, scraped out what was once the transom. We bolted in a big stout peace of hard wood. We bolted the motor back on and had the greatest 17 years of boating you could have!

However, things don't last forever. The time that she spent uncovered prior to our ownership finally was taking a toll on her. By this time 2004, I was married and had two kids. My wife and I had to decide whether to give up on her and buy a newer boat or rebuild her. She was such a great boat. We could not give her up. So in the summer of 2004 my wife Julie and I rebuilt her from the hull up. I ended up rebuilding the trailer in 2005. In 2006 we added the wake-board tower, barbecue and a radio. I'm so glad we restored her.

Thanks to Phil Budne and all the great people involved with this OMC forum I was able to find information the and parts to restore "Rudy" back to all her glory!

Best Regards,
Dave Hanson
San Diego, CA

P.S. I would like to thank my brother Del for recasting a new corner piece to finish her off......


[added 10/03/2006]
---
Bill Green's 1966 Sportsman
I found it on ebay, $450.00 it needed an outdrive. All i was looking for was a head for my 1967 Sportsman, and this came up! I was going to part it out to fix the 67 but i liked it better so i still need a head, and now an outdrive LOL. I put it on the 67 trailer I'd already redone. The mooring cover fit perfect too.


[added 10/19/2006]
---
1965/66 Sport '16 Outboard in Thunderball
Don Babineau sent in these photos of Sean Connery and Martine Beswick aboard a 1965/66 Sport '16 in the James Bond flick Thunderball.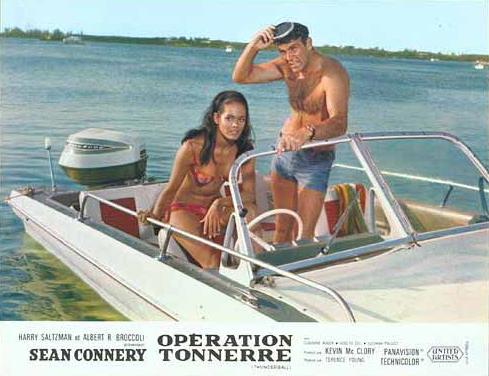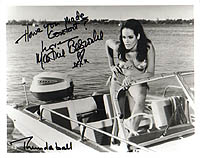 More photos found on the web:
---
Wick Family 1964 Blue Sport '16 "Carol Ann" Starflite v-4 90HP
Here are a few pictures of the 'Carol Ann'. This was my dad's pride & joy. The photos are all taken from Galveston Bay.
Clayton Wick


[added 09/06/2007]
---
David Stobie's 1967 Evinrude Sportsman 120hp "DAD"
I've been looking for a website dedicated to Evinrude Sportsman boats, and found your site during a search and would like to add some photos of my own.

This is an original 1967 Evinrude Sportsman 120hp that I picked out with my father when I was 5 years old. Ownership recently transferred from him to me, and after several years in storage with only minimal refurbishing, it was then "re-launched" in 2005 on Seneca Lake near Geneva NY.

It is a tribute to fine craftsmanship and my father's care that has kept it in the pristine condition it is in. Although my father is no longer with me, I have named the boat "DAD" so I can continue to take him with me on all our excursions.

Thought you would enjoy these photos of the relaunch. Let me know if there are any clubs in the Finger Lakes area for me.

David Stobie
Waterloo NY


[added 12/27/2007]
---
Jamie J. Johnson's 1966 Sportsman
So here it is it's a work in progress It was given to me by my grandfather who didn't think it ran. I went to work on getting it running first so now it does run although rough I need some carb work. Everything is there and all original I stripping all the seats out to hose it down and clean it up. Next on the list is to get it up to my house in Indianapolis to really clean it up repaint and buff it out. I haven't seen any others in the solid blue is this a common color combo?

Jamie Johnson
Indianapolis Indiana


[added 07/12/2008]
---
Thomas Ponche & sons' 1966 Sportsman
My sons and I have been cleaning up our 1966 Evinrude Sportsman. We bought it in February of this year. We found it sitting under a tree near the Lake of the Ozarks in southern Missouri. It had been sitting there for almost 10 years. We have cleaned it up, gotten it to run. Our first water test went well. I need to do some work on the carburator to get the low idle working better. Not bad for $350!
[added 8/7/2008]
---
George Morris' Sportsman 120
These pics are of a friend of the family's boat. He bought it new and i remember being 10 yrs old when he bough it. He passed away 2 yrs ago. He had the evinrude since new and we enjoyed lots of summers on it. Its here I found I really like these boats and I do still have my Sportsman (my second). He drove truck for my Dad and he was an authorized Evinrude mechanic. I bugged him for years when I was working on my Evinrudes.

William J Green Jr


[added 10/13/2008]
---
Recent History of 1965 Sport '16
The boat motor and trailer was purchased at at yard sale for $50.00 in approximately 2000 or 2001. The whole package looked as though it should have been shot and put out of it's misery, but I never had heard of an "Evinrude" boat so I bought the poor thing. After much research I found out there could be as few as 10 of the "Sport 16" models restored and in service.

The transom was questionable but the floor was solid so I removed about 45" of the upper hull and cut out the old transom, made new patterns and fabricated a new plywood transom the complete width of the hull. BIG JOB- The entire hull is well designed and extremely well built.

The hull was stripped of all items to the bare glass hull. A few gelcoat stress cracks were repaired.

The following winter two coats of sunrise cream was applied to the hull with white to the lower hull. The inside was carpeted and trimmed with medium butterscotch color along with a custom built bimini top in butterscotch.

The original motor is an 80hp Evinrude Starflite V4 electric shift year 1966.I was able to get the motor running shortly after buying, but decided to rewire and rebuild each system. Also repainted the motor gunmetal gray with muted flip flop graphics on the motor cover sides. This motor gave us good service until 2008 when the forward coil gave it up 2 miles from our dock and we had to idle home in reverse.

The old Starflite has been replaced by a fresh 125hp Evinrude year 1969. The response and performance is unbelievably positive and very quiet with thru the hub exhaust.

The original trailer that came with the boat in 2000 may have been OMC'S own brand, it just looked overloaded to me, so I bought a real trailer. The new trailer is a Yarbough VEE cradle which fits the hull profile perfectly. Rated at 1800 lbs. payload and genuine 60's American Mag 15" wheels and butterscotch paint, it is worthy of my Evinrude Super Sport 16.

Owner: Rick Parsons
Boat Name: Caldo Largo
Make: Evinrude
Model: Sport '16
Year: 1965
Engine: Outboard
Location: Osseo, Michigan / BawBeese Lake / Hillsdale County
Model number: 204502A
Hull serial number: W-0-12464


[added 07/24/2009]
---
Back to Gallery Index