Here's some pix of what I assume is a rare fish: a 1966 OMC I/O with a hull identical to the Evinrude Sweet 16 I/O, but with a Johnson nameplate, and no model name. It belongs to Scott Horn who has a cabin on our lake in Wisconsin.The boat has the original Buick V-6 motor and interior. Runs great and can walk away from my 70 HP with no trouble. I parked my '64 Sweet 16 next to his at a local waterfront hotspot Sunday, and did we get looks.
The Rodengen info from the OMC book suggests this might be a 16'2" Johnson "Reveler" with the Buick 150 hp V-6.
Andy Perakes' 1967 Reveler 155
Andy Perakes writes;
I have a 1967 155HP Reveler and all the related manuals/sales brochures, all in very good condition. My dad bought the boat new shortly after I was born and it's been in the family ever since. I've always loved the boat, but it's getting hard to find parts.
(click on photos to enlarge)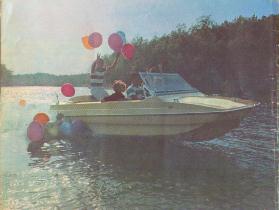 Original Sales Slip


[added 1/27/2002]

New Photos taken July 2005: The 1st shows a stern view of the new flooring and wood work, the 2nd shows the bow view (where I leveled the floor near the foot rest), and the 3rd shows how I used the Closet Maid wire shelving to reinforce the seats. We took on some serious Lake Huron chop and the seats felt great -- not too hard and not too soft. Should anyone want to do this, just take care not to poke the rods through the vinyl seat top. Overall I'm thrilled with how it came out and the only additional work I plan is to maybe replace the faux woodgrain vinyl on the engine hatch with oak veneer to match the interior. Eventually I'll pull the fuel tank too, but for now I just want to enjoy her for awhile. I also decided to leave my vinyl top off since I usually run with the window down and we only use it about once every decade. It also gives me more room and I don't have to fight the support bars to access the gunnel storage.


[added 07/28/2005]
---
Jeff Mayeux's 1972? Reveler 155
1972? Johnson Reveler, paid $300 for it, has a V-6 engine, but over proped. Looking for a 14 X 15 prop for it. Jeff Mayeux, Cottonport La
[added 6/1/2002]
(click on photo to enlarge)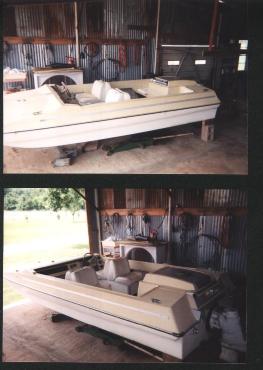 ---
Robert Quam's Reveler 155
Here's a picture of my Reveler that I bought in '93. I run it mostly in salt water which is taking it's toll on the raw water cooled 155 hp OMC. I've done some work to the upper gear case on the outdrive and put in a water pump in the drive. Anyway, it's in good condition and is built like a tank and has the original trailer which is in great condition still even with launching the boat in salt water (I do rinse it off).
I took a heat exchanger and reservoir salvaged from another Mercruiser straight six that I had and I was thinking about trying to plumb it into this boat. Well, I looked at the manual for the Reveler engine to see how the water flowed from the outdrive through the manifolds and purchased the hose that I needed and clamps and tees and plumbed the heat exchanger in and presto!
8/19/2002 update: It's been a great success! I had it out this weekend and ran it about 15 minutes at 3 thousand RPM to destination, maneuvered around, picked up folks, fished, and ran back the same distance and same speed without overheat. So, I'm happy! so far. I never declare complete success with any of my boats. I'm afraid it will come around and bite me.
Robert Quam
Washington State
[added 8/9/2002]
---
Paul Neils' 1967 Reveler 155
(click on photo to enlarge)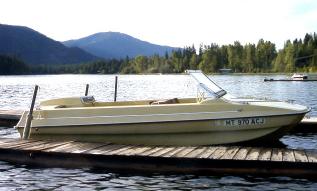 Here is a photo of our 1967 16'2 Reveler with 155HP V-6. My Dad bought it new. We use it 10-15 hours a year, mostly skiing and cruising, all in fresh water.
It has a new engine installed to handle unleaded gas. The interior flooring has been removed and replaced because of leaking between the interior and exterior hulls had rotted the internal structural bracing. The shop that did the work was very impressed with the design ("Built like tank! Don't see 'em like that anymore!), with the exception that the wood structural members were not completely enclosed in fiberglass. He removed about 200 pounds of waterlogged wood. The trim moulding around the mid-line of the hull was removed and the top and bottom hull sections were split, with the top half being lifted off.
On installing the floor section, he created a deep well sump under the oil pan so the engine can be drained into the sump and out through a through-hull drain plug. He also completely replaced the marine plywood partial transom with a full width 1 1/4" thick plywood laminate L-shaped cradle that the motor mounts attach to, so that now the stress from the motor is transfered to the floor and transom as a unit.
Still has the factory seats, convertable sun roof, ice buckets under the rear seats, but the tach has been replaced. The windshield got broken in the late 1970's, but we were able to get a OEM replacement. Blower and bilge pump has been replaced a couple of times with aftermarket stuff. Engine parts sometimes can be had by looking for mid to late 60's V-6 (225 CID) jeep engine parts.
I do all my regular maintenance myself. The next big problem I anticipate will be changing the knuckle joints. I still have the parts and owners manual, sales slip and other paperwork for it. It is not so cute or fast, but it sure turns heads and has a lot of memories attached to it.
Paul Neils
Troy MT
[added 8/13/2002]
---
Bob Thompson's 1968 Reveler
(click on photo to enlarge)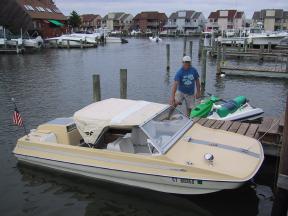 Here is a photo of my 1968 Reveler taken on Sept. 3 in Ocean City, MD while vacationing. I live in CT and we trailered the boat down to use it fishing and just cruising in Sinepuxent Bay after it sat idle for about 12 years - my fault and my apologies. It took some work to get the engine back in shape - manifolds were completely shot and mice had built a nest atop the carb. In spite of the neglect and with the exception of the original 34 year old alternator giving out and stranding us at anchor in the middle of the bay, the boat ran beautifully and strong for the 2 weeks we were there I painted the trailer while the boat was in the water - it still has the orignal axle bearings. One of the cross braces snapped a while ago and was repaired and I recently replaced the complete light set. When I first purchased the boat, the surge brake system constantly locked up so it's been disabled.
The gelcoat is nicked in a few places and there are some scratches along the keel but nothing major. The boat has the original Buick 6 and outdrive. I installed a new "donut" seal and water pump, the seats and carpet have been replaced and the convertible top needs some work.
I'm the second owner and as noted by several others, parts are becoming hard to find. When we were ready return to CT and went to pull the boat, I found that the trailer bow chock had disentegrated. After trying to find one locally, I was forced to have a roller type modified so it could be bolted and spot welded in place to get us home. I also found that someone had removed the plastic dome from my stern mooring light. (Any assistance available to locate those 2 items would be appreciated.)
I love the boat and wouldn't contemplate selling it. For it's age, it's still easy to handle and attractive and that can't be said for many of us!
Happy Boating to you and all your readers!!
Best regards,
Bob Thompson
Ellington, CT
[added 9/12/2002]
---