Re: [OMC-Boats] Johnson/Evinrude Boat Seats Needed
From: Kevin Beliveau <kjbeliveau@...>
Date: Thu, 13 Mar 2008 12:14:15 -0400
Jeff,

Would you happen to have a bimini top frame in that garage??

'64 J 17 Deluxe

Kevin J. Beliveau

GT Plastics, Inc.

P: 989.739.1112 ext.13

C: 989.305.0805

F: 989.739.7393

E: <mailto:kjbeliveau@...> kjbeliveau@...

W: <http://www.gtplastics.com> www.gtplastics.com

_____

From: omc-boats-bounces@...
[mailto:omc-boats-bounces@...] On Behalf Of Jeff LaCoste
Sent: Wednesday, March 12, 2008 10:31 PM
To: omc-boats@...
Subject: [OMC-Boats] Johnson/Evinrude Boat Seats Needed

It sure would make my life easier if the wife didn't have to sit on the beer
cooler this year. Anyone on the list know where I might find some seat
frames for a OMC 64 Johnson Deluxe/ or a Evinrude model. I have a garage
full of 64 Johnson Deluxe parts to trade if interested, just no seats. ; - )

Thanks Much.

Jeff

----------------------------------

Designheavy.com

heavy@...

PH: 206.781-3477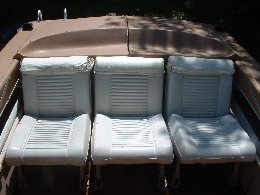 Received on Thursday, 13 March 2008
This archive was generated by hypermail 2.2.0 : Tuesday, 29 July 2014 EDT