From: lib1@...
Date: Fri, 23 Jul 2004 09:36:03 -0600
Hi Greg,

Interesting point for discussion. I checked in my 1967 Sportsman Owners
Manual and found no recommendation for up or down (other than always running
the engine in the fully down position). It may be that with the 4-inch
increase in depth starting with the 1968 Sportsman's that the ground
clearance increased by a similar amount between the lower unit skeg and the
ground when sitting on the trailer.

I don't have the factory trailer, so my clearance my be different especially
on the shallower '66 Sportsman, but I've always worried about ground
clearance issues, especially when entering driveways or backing down launch
ramps. When launching, I don't lower the drive unit until the boat is at
least 1/3 off the trailer. See atch photo.

I asked my OMC mechanic (30-years experience) and he recommended tilting it
up (while trailering). He also said the original stringer quadrant gear,
tilt mechanics and stringer mounting system are robust enough to not require
an extra transom support rod, as recommended on outboards or other I/O
types, I have thought about using a strap or rope as a safety precaution,
but never have. I'm curious, what others on this list do or recommend?

So, I lower mine while running and when storing it in my 20-ft garage. For
towing I'll raise it for ground-clearance peace-of-mind, despite the fact
that it is more exposed to an idiot driver running into it in the raised
position. One side note: My engine hatch cover hits the top of the raised
lower unit, which is a minor pain.

Questions for you:

Does you 69 Sportsman have aircraft cable steering or mechanical (rack &
gear) steering?
Have you ever had to reset your cables after trying to steer the unit in the
up position?
Does you boat have the rudder direction indicator behind the steering wheel?

Lee Shuster
Salty Lake City

----- Original Message -----
From: "Gregory B. Fell" <gfell@...>
To: <omc-boats@...>
Sent: Thursday, July 22, 2004 10:21 AM
Subject: RE: OMC Boats for Newbies [omc-boats] New Member

> Hey Lee - I was reviewing web site. Great job BTW. On the "stringers"
page
> you state that the boat should be trailered with the unit up. My owners
> manual (1969 Sportsman 155) says to trailer with the unit fully down.
>
> Gregory B. Fell
> The Fell Law Firm
> 3300 Oak Lawn Avenue, Suite 700
> Dallas, Texas 75219
> 972-488-8177
> 214-219-4218 - fax
> gfell@...
>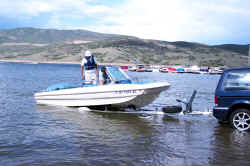 Received on Friday, 23 July 2004