From: Mstvsnd@...
Date: Tue, 28 Aug 2001 22:05:40 EDT
Hey Mike

Thanks for the welcome. I don't mind questions a bit. In fact I can be
long-winded on my favorite subjects, of which OMC boats and motors is one.

I'm not much of a gearhead though. I've had the compression checked on my
(new) motor, had the coil, the water pump impeller, the T&T motor and the
control box replaced, but did none of it myself. I've personally carpeted
the boat, installed a new gas tank and a new fuse panel to run my fish
finder. Mostly I just cruise and fish. It makes a great fishing boat with
the flat floor and individually removeable seats. The condition it's in is a
credit to the previous owner who kept it in a brick boat house for 30 years
and rarely used it.

The boat had the original 1964 StarFlite S-90 4 cylinder motor when I got it
in 1997, but it barely lasted the first summer. I've since learned that
Evinrude only made those motors for only two years ('64 and '65), and that
they're hard to work on, keep in tune and find parts for. Mine threw a wrist
pin the third week I had it and scored a cylinder. I wound up junking it
(sold it for $100 actually) and replaced it with a 1975 70 HP Evinrude of a
design that OMC still makes, and that has proven to be a real workhorse. If
yours has the original 90 HP, get all the use you can out of it, but I'd
recommend keeping an eye out for a rea$onable newer 70-80-90 HP replacement
and snapping it up when you find it, because eventually you'll need it.

If on the other hand yours has the I/O setup, you'll probably be able to use
it for a long time. There's a 1966 Sweet 16 on our lake with the original
Buick V-6 that still runs like a top.

Here's a recent pic of the Shark with its new motor. The best part about the
boat is the looks it gets when we pull up to one of the local waterfront
hotspots. Hope you have as much fun with yours as I have with mine.

Later

Mike Stevesand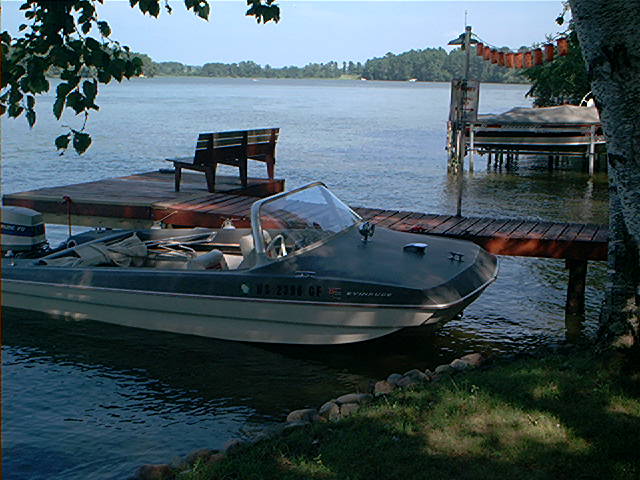 Received on Tuesday, 28 August 2001