Evinrude Sportsman Photo Gallery
1968-69 Evinrude Sportsmans.
Earlier (1964-67) Sportsmans and Sport '16 models had different styling.
1968 was a transition year, with the same hull as the original Sportsman and Sport '16, but new styling.
The 1969 and 1970 Sportsmans featured a new hull, designed by Lars Granholm (OMC resident naval architect) and Ralph Lambrecht (Chief Engineer of OMC Boats Division), a 22 degree vee cathedral hull with 4 inches more of deadrise on the center Vee, two longitudinal strakes on either side of the keel, and the bow "brow" height (below the rub rail) was reduced by about half.
The 1970 model abandoned the "flip-over" windshield used since 1964 in favor of a "walk-thru" windshield.

---
Tom Bakko's 1969 Evinrude Sportsman 16' 155
[added 5/22/2001]
---
Fell Family 1969 Evinrude Sportsman 155
Gregory Fell writes:
I am a third-generation owner of a 1969 Evinrude Sportsman 155 that was purchased new by my grandfather. I have every original item including the top, windows, trailer, owners manual, service manual, and parts manual. The mooring cover basically turned to dust, so I no longer have that. I had a custom cover made that is trailerable to replace it. I also had the original tilt trailer modified. I had the rollers replaced by bunks to distribute the weight over a greater surface area.
[added 6/22/2001]
New photos with top up:
[added 7/2/2003]
---
Bill Green's 1968 Sportsman 120 "Class of 68"
Lost Dreams:
Bill Green's 9-year project boat "Class of 68", a 1968 120HP Sportsman, lost on a Mountain in Richmond, Kentucky in 1998;
The axle on the Evinrude trailer went bad, I loaded it on a car trailer. Towed it around Richmond to see if it was ok. Felt good towed OK. So as I got on 75 North, the whole outfit jackknifed; The car trailer right front stuffed under the guardrail. Immediate stop, the Evinrude flew over the guardrail into a big ravine. Too many pieces to count.
[added 7/11/2001]
NOTE: Bill Finally found a new 1967 Sportsman in January of 2004! And a 1966 Sportsman in October 2006!!
---
Jim Medore's 1969 Sportsman 120
Jim Medore of Michigan's 1969 120HP Sportsman
[added 7/21/2001]
---
Chad Chambers' 1968 Sportsman 155
This boat is for sale as of 9/16/2003
Here are some pics of my newest aquisition. It's a 1968 Evinrude Sportsman 155. I bought it recently as a "fixer-upper" and it's going to be my winter project. Being a big Jeep guy the thing that attracted me the most to this boat was the engine. Jeep used the same Buick 225 cu.in. engine in the early Jeep CJ's and Jeepster Commando's and it proved to be a very reliable engine which produced good power. The trailer is obviously not original and has been replaced with a tandem axle at some point. In these pictures I have one of the rear wheels off as we had a blow-out on the way home with it the night I bought with no spare tire. We ended up removing both rear wheels and jacking the rear axle up as high as we could get it and chaining it in place for the ride home on two wheels. The trailer is almost in need of more work than the boat itself is. The wiring is horrible, the bow stop is too far back causing it to have almost no tounge weight, the tires are shot and the hull bunks are about rotted away. The boat runs well, but isn't moving water through the cooling system at all so it overheated and blew an exhaust hose within a few minutes of being in the water the day we took it to the lake to test it. I'm guessing that the lower unit water pump isn't working, but I haven't had a chance to look into it as of yet. In any case, hopefully by the end of winter 2004 it will be back in lake worthy condition and I'll send some new pictures then. Also, I am in need of a port side engine cover (door) if anyone has one or knows where I can get one. This one is totally missing. The previous owner told me they lost it going down the highway and it shattered into a thousand pieces.
[added 8/22/2003]
---
Randy Egert's 1969 Sportsman 155 "Cheryl Ann"
Randy writes: "I bought the boat in 2002 from the son of the 2nd owner of the boat. The drive unit was hanging of the back of the boat by one bracket. It hit something in the Rock River the just about ripped the outdrive completely off. Since I bought it every possible thing that could go wrong has. I'm dealing with a overheating problem right now, but I think I have that corrected. The boat was about to be taken to an auction when I made an offer that obviously was accepted. The only thing that is not original at this time is the fuel pump and the blower/bilge pump switch. I'll be working on that."

[added 09/25/2004]
---
Doug and Mike Julien's 1968 and 1969 Sportsman 155's
Our family owned a 1968 Sportsman 155 from new to 1984 when chronic electrical ignition circuit problems caused us to (foolishly) give it up. We used it on Lake Michigan and Big Whitefish Lake over this long period. Doug and I missed that boat from the day it was gone. Doug's discovery of a 1967 Sportsman 155 for sale in WI when he took his daughter to visit Lawrence University in 2003 got the search going for a 1968 (or 1969) model. We began our dream of owning the Sportsman again.
We found our 1969 Sportsman in Buffalo City, WI on the shores of the Mississippi in 2004. The boat had been maintained by the original owner well but it hadn't been run much or registered since the late 1980's. After a valve job and other engine work, it was finally ready to go in September, 2005. The 500-mile trip back to Michigan was well worth it, and on October 9 it made its first run on Big Whitefish Lake. Besides running well, the seats and other vinyl are in great shape, as well as the top and side curtains. What a durable boat Evinrude made!
We found our 1968 Sportsman on Burt Lake in northern Michigan in July, 2006. In many respects this boat is almost "new". The seats, carpet and fiberglass finish are almost perfect. The engine starts in an instant and runs smoothly at a 500rpm idle, and is almost silent at idle. Since this was "our boat", the boat of our youth, it is our favorite, but just barely. They are both wonderful boats and Doug and I feel very fortunate to have them.
So, which is faster? Neither, it turns out. We raced them on Big Whitefish on July 15, and they went precisely the same top speed, about 40-41 mph. They were so close in speed that it was like Doug and I were standing still looking over at each other and the lake was going by us very fast. Very fun.
Special thanks to the late Ed Z Sr, Mary Z and her sons Ed, Jr and Bill Z and son-in-law Rick T of Buffalo City, WI for working with us to get the 1969 Sportsman ready for us, and for loving it as much or more than we do. Special thanks also to Jim W of Brutus, MI, the boat's third owner, for his loving care of the 1968 Sportsman and for selling it to us.
Dreams do come true--sometimes twice! "
Thanks again for maintaining this website.
Mike Julien
Grand Rapids, Michigan
(click on photos to enlarge)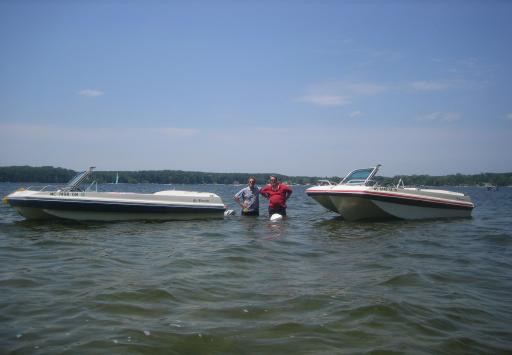 1968, Mike, Doug, 1969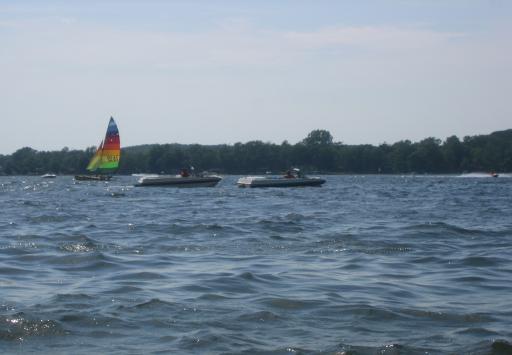 start of race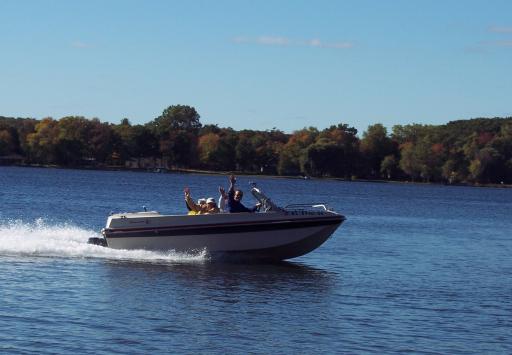 1969 on its first run 10/9/05, Big Whitefish Lake


[added 8/23/2006]
---
Micah & Mike Donahue's 1968 Evinrude Sportsman w/ 1969 155HP
Model name: 120 16'
Model year: 1968 - w/ a 1969 155 engine and I/O swap
Model number* 234605S
Serial number* WI 24232
Her name: None, at the moment - "Old Faithful" as a joke?
Home port: Bar Harbor, Maine
Owner name(s): Micah and Mike Donahue (son and dad)
Photo date & location: Long Pond, August 2006 (in water) and Southwest Harbor (being lifted off of failed trailer)
How you got the boat: When I lived in Minneapolis, I used to go visit my aunt in WI and run this boat. It was her husband's, and we had great fun skiing and mostly cruising it it. My uncle had died, so seeing my interest, my aunt immediately gave it to me. A couple years later I bribed my brother to tow it from WI to MA, and my dad then towed it to ME. It's been a 4-year repair project since then. Every time we go to use it, there's one old recurring problem (like tilt won't work) and one new one (like trailer bearing fails catastrophically)!

But what more could you want - it runs great (finally, after installing a rebuilt carb and correctly setting the dwell), it was free, and everyone who sees it smiles like hell!


[added 09/24/2006]
---
BC Howk's 1969 Sportsman 155
Here are the stats on our 69 sportsman:
Model name: Sportsman 155
Model year: 1969
Model number: 224506A
Serial number: WI-31276
Home port: Portland, Oregon
Owner name(s): Dale Conn c/o BC Howk

This boat was purchased by my step father in-law (Dale) brand new in 1969 right after he bought his lake house. This fine old girl has made her home there ever since and been much beloved.

I first saw this boat when I was dating my wife a little over 6 years ago. While getting to know my soon-to-be in-laws I noticed the boat sitting in the driveway under a tarp looking a bit neglected. I don't think it had run for a couple of years due to Dale being ill. At any rate, it seemed a shame to have a lake house in the summer with a boat in the driveway and not in the water, so I asked him if he minded me cleaning it up and attempting to get it running. He did not mind at all

She shined up pretty well and Dale helped me sort out the mechanics even though still pretty ill, it took surprisingly little to get it running again, just an oil change, plugs, clean the points and Dale poured A CUP OF GAS down the carb YIKES Don't try this at home!! Fire extinguisher at the ready, we turned it over and VROOOOM!!! We dropped it in the water the next morning and the whole family had a ball with it for the rest of the summer.

Sadly, Dale passed on a few years ago and I became the head mechanic from then on. I make it my mission to bring it up a notch every spring before we enjoy it all summer long. Here is what we have done so far.

For the first few years we did pretty much the normal maintenacne stuff except for putting on a Pertronix kit, it was cheap and VERY easy to do and did wonders for performance and reliability

In 05, we really went for it. Due to a bad mooring cover and no automatic bilge pump I had to replace a ton of electrics,the tilt motor, the alternator, starter solenoid and the starter motor. I also installed an automatic bilge pump and got a new mooring cover from the nearby GI Joes (not a Perfect fit but not bad for under 100 bucks), costly lesson learned. We then replaced the rubber floor matting, installed real wood on the kick panels, new seats, replaced the vinyl padding, new vinyl registration numbers on the side, new bottom paint and used 3M Marine fiberglass restorer and wax with a 10" orbital buffer to really get the oxidation out of the Gel Coat.

In 06, I replaced the Port side exhaust manifold, when I took it off to get a better look at what I thought was a leaky gasket, the flanges crumbled in my hands from rust and there was a HUGE hole on the underside close to the front, quite an exhaust leak and fairly common I understand. I also replaced the far to shallow 14 inch 16 pitch prop that Dale had put on with a stock sized 14 inch 20 pitch prop, with a decent tune up on the carb the old girl was trucking along at 37-38 MPH by the stock speedometer and 4600 RPM WOT (wide open throttle) this from 32 MPH and a very scary 5500 RPM not quite WOT I would have certainly broken something if I ever left it wide open. Not bad but still room for improvment. I also replaced the lights on the trailer and went ahead and replaced the old wheels and tires with a very standard set of steel wheels and new tires. It took a little doing as I had to take the hubs in and have them turned down by a machinist to make them accept a standard sized wheel and of course repack the bearings, but it will be much easier and economical to keep good tires on the trailer.

This year
I have installed a rebuilt Holley 4160 on an offenhauser intake with a nice looking Stainless K&N Marine flame arrestor.
I replaced the Starboard side exhaust manifold (the flange on that one gave up the ghost as well)
I removed and rebuilt the engine wiring harness.
I also went ahead and painted everything (I unbolted everything I could then degreased and painted the block and heads without taking them out), took the pulleys, alternator fan and lower alternator bracket to a local chrome shop, who did a GREAT job cleaning an chroming them. I polished the aluminum upper alternator bracket, voltage regulator and throttle bracket myself.
I tried to install the HEI that Mr. Shuster talks about on his page with the integrated coil on the distributor cap but the wiring plug on the unit that I got from CRT performance interfered too much with the thermostat housing, so I am working with them to figure out what to do about that, any advise is welcome, in the meantime I am using the stock system (with the addition of the Pertronix kit) I will be sure to post the results of what we had to do to fit in the HEI once I get it all dialed in.
I also replaced the foam that was glued to the deck lids with new hood liner material (the shiny heat insulation stuff for about 30 bucks at the auto parts store)
In the not done yet category are; painting the out drive, freshen the bottom paint
I will try and send more pictures after I have it in for the season. Read a longer version of BC's writeup


[added 04/24/2007]
---
Joseph Mullarkey's 1968 Sportsman and 1966 Rogue
Hi, My name is Joseph Mullarkey. Last fall (2007) I was given a 1968 Evinrude Sportsman 155. The out drive was missing and the canvas is shot. It came with a 1967 Johnson tilt trailer. I plan on converting it to a jet drive using a Cadillac Northstar engine. I knew that I would not have it done for this summer so I went looking for another one to use "as is". I found this 1966 Evinrude Rogue. The boat is complete and ready for the water. The man I bought it from is only the second owner. He had it for two years. His wife just gave birth to twins so he figured his "water" days were over for the near future. It has the 200hp Buick engine in it. It came with the fenders, anchor, fire extinguisher, six life jackets, and the shipmate tilt trailer. He sold it to me for $1200.00. Some days it does pay to get out of bed. It is still cold here in upstate NY but summer will find me on the lake a lot.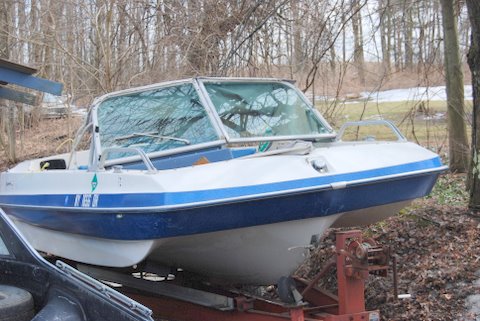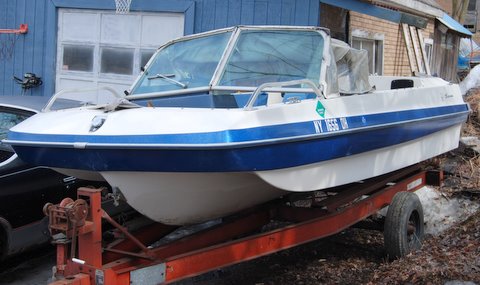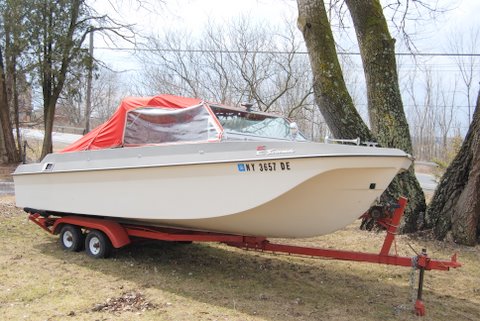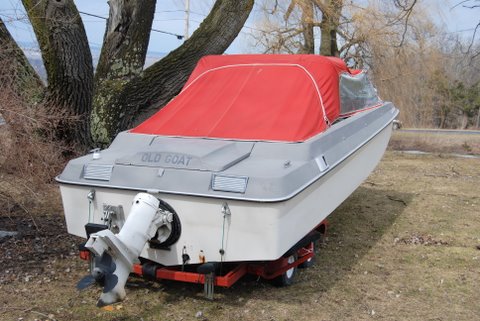 [added 04/25/2008]
---
Mechiel Boode's 1970 Sportsman 155 (in Netherlands!)
(click on photos to enlarge)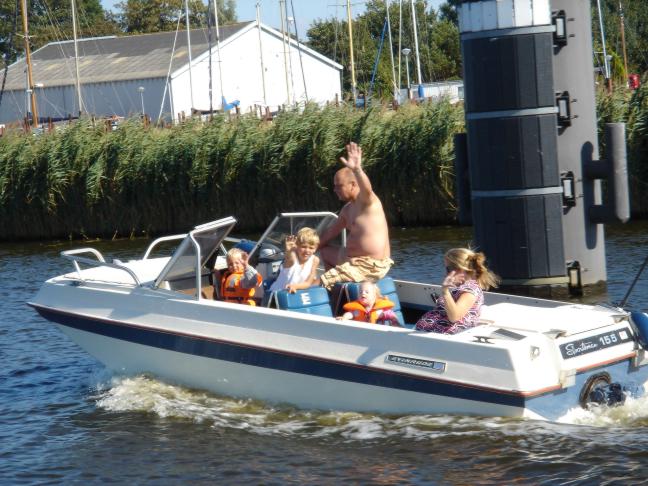 [added 5/19/2008]
---
Gary Lowman's Sportsman 155
"Still working the bugs out." June 2008

(click on photo to enlarge)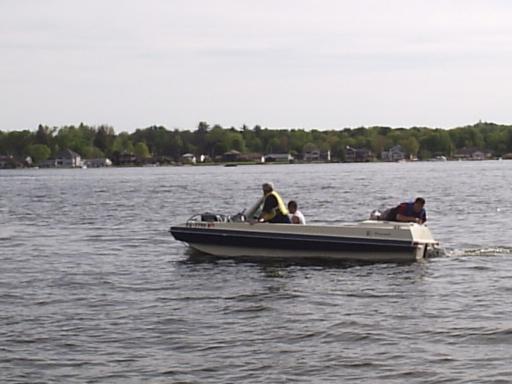 [added 07/12/2008]
---
Doug Griffin's 1968 Sportsman 155
I picked it up for a song. Yes she's a fixer-upper but I have faith. Someone might recognize her as she has a Antique and Classic sticker on the windshield. She will be my first real boat. Am starting to look for some odds and ends parts.

Doug in NorDakota

Model 221605S
Serial WI-29291


[added 8/9/2008]
---
Richard Rang's 1969 Sportsman
Picture was taken at Lake Leann in Somerset, MI. We started with seven skiers, then went to nine. There are five people in the boat! I still have this sweet boat.
(click on photos to enlarge)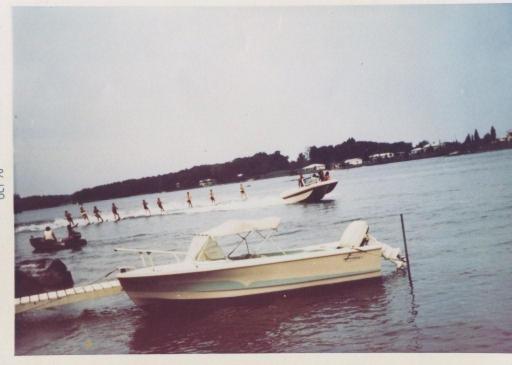 [added 10/13/2008]
---
1970 Evinrude Sportsman 155
Purchased May 2009 in Michigan. Three previous owners but only 159 hours. Appeared to be covered and stored mostly indoors. Runs great, lots of fun. Original top and bow cover.

Owner: William R. Lindow, DMD
Make: Evinrude
Model: 16' Sportsman
Year: 1970
Engine: V-6 155HP
Location: Lake Lansing, Haslett Michigan
Model number: 0027010
Hull serial number: WI-35767




[added 6/3/2009]
---
Evinrude Sportsman 120/155 hp (Germany)
I bought the sportsman two years ago in austria and moved it to Germany near Hamburg. Last summer we had a lot of fun with the boat. I have had absolutely no technical problems. Everything works perfect. But there is one thing which makes me wondering, it's the weight of the boat. The weight (without trailer) is 2200 lbs!?!? I am afraid there is a lot of water inside the boat!?!? It's very difficult to get any information about the sportsman here in germany, so it would be great if anyone could give me information about the original weight(thommy117711 @ aol.com) Or has anyone a good idea/experience how to get the water out of the boat? ;-) I bought the boat (1.350 euro/approx 2.000$) together with a dixie-trailer but i must bought a new trailer because the dixie-trailer did not have breakes. In germany most cars a not allowed to draft trailer without breakes if there weight is above 1000 lbs.

It is a sportsman 120 but it has a V6 155/hp with a model-nr. from 1969!? Unfortunately i have no information about the history of the boat.

Thank you for maintaining this website!! It's really perfect!

thomas

Owner: Thomas S. (Germany)
Make: Evinrude
Model: 16' Sportsman
Year: 1969
Engine: V-6 155HP



[added 1/6/2010]
---
Greg Nealis' 1969 Evinrude Sportsman 120
This Sportsman 120 has been in my family since the 1970's. It's lived most of its life in Beaver Dam Lake in northern Indiana. It belonged to my grandfather until a few years ago when he handed off ownership/care-taking to me and my father. We added blue marine carpet(no more burnt feet) and had to recover the seats back in the 1980's, but other than that it's all original. We are currently trying to find replacement carburetors as the original are too worn from being rebuilt over and over. We are also in search of a new boot for the outboard and as a result we are land-lovers until we find a replacement. This is an awesome old boat that everyone on the lake loves and remembers from years ago. I'm a small child on my mothers lap in one of the pictures below. It was a big part of my childhood and It will always be a part of our family.

Owner: Greg Nealis
Boat Name: "Little Blue"
Make: Evinrude
Model: 16' Sportsman
Year: 1969
Engine: I-4 120HP
Location: Beaver Dam Lake - Claypool, IN (summer) Anderson, IN (winter)


(click on photos to enlarge)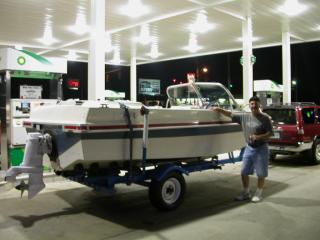 Ready to float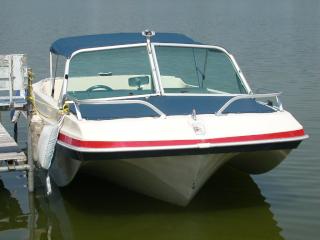 Original Covers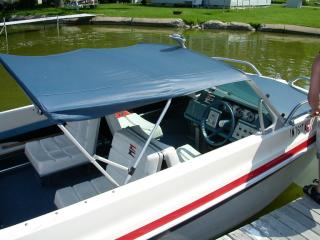 Interior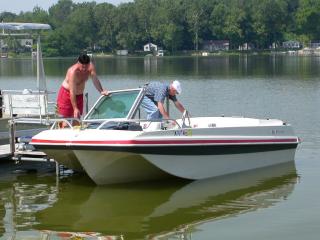 Ready for a quick run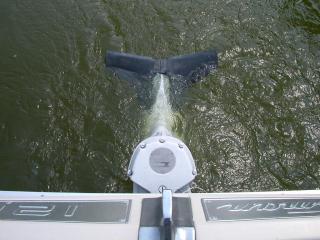 Outboard (we repainted it white)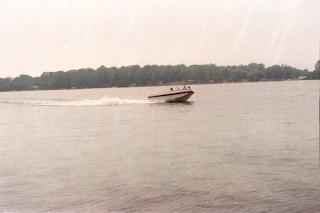 run by the pier '84/'85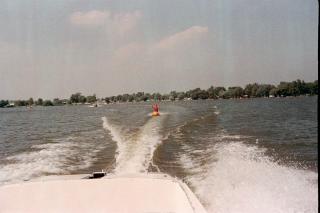 Dad on the torpedo '84/'85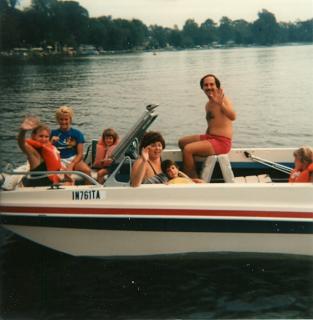 That's me on my mothers lap '84/'85


[added 5/5/2010]
---
Chuck and Nadine's 1968 Evinrude Sportsman 155
Picked this boat after some long searching and found this the day it was listed on Craigslist, on July 8th 2009 in Hackensack,MN. This is a sister boat my wife and I learned to ski behind as teenagers. After watching some vintage videos I started the search and purchased it on August 30,2009. We've brought it back to Lynchburg,Va where we enjoy it on Smith Mountain Lake in Central Virginia. There were somethings we needed to put it back original. I needed a new anchor/navigation lens and found a NOS in Colorado in the spring of 2010. Needed a starboard side windshield glass and found a parts boat in Maryland that was going to the landfill and it had only the starboard windshield and some other cosmetic parts as well as the windshield wiper accessory, in working order, before the guy sent it off to the landfill, October 2011. I also needed a new chrome fuel cap, as mine was replaced with a white one. Found a NOS in Michigan 09/02/2012 and that should complete all of the original equipment. What a lot of fun and patience it takes with these boats, that were not made long or very many of them as far as finding parts.

Owner: Chuck and Nadine Breen
Boat Name: LOT OF FUN - TOO
Make: Evinrude
Model: 16' Sportsman
Year: 1968
Engine: V-6 155HP
Location: Lynchburg,Va and Smith Mountain Lake in Central Virginia
Model number: 224605S
Hull serial number: WI-28717


(click on photos to enlarge)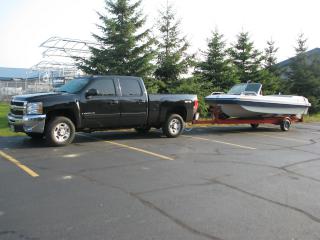 Picking up in Hackinsack, Minnesota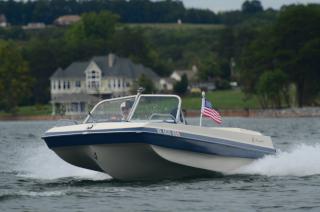 WOT on Smith Mountain Lake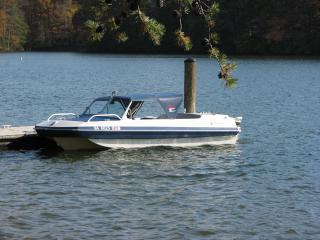 At Smith Mountain Lake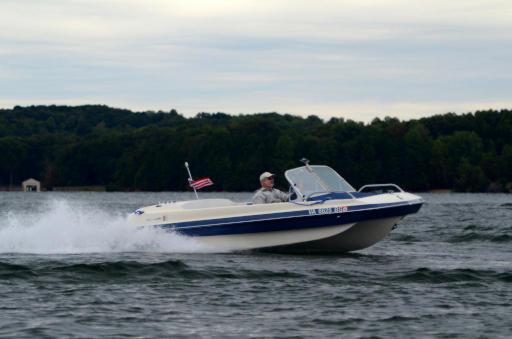 [added 9/13/2012]
---
68 evinrude sportsman
purchased from long time friends. have owned since 2000

Owner: Dennis and JoJo Herr
Boat Name: JoJo
Make: Evinrude
Model: 16' Sportsman
Year: 1968
Engine: V-6 155HP
Location: Watertown, South Dakota



[added 4/1/2014]
---
1968 EVINRUDE SPORTSMAN 155 V6
My dad bought this boat new in 1968. I was 10 years old. I skied behind it and my kids learned to ski behind it too. It has never sat we use it every year. It is always on a lift and stored inside in the winter. It has the original convertible top and side and aft curtains. It has the factory mooring cover which I replaced 7 times. I put a new water pump in the lower unit but everything else is original. I change all fluids at the end of each summer season. Included is the original EVINRUDE trailer with new tires and wheel bearings. For more pictures look at Craigslist Toledo, Ohio.

Owner: Chris Graves
Make: Evinrude
Model: 16' Sportsman
Year: 1968
Engine: V-6 155HP
Location: Manitou Beach, Michigan
Model number: 221605S
Hull serial number: WI 27560



[added 6/29/2015]
---
Evinrude sportsman
In France. Restored for fishing with electric engine.

Owner: EVB
Make: Evinrude
Model: 16' Sportsman
Year: 1965
Engine: Other
Location: France



[added 10/13/2022]
---
Back to Gallery Index