OMC Boats For Sale (2008)
The following boats have been reported as for sale. Nothing more has been confirmed. Dated information has been left in place for reference.
---
1966 Sportsman 150 10/13/2008
With 225 buick v6. All original right down to the evinrude trailer. The interior is in nice shape original seats runs and drives real nice. The only thing missing is the top.

Serial Number: WI-20371
Asking: 1200.00 or best offer
Location: Davenport Florida; 20 miles west of orlando
Contact: koasuper50(at)hotmail.com
---
1964 Johnson 17 Deluxe Runabout 10/13/2008 (SOLD)
All original equipment including owners manual, 285 Buick engine, trailer. We accquired this boat from an elderly gentleman while living in Florida years ago where there were plenty of big lakes for us to take her on and she was the talk of the town. Moved to South Carolina 8 years ago and she has been sitting in the barn ever since, but that is no kind of life for her. Upholstery and canvas top will need a little help. We are located in the Aiken area of South Carolina. Would like her to have a home where she will be enjoyed and appreciated.
Model Number: 121201E
Serial Number: I 3418
Polo White / Gulf Green
Asking: $2500, Sold for $1900
---
1967 Evinrude Sportsman 120HP 10/13/2008 (SOLD)
1967 Evinrude Sportsman, 16', 4 cyl. 120hp, new Shorlandr trailer with new tires, new battery, bilge pump, and custom top enclosure. Spare carbs. Second owner. Runs great.

Asking: $1650 (SOLD)
Location: Lake Angelus, Mi 48326
---
1971 Chris-Craft SeaSport Gull Wing 9/28/2008 (SOLD)
I'm offering my '71 Gull Wing for sale. This boat can be seen in the 2002 for sale section, owned then by Bob Rowe. There are also pix in the "SIGHTINGS SECTION". The boat looks about identical to what's in those photos. I did remove the depth finder and reinstall the original tach.

I have done some improvements/upgrades to the trailer: fitted new hubs that will take modern wheels with a smaller center hole; bought two new tires and wheels from Northern Tool, so the rubber is a year old, and there's a spare mounted. I replaced the surge hitch with a Reese conventional hitch and added new safety chains, and I also removed the original jack and put on a 1500 lb. aftermarket one.

The boat was running okay, but I cleaned some crud out of the carb, rebuilt it, and now the engine starts and runs perfectly. I also painted the upper regions of the engine in a very nice, if non-matching, Bill Hirsch turquoise engine enamel.

I bought one NOS "Gull Wing" emblem for the side of the boat which I haven't installed. I added a stabilizer fin on the sterndrive and installed a new rubber sterndrive seal. There's a new Rule automatic bilge pump, with switch unit integrated very nicely into the console. As mentioned above, a previous owner had installed a depth finder that I've removed, but it is included if you want to reinstall it. There are several spare props and other spares I'd have to catalog.

There's a very complete set of documentation as mentioned in the 2002 ad. All of the original vinyl covers are present, including the side curtains. This boat is what car restorers would call almost 100% original, complete, and unmolested. Everything works.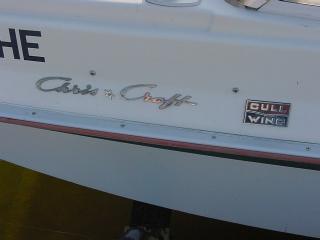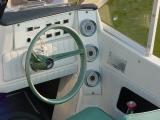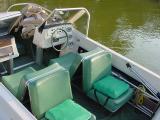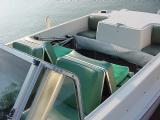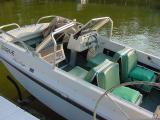 Asking: $2200
Location: Tennessee. (With the new hubs, tires, hitch, and safety chains, I wouldn't hesitate to tow this one anywhere.)
---
1968 Johnson Seasport II 120HP 8/23/2008
We have taken a 1968 Johnson Seasport II in trade for a new Four Winns. In searching for a market for the boat I found your website.

HULL ID: 25426
Johnson I/O 120 HP w/dual carbs
Original Johnson trailer; Original canvas; garaged winters; 2 known owners; Boat has been in fresh water it's entire life. Hull in good shape w/light oxidation. Driver's seat a little worn. Some tears/splits in vinyl.

Asking: $995 or best offer
Location: Newbury, NH
Contact: Bob's Beacon Marina: bobsbeacon(at)verizon.net; 603-763-2920
---
1964 Johnson Seasport and Trlr 8/23/2008
Runs excellent. It's a 4 cyl chev with OMC 120 outdrive. Speed is approx 35+. Very low hours on outdrive and engine since they were rebuilt. Also comes with an extra rebuilt shortblock, unassembled. Used for Lake fishing only since I rebuilt it. Has fishfinder, poleholders, etc. Needs TLC as I don't use it anymore. I just winterize it and tune it once a year. It's a big 17 with storage side-shelves and walk thru windshield with open bow. Boat is all original,but previous owner put a standard 2 wheel dropped axle under trailer. Tows and handles excellent. It's Model # PDGPR17, HIN # WAZ6514D1964. I'm asking $1500 as I have that invested in parts, equip, and motors since I bought it.

Asking: $1500
Location: Fall City, WA
Contact: 425-222-5064 ramc2(at)comcast.net
---
1966 Evinrude Sportsman 155 8/23/2008
I have a 1966 Evinrude Sportsman for sale it's in good running condition being an older boat it needs a few things like newer seats, I have the original ones. The tilt has stopped working, but tilting can be done manualy. It has a new larger gas tank in the bow. The motor is the Buick V6 155HP.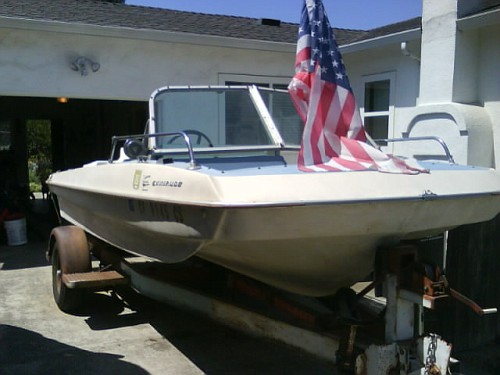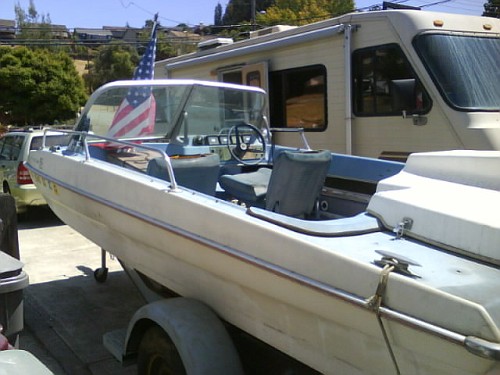 Asking: 500.00
Location: Haward, California
Contact: Omyhog(at)yahoo.com
---
OMC Deluxe 8/23/2008
Everything is complete... except for the top which is at the bottom of Shuswap lake... Too big and heavy for the resevoir nearby...

Location: Revelstoke, BC, Canada
Contact: dbjt(at)telus.net storms come up and you have to take the boat out.. the launch
---
1969 Evinrude Rogue II 210 8/23/2008 (SOLD)
I have a 1969 Evinrude Rogue 210, and have additional parts off a second 1969 Rogue. I can send details if you are interested. This is our old family boat and don't have time to work with it. I have a Rebuilt outdrive, and intermediate housing needs to be installed. Here are a few pictures, can provide additional pictures of parts and of the boat if wanted. She's looking for a good home....

Location: Greensboro NC
---
1968 Evinrude Rouge 210 8/7/2008
1968 210 Evinrude Rouge that has been restored. Small block Chevy w/ OMC electric shift. New floor, carpet, gel coat, convertible top, isinglass, custom wheels + tires, trailer rollers, cam, motor freshened, boots. This boat looks + runs like new. We have spent over 10K in the restoration of this boat. Has been owned by family + friends since 1969.. Please email me for more pictures.

Asking: $4500
Location: Boat in Grand Haven Mi, owner in Chicago
Contact: fishincoop(at)yahoo.com or call 708-218-0053
---
1964 Johnson Deluxe V-6 8/7/2008 (SOLS)
For sale: 1964 Johnson Deluxe V-6 (150hp). Needs some restoration, but is in amazing shape for being all original. I had it in the water two years ago and it ran great. I'm not a boat person and have no time to give it the attention it needs. Everything worked two years ago.

Model # 121302L
Serial # I 4833

Asking: $2500.00 firm for boat and trailer as is as seen in pictures.
---
Chris Craft 225 V6, outdrive, interior from 1971 Seasport 7/12/2008
I have a Chris Craft 225 V6, intermediate drive, and lower unit out of our old 1971 Seasport 16. The engine has a blown head gasket and needs a water pump. The sterndrive worked well when the blown head gasket was discovered. I hope someone can put them to good use. I also have most of the interior out of the boat. It had been recovered about 4 years ago. The seats are in good shape, most of the other panels are pretty good. Also an OMC V8 manifold, no cracks. Make offer on any of it.

Asking: Make an offer.
Location: Magnolia, Arkansas, southwest corner of the state.
Contact: dhcole(at)magnolia-net.com
---
1969 Evinrude Rogue 7/11/2008 SOLD
Complete. Engine runs but has cracked block. Trailer has new tires and axle with surge brakes. Outdrive works great.

(click on photos to enlarge)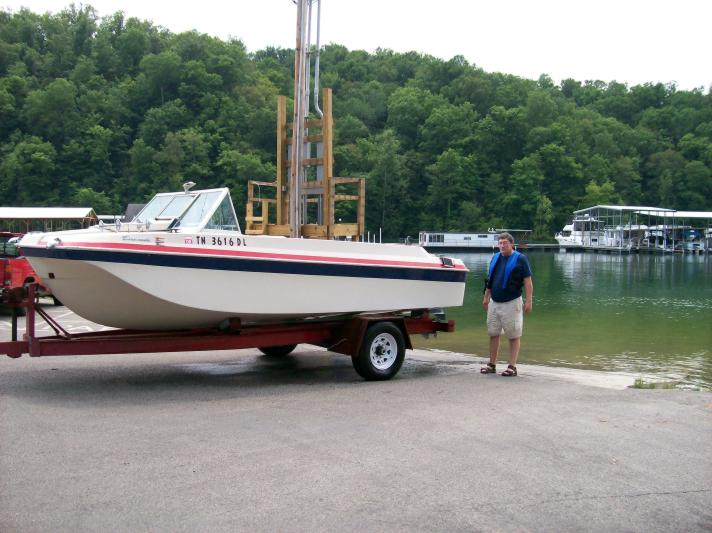 Asking: $1500
---
1969 Evinrude Sportsman 155 6/25/2008 (SOLD)
Vintage 1969 Evinrude Sportsman 16 with a 155 HP Buick V-6 engine. Comes with sturdy trailer that is in good condition as is the boat. This classic Evinrude was garage kept for the majority of its life. The past 3 years it has been covered and kept under the protective enclosure pictured.
Model number: 224506A
Serial number: WI-18641
It was on the water just over a year ago, but it has not been out since. It may take some time to get started again this year. It was winterized before storing. Interior is original and well kept.
Just having a baby girl, I unfortunately no longer have the time for boating.
Asking: $1500 for Boat and trailer
---
1966 Evinrude Sportsman 120 HP 6/20/2008 (SOLD)
1966 Evinrude Sportsman 120 HP with OMC outdrive on E-Z loader trailer. Was running fine before a tree fell on it in June 2007. Good for parts or restoration project.

Asking: $500
---
2 Johnson Revelers 6/10/2008
2 Johnson Revelers for sale... Together!
1 1968 Johnson Reveler Model # 222805S, Serial # WI-26813 (no title)
Runs great, runs fast. Some keel damage (repaired) been winterized ready for '07.
Complete top & curtains, mooring cover (best used as template for a new one)
Registered Trailer
1 1970 Johnson Reveler Model # 0457010, Serial # WI-38547 (no title)
Does not run. (parts boat)
No top, no curtains
Poor trailer (at best)
Here's the deal.... $750 for both!!!
I want to sell these boats as a package. I would like to see them go to a collector who might see the quality in the '68 model and keep it going. I have no use for the '70 model other than what I bought it for (strictly a parts platform, heck the engine is complete!) The '68 is trailerable for distance (new tires in '04, low miles since, just paid to get boat running in '06), the '70 would be better transfered to another trailer or flatbed. I do not want to separate, I would rather keep them & continue to try to ignore my wife, yet still, get my garage space back.
See attached pics. Many more on request. Local pick up preferred. I know of a place where they will rebuild the skeg in Fox Lake Illinois (has to be better than the spot weld job done by previous owner). I also know who has the original Johnson trailer for the '70 boat but I'm not sure anyone would really want it.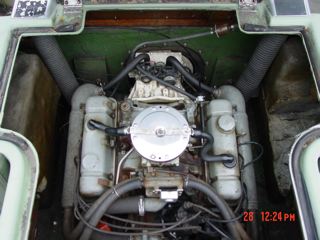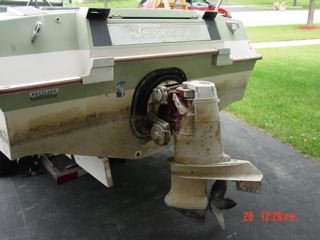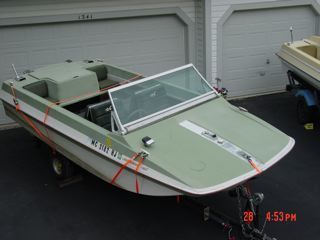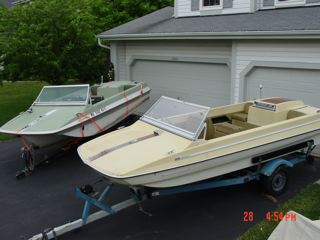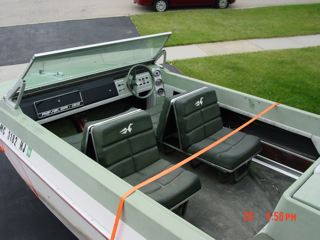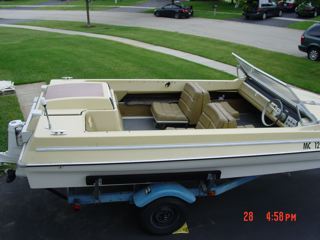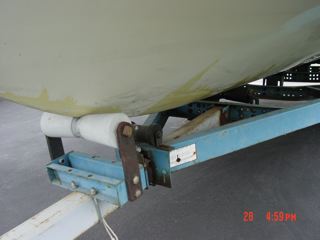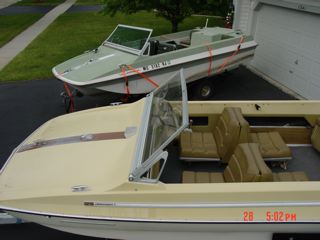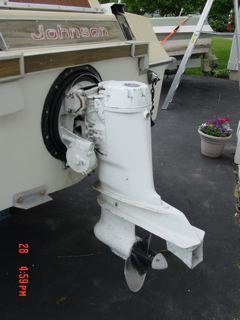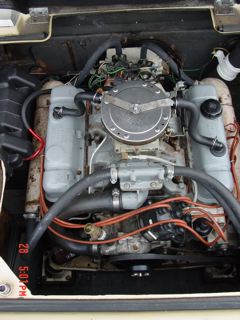 See more photos in the Reveler Gallery
Asking: $750 for both
Location: Bartlett, Il. (Chicago suburb)
Contact: Mike Sweeney 630-400-8965
---
1970 Johnson Surfer 210 hp SEA-FOIL 6/7/2008 (SOLD)
Good condition inside and out. Needs motor mount repaired where it attaches to hull. Tilt unit upgraded. Original seats. Original trailer and tires. Last used two seasons ago when the broken motor mount was discovered. Started it right up after sitting for a couple of years just took a couple of spays of starting fluid. Email for more information.

Grown kids are busy and we don't use her enough anymore. Looking for a good new home for her.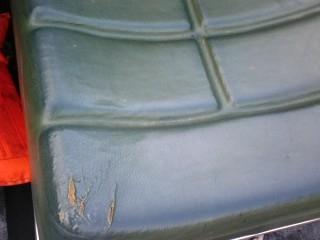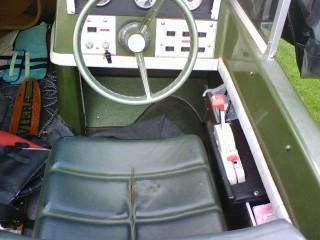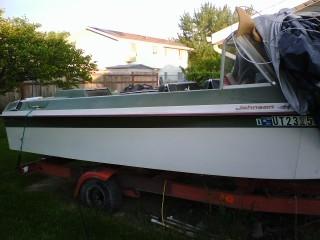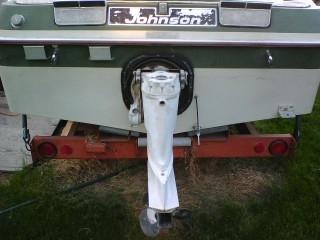 Asking: Asking $1500.00 will consider trades or offers.
---
1968 Evinrude Rogue 210 5/21/2008 (SOLD)
This boat has been sitting out in the open for 3 years and is pretty beat up but ran great the last time it was in the water. We used it for running around the Sacramento Delta where it would hit 40mph and cruise all day at 30 while burning about 10gph of fuel. The upholstery and carpet are shot but the hull and hardware are all in pretty good shape and could be restored or used for parts. This is one of the sweetest handling boats I have ever driven, both on plane where it tracks straight and banks into turns with one finger on the wheel, and in the marina where the OMC drive enables it to turn circles in its own length. I guess if you are seriously looking at this ad you probably know more about this boat than I do.
sitting on a "High Bunk" universal tandem axel trailer that was modified to be used with multiple boats. The high trailer bunks enable almost any boat under 23' to fit and allow easy lifting by forklift (How most boats are launched in Tahoe).
OMC 210hp small block chev v-8.
Push-button shifter.
All original parts, trim and hardware including frame for convertible top.
This is stored at a friend's house and I don't have a truck to move it anymore. The person storing it needs it out of the yard to complete construction so time limits mean that parting out the boat is not an option. Don't ask for parts off the boat.
Asking: $500 or best offer
---
1969 Evinrude Sportsman 155 5/17/2008 (SOLD)
Stored in a shed for the last 10 years, this boat is in outstanding condition. The interior is all original and in great shape. The hull has a few minor blemishes but looks great. The engine was winterized when last stored and would need fluid changes and tune-up, impeller, etc. to be ready to go. The trailer is a classic "Dilly" walkaround.
Asking: $2000
---
1969 Evinrude Sportsman 120HP 5/15/2008
Boat is solid and in very good shape, interior seats are the originals with the Evinrude logo. Engine is stuck, however the previous owner said it ran good the last time they used it but that was over 10 years ago. Lower part of outdrive has been disassembled, but I can see nothing wrong with the gears. The previous owner said they had trouble getting it to shift last time out and her husband took it apart then passed away so it has been sitting for several years stored in a barn in the U.P. of Mi. It is sitting on an EZ Loader 5.2 trailer with roller bunks, surge brakes and 15 In. tires. The trailer is in good condition, needs only lights. The trailer alone is well worth the asking price of $600 for everything. I have clear title to both the boat and trailer.

Pictures are available upon request.

Asking: $600
Location: near Port Huron, MI
Contact: Jeff: jc712(at)gogreatlakes.com
---
1968 Johnson Seasport II 155HP 05/12/2008
I have owner this boat for the last 25 years. This is a classic 16 foot 1968 Johnson Seasport II with a johnson trailer and road cover. I am only the second owner of this boat and it is in excellent condition. This boat has always been winterized and always stored inside and properly maintained. This boat has a Buick V-6 engine that is rated at 155 horsepower that still runs strong. I have the original parts catalog, owners manual, and service manual.

Within the last few years I have rebuilt the intermediate unit including driveshaft and ball gear assembly.

This boat is not a fixer-upper but is lake ready.

Asking: $4000.00
Location: Van Buren, IN
Contact: Delbert evenings at 765-934-4998
---
FREE Evinrude Sweet 16 5/9/2008
FREE Sweet 16 in London, Ontario
---
19' Evinrude Sportfisherman Rogue II 5/5/2008 (SOLD)
19' Evinrude Sportfisherman Rogue II (4cyl I/O, engine turns over, hull and interior in excellent condition; many extra parts. Engine needs rewiring) with double axle Shorline Trailer.

Asking: $2000.00
---
Evinrude Sportsman 05/02/2008
This is a boat that I'm selling for a friend. I think it's a 16-foot Sportsman (1967-70). It's got the typical V-6 and although it needs a buff, the interior and hull appear to be in great shape. The boat's been in storage for 12 years but it was put away well. The engine turns over, each cylinder has 175 pounds of compression and the oil is clean. The wiring in the engine compartment is a brittle and needs replacing and it needs a fuel tank, but other than that, the boat is ready to go.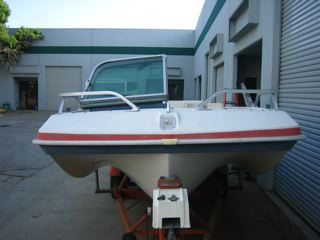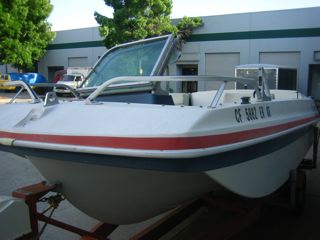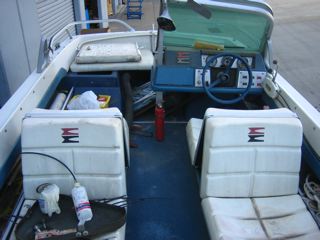 Asking: $2300 or best offer
Location: Rocklin, California (Near Sacramento)
Contact: Stuart Campbell 602.999.7162 (stuart.cmbl(at)gmail.com)
---
1966 Evinrude Sportsman 155HP 04/29/2008
Rebuilt 155 HP V6 engine with less than 200 hours running time.
New outdrive with less than five hours runtime.
New tilt motor.
New battery.
New bow and stern lights.
New outdrive seal rubber gasket.
New speedometer water pickup.
Original Evinrude trailer.
Full canvas just redone.
Still has the original seats double that flotation devices
Boat in great condition and runs strong!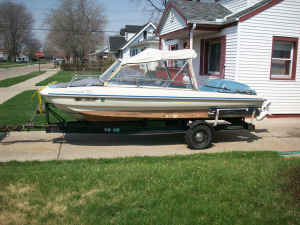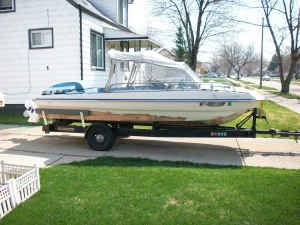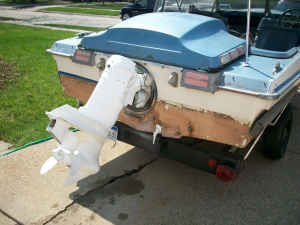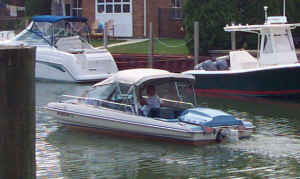 Asking: $4000.00 o.b.o. Asking price is just the cost of the new parts alone!
Location: St. Clair Shores, MI.
Contact: jeyenson(at)yahoo.com
---
1967 19' Johnson Surfer 04/26/2008 (NO LONGER FOR SALE)
I have a 1967 19' Johnson Surfer for sale.The seats & carpet are not original & the upper gearcase is not original. The boat has had a lot of work done to it as you can see. Has original trailer & full manuals. She runs very smooth. Has 300 Buick engine. Lots of work in it but have to many boats & one has to go, hopefully to someone with knowlege of this boat.

Asking: $2500.00 obo
---
1964 Evinrude 'Sweet 16' w/ 75hp Starflite 04/26/2008
1964 Evinrude 'Sweet 16' c/w 75hp Starflite, This boat was bought new by my Grandfather form the sportsman show in '63 for delivery in '64. Has been stored in a garage since it was new. She was last in the water April 18/08. Motor starts easily and cruises @ around 35-40 km/hr (25mph) and top speed around 55km/hr (40mph). It is a 4 cyl. with 2 barrel carb.
Boat has been used to occaisionally go fishing, but has been run on average 3-5 times per year for the last 10 years.
Boat includes: All original equipment such as boarding ladder for swimming, vintage floating cushions, trailer (2in coupler), custom travel cover, gas tanks (2-3), paddles, running lights, compass.... etc..
I am selling the boat because I need the garage space back and do not want to store it outdoors, and have a new baby and will not have the time to use her very much anymore.
Its tough to get away from a launch without a few people asking about her age and history. I hate to give her up, but she is a better boat than a dust collector.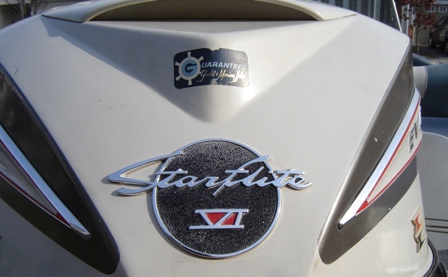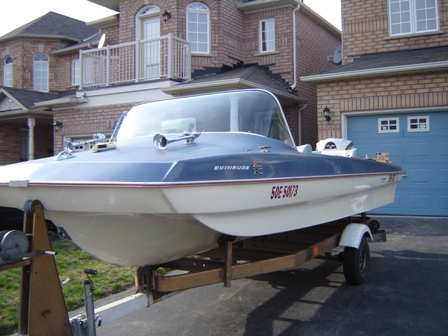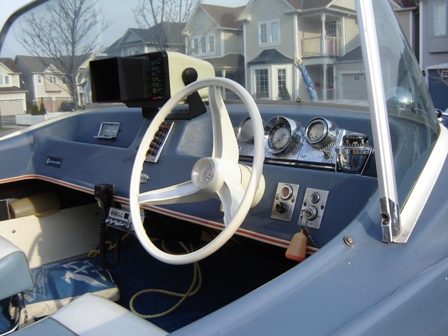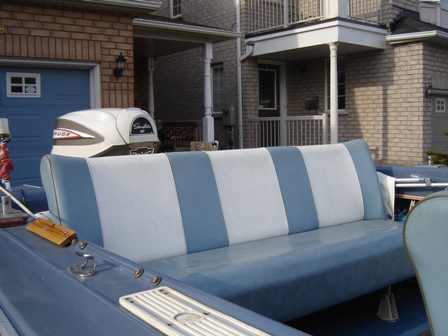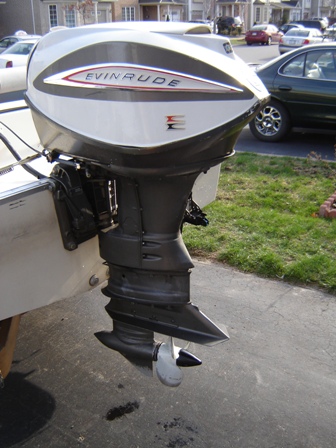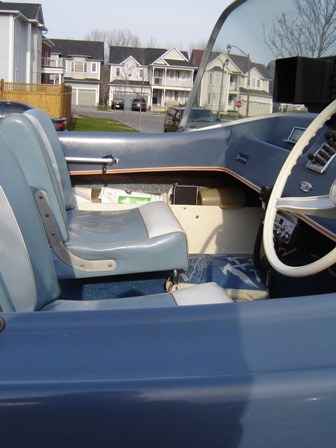 Asking: $3500
Location: Toronto, Ontario Canada
Contact: 647-220-1196, gl_joseph(at)hotmail.com
---
1970 Johnson Surfer 04/25/2008
1970 Johnson Surfer, This boat is in great shape. The original owner used the boat for family fun on Lake Ponset, SD. The boat was in storage for about 15 years until it was discovered three years ago. The second owner had the lower unit rebuilt and then had it in the water for one season. I purchased the boat from him in March of '07 with the hopes that I would get to spend more time with the kids on the lake. I just completed a full tune up and replaced the starter last summer.
Due to a lack of time and an overabundance of projects I am forced to let this gem go. The only problem that I know of is that the original gas tank is chock full of rust. I know for a fact that none of the rust has ever made it into the carborator due to the previos owner and myself both using in line fuel filters. I ran it last year using an external fuel tank because I never had the time to pull the tank and repair or replace it properly. I also know that the power trim switch likes to be a little finicky. It has never let me down but you do have to push it a couple times to get it to work.
The boat is sitting on what I believe is the original shorelander tandem axle, tilt bed, trailer. The tires are definitely in tough shape but they are still runnable.
Asking: $2500 (negotiable), delivery available.
Location: Arlinton, SD
Contact: Justin Hamer 605-695-9149, justin.hamerN(at)yahoo.com
---
1965 Evinrude Sport 16 Runabout 04/25/2008
Our family purchased the boat, the original Evinrude 90 Hp motor and the Evinrude Trailer new in 1965. We replaced the original motor, with a new Evinrude 115 HP motor in 1973. The boat is a true "garage queen" with relatively little use over the years. A tilt and trim unit was added in about 2001, along with a 20 gallon gas tank, updated dashboard instruments and painted / rewired the trailer. The boat was last in the water in 2003 and we feel it is time to sell our boat.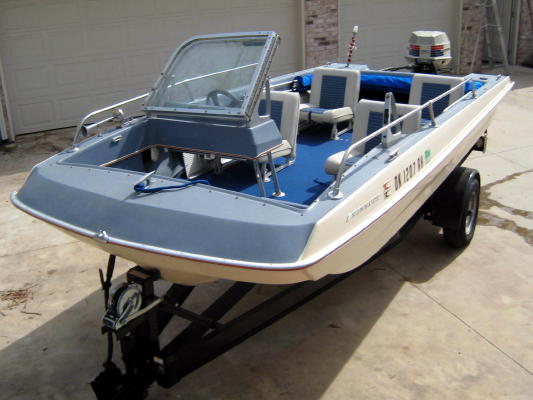 Asking: Boat, motor and trailer $2,250.00 - O.B.O
Location: Tulsa, Oklahoma
Contact: sand5913(at)gmail.com
---
16' Canadian Johnson Deluxe with Johnson 75 Outboard 03/17/2008
I am selling my 16' Canadian Johnson Deluxe. Comes with original Johnson 75 horse outboard and trailer. The original seats are gone, but the frames are there for mounting them.
Asking: $2250 or best offer.
Location: Regina, Saskatchewan, Canada.
Contact: haymaker(at)sasktel.net or phone 306-543-1049 and ask for Scott.
---
1968 Evinrude Sportsman 1/27/2008 (SOLD)
This boat has been in my family since we bought it in 1968. It has been well cared for. Recently I began clean up on the boat. It is fully painted with the blue stripe being a little darker. I have replaced the seats, carpet, and re-upholstered the front seat blue. I would like to see it go to a good home. Last time I drove it it started no problem. It is a must see. Old seats for sale, but not in very good shape.
Asking: $3000
---
88 HP intermediate housing and outdrive 1/20/2008 (SOLD)
Lower unit has split in it so it has evidently had water in it and froze. Upper gearcase seems OK. I have never operated it. I just stripped it off a boat. The ball gears are like new. I also have the oil injection tank.

Asking: $150.00 for everything.
---
1970 Evinrude Sportsman 155 1/10/2008
Evinrude Sportsman 155. 225 Buick V-6, missing distributor & seats, otherwise in good condition. Evinrude "Little Dude" trailer.
Asking: $1500.00 or best offer.
Location: Bremer, Iowa.
Contact: Nick Kofron 319-464-9006 or email: danielkstr(at)yahoo.com
---
1967 Johnson Reveler 155 1/10/2008 (SOLD)
We are selling our 1967 Johnson Reveler 155HP, see pictures below. We are the second owners, and have owned it since 1984. It is in exccellant condition. The engine and outdrive are in perfect running order. The engine was replaced in 1987, and has been used for about 20-30 hrs per summer since, around our small lake. The interior seats have been rebuilt using the original pull out frames. hull is also in very good shape. It comes with the original Johnson Tilt Trailer also in very good condition. The only change is I removed the electric brakes years ago, they not being needed. I also have original service manual, as well as a parts manuel for the engine and outdrive. The boat is a deluxe model, having navigation lights (factory) windshield mounted. and stern light.The engine cover has factory installed teak strips across the back. The boat is very handsome and turns many heads who cannot believe that it is an antique. She looks and runs great. Everything works, and is mostly original. I am getting older, near retirement, and need to stop collecting toys. She has only been used in fresh water, both by myself and the original owner from Lake Michigan. We are asking $2100, and the boat would have to be trailored from New Hampshire. The tires are like new but have been on for about 7 years. The Wheel bearings were replaced 3 yrs ago. Would love to see it go to a good home, it is a good stable family boat with many years left.
It is currently winterized and ready to use. It needs nothing to use for 2008 season, but water. Outdrive and motor are in excellant shape. Turns many heads on the water.
Asking: $2100
---
1965 OMC/Johnson 17 Deluxe 1/7/2008
model 121202L in good condition on EZ loader trailer. Recent rebuilt carb, buick odd-fire V6 engine runs well, outdrive needs to be put together and installed. Original seat frames need to be installed. Have the two front running lights, wiper motor and arm. Many other parts as well.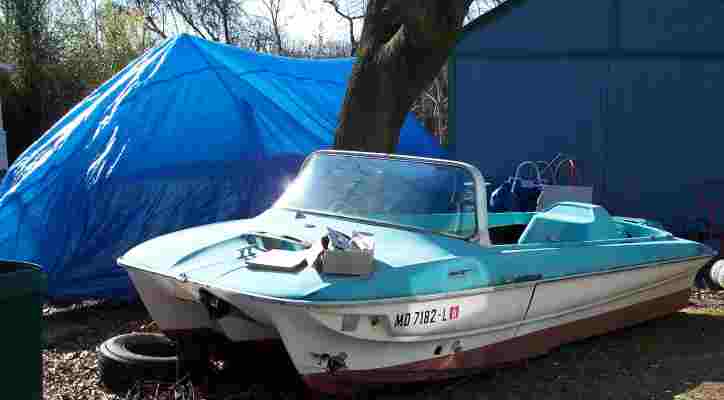 Also have manuals, other accesories. I was going to make one boat out of the two, but ran out of time/money. I will send more pictures if needed.
Location: Annapolis, MD
Contact: David65(at)comcast.net
---
Boats for Sale (2007)
Boats for Sale (2009)
Back to omc-boats.org