OMC Boats For Sale (2018)
The following boats have been reported as for sale. Nothing more has been confirmed. Dated information has been left in place for reference.
---
1967 19' Johnson Surfer with 1972 19' Chris Craft Trailer 10/24/2018
This boat was given to me by a friend when his father passed away in 2011. He grew up in NJ and in the 60's his father bought this boat. He had 5 siblings and they all learned to water ski with this boat. His father was a veteran of the US Army Air force and served in World War 2. The boat now sits in my yard and I would love for someone to come and take it and restore it. I've seen some pictures of restored boats of this vintage and they are beautiful. I do not have the time I thought I would have to do this. I've never gotten a title for this boat but I do have a lot of other information on the boat and trailer (registrations, notes, etc.) The Boat comes with a 1972 Chris Craft Trailer. 2 Axles. I do have the serial number for that trailer.

Make: Johnson
Model: 19' Surfer
Year: 1967
Engine: V-8 200HP
Asking: $100
Contact: lizmontgom(at)yahoo.com
Location: Blairstown, NJ

---
1964 Johnson Deluxe 10/16/2018
Mostly restored '64 Deluxe, new floor/foam, new pump, seals, vertical shaft in drive, new head gaskets, freshwater cooling system, lots of spare parts. Trailer needs painted; good tires, bearings and bearing buddies. Full cover. Needs new convertible top (have frame and header from original)

Make: Johnson
Model: 17' Deluxe
Year: 1964
Engine: V-6 150HP
Asking: $5500
Contact: ednkaye(at)centurytel.net
Location: Vashon Island, WA


(click on photo to enlarge)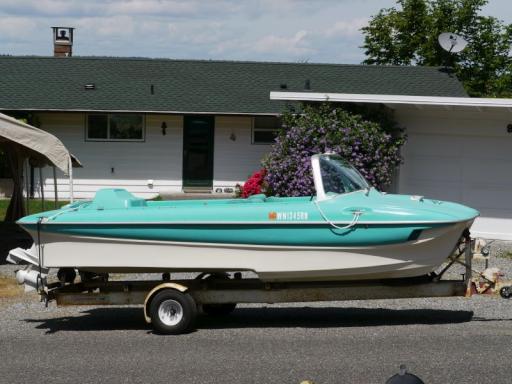 ---
parting out a 1969 sportsman 155 10/15/2018
I got this boat for some parts to complete my 1968 sportsman 155 it was complete but the motor was seized so I am parting the 1969 out to save my boat and help some maybe save more old boats like this they are great and I have a graet time with mine with the family.

Boat Name: just parts
Make: Evinrude
Model: 16' Sportsman
Year: 1969
Engine: V-6 155HP
Asking: email for parts and prices
Contact: Rickey L. Rockey 1312 eage way Rock Springs wyo. rrockey(at)wyoing.com
Location: rock springs wyo.

---
1966 Johnson Caprice Needs New Home 10/7/2018 (SOLD)
Last in the water at least five years ago, with the previous owner. Lower unit started leaking, he tore it down, moved and lost interest. Flywheel is off engine, outdrive leg is torn down completely, tilt motor is missing.

The plywood under the fiberglass floor was soaked and crumbling. Most of the fiberglass floor has been removed, the plywood removed and the foam is now dry. It appears that everything is there. I've never had it running. There are three sets of back to back seats in various condition. One set of plastic frames with no cushions, one set of tan wood frame seats that could be rebuilt and one set of Thompson top cushions only (no bases).

Original trailer is in pretty good shape. Tires, wheels and bearings were replaced by previous owner. Trailer and outdrive were painted black at some point...

All serial number tags are present. Have clear ownership paperwork for boat and trailer. Also have original printing parts manuals for boat and sterndrive and service manual for sterndrive. Hull is in good condition, some paint issues on the sides. Appears to have been repainted at some point.

Have additional pictures.

Make: Johnson
Model: 14' Caprice
Year: 1966
Engine: V-4 90HP
Asking: 400
Contact: (SOLD)
Location: Waterford, MI

---
Johnson OMC Delixe 17 boat trailer 10/6/2018
Factory boat trailer for Johnson Omc Deluxe 17. Trailer has new tires and lights work. Brought back boat From N. Carolina to Ohio couple of years ago. Tongue has old repair and seems to work well. Rollers are good. Front tongue tires bracket is bent.

Make: OMC
Model: 17' Deluxe
Year: 1966
Asking: 450.00
Contact: reesplumbing(at)gmail.com
Location: Zanesville Ohio


(click on photo to enlarge)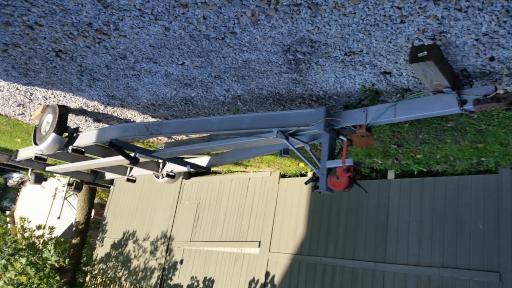 ---
Earky 1960's Playmate 9/30/2018
Purchased new by eife's father, uncertain of year - looking for documentation. Last in water (Skaneatles Lake NY about 1991. Barn stored until this year

Boat Name: None
Make: Evinrude
Model: 14' Playmate
Year: 1963
Engine: V-4 80HP
Asking: Offcer
Contact: tmpalmer(at)windstream.net or cnyted(at)gmail.com
Location: Manlius NY
Model number: 976365
Hull serial number: WI 16731

---
Johnson Seasport project boat 9/14/2018
1965 Seasport. GM "Iron Duke". Motor starts and runs. Outdrove engages good and pumps water. Steering works good. Boat floats with no leaks. Most of interior is gone. Good project boat. No title

Make: Johnson
Year: 1965
Engine: I-4
Asking: 750. Obo
Contact: jwthomas(at)nisource.com
Location: Fremont IN.

---
Johnson 17 deluxe for sale 9/5/2018
I have owned this boat for the last 15 years and it is currently in the water being used. Everywhere I go people always ask me about it and give me a thumbs up when passing by.i replaced the gas tank two years ago and the manifold and riser last year. The motor runs great and shifts perfect. The seats are not original but the windshield is but doesn't open.the boat is a true classic and time for her to find a new home.

Boat Name: The bat boat
Make: Johnson
Model: 17' Deluxe
Year: 1964
Engine: I-4 120HP
Asking: $2000
Contact: Cpband49(at)gmail.com
Location: Long Island NY
Hull serial number: I 3232

---
1964 Evinrude Sweet 16 8/20/2018
This boat has been owned by me for 11 years. It has been totally restored with many upgrade which include the installation of a130 hp Mercruiser sterndrive, teleflex steering, new interior, gas tank, all chrome redone and it has the original Evinrude trailer. Boat is currently registered but it is kept on the trailer, bottom has never been painted. It is fast, runs perfect and sits in the water as if it had the original 88 hp in it. Decks were chopped and extended 13 inches to accommodate the new motor, new transom and floor in engine compartment , 4 cycle gauges installed in dash. The original story of the boat is under the airings page titled " John & Victoria's Evinrude Sweet 16". pics there are of the first restoration and original motor (2008)

Make: Evinrude
Model: Sweet '16
Year: 1964
Engine: Other
Asking: $5500
Contact: Jfaul52(at)yahoo.com
Location: East Hampton

---
1968 Evinrude Sportsman 155 for sale 6/27/2018
Make: Evinrudesrude Sportsman 155 for sale
Model: 16' Sportsman
Year: 1968
Engine: V-6 155HP
Asking: 2500.00 OBO
Contact: 205-910-0342
Location: Birmingham AL
Model number: 224605S
Hull serial number: WI-27198

---
1969 Johnson Surfer 19' 6/5/2018
Classic boat in excellent condition, true time machine. Boat has less than 450 hours on it. Original owner rarely used it, but always kept up with yearly maintenance. I have completed the following over the last year:

-New OMC Transom Seal -New water pump and seals in stern drive - Changed oil in stern drive -Rebuilt Carburetor - New Alternator and belt - Full Tune Up and oil change (plugs, wires, dist cap, rotor, coil, adjust valves, new valve cover gaskets) - New Fuel Pump and filter/ water separator, replaced fuel lines with new braided type -New starter solenoid -New battery -New Trailer tires,

Boat runs excellent. Has a canvas cover as well. The retractable top is there but has a hole where a mouse made its nest. Other than that it practically looks brand new.

Consider trades for utility style ATV over 300cc

Make: Johnson
Model: 19' Surfer
Year: 1969
Engine: V-8 210HP
Asking: 2800
Contact: g_rundle(at)sbcglobal.net
Location: indianapolis, in

---
1967 Evinrude Rouge 200 hp stern drive 5/1/2018
Boat Name: Snapp 2
Make: Evinrude
Model: 19' Rogue
Year: 1967
Engine: V-8 200HP
Asking: 3000 obo
Contact: Impossiblemikey90(at)gmail.com
Location: Rock hall Md

(click on photo to enlarge)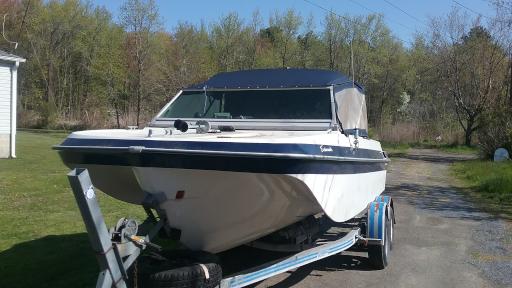 ---
Evinrude Rogue 150 1/23/2018
1966 Evinrude Rogue 150 boat was bought in October 1965 my my grandfather we were an Evinrude dealer since 1958 it is in excellent shape there have been a few upgrades over the years but it's all original the seats are still original having health issues want boat to get good home

Make: Evinrude
Model: 19' Rogue
Year: 1966
Engine: V-6 150HP
Asking: $10,000.00
Contact: aliquippamarine(at)comcast.net. 724-375-4197
Location: Aliquippa Pennsylvania
Hull serial number: W1177661

---
Evenrude Sportsman 155 1/11/2018
Selling this amazing boat for my neighbor who inherited it from a close friend who passed away. Until last summer the boat was kept in a climate controlled garage in upstate SC. A mechanic went through the engine and was able to get it to run. That being said it was run on a remote fuel tank at the shop and expect additional work will be required to put it into full service. We have the Bimini top and all seats. Everything looks original and is in great condition. Even the trailer.  

This piece of history needs a new owner to appreciate her! It is an amazing boat. 

Boat Name: The Grove
Make: Evinrude
Model: 16' Sportsman
Year: 1969
Engine: V-6
Asking: $3500
Contact: Johnviet2(at)hotmail.com
Location: Charleston SC
Model number: 224506A
Hull serial number: WI-31368

---