OMC Boats For Sale (2000)
The following boats have been reported as for sale. Nothing more has been confirmed. Dated information has been left in place for reference.
1967 OMC 17' 8/18/2000 (SOLD)
OMC Canada (Model #465023); Similar to Johnson Deluxe. Engine completly done, outdrive rebuilt, all electrical components rebuilt: starter, tilt moter, alternator, window motor. Interior is redone and high grade carpet has been added along with the original floor mats and foot rests, and seats. Boat has been refinished to its original colors of aqua and white. Trailer has been gone over as well with new bearings and seals and lighting. As you can imagine all this cost quite a bit. So that is why I will be asking $5500CDN, of course I will look at offers as well. THIS BOAT HAS BEEN SOLD.
(click on photos for larger images)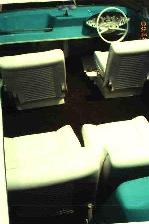 1966 Johnson Deluxe 17' 6/30/2000
1966 Johnson Deluxe 17' 225ci V6 on original trailer. Boat was in storage 27 years. All interior excellent and original. Exterior is still very glossy. Decals on trailer still very good on original paint. Windshield is excellent. All original paper work and owners manual. This boat looks like it is less than a year old. Contact Bill Bonbrake, Byron, Ga. 912-956-2608
Sweet 16' 4/9/2000
Evinrude Sweet 16 outboard boat for sale. Not sure of year. The boat is on it's original trailer. The boat is 85% complete with original glass windshield in good condition. No motor. Asking $250.00. (609)361-6123. s.f.moser@worldnet.att.net
(click on photos for larger images)
1969 Evinrude Rogue 210 3/22/2000
Seen on AllAboutBoats.COM;
1969 Evinrude Rogue 210, 19 feet, V8 stern drive in great running cond. only needs some cosmetics work. New tires on trailer, boat all original. fiberglass hull, gas fuel, $2,200.00, (540) 674-8606
1969 Johnson Sea Sport 155 3/22/2000
Seen on AllAboutBoats.COM;
1969, Johnson Sea Sport 155, Modified Vee Hull, Gas I/O. Seats 7. Pedestal steering, white canvas top and mooring cover. Evinrude 2 wheel trailer., Phone (802) 985-3336, Fax (802) 985-3337, VERMONT, Shelburne, $2500.
1969 EVINRUDE 16 3/22/2000
Seen on AllAboutBoats.COM;