From: Tom Paquette <tpaquette@...>
Date: Mon, 10 Jul 2006 19:05:19 -0400
Welcome to the rotten plywood club Karl.

I have a 64 Evinrude.

I removed the motor and all the rigging running through or attached to the
seating section.

I then removed the entire rubrail.

Then I ran a bar clamp across the hull and attached it on both sides to the
metal rail that runs the inside of the hull.

I used a Sawsall type saw to carefully cut the seam between the seating
section and the hull all the way around. The blade gets hot so take your
time - a few days or you will melt the fiberglass. Where it attached to the
floor under the metal screwed down transition piece I just used a utility
knife to kinda cut the floor glass it was "epoxied" to.

.

Once it was cut the seating section lifted right out. The plywood under the
seating section(not the floor) center area lifted out with the section. It
is a filler between the floor and seat section

The transom was ½ and ¾ plywood epoxied together. It came off with a
screwdrive and 3 inch putty knife. Obviously not too strong at that point.

The corner were tougher but I literally pulled them off with my hands once I
cut the glass tape in the corner seams.

The Transom sits directly on the floor.

The small bilge area is glassed to the floor so don't try and remove it.

Hope this helps!

Tom

Charlotte, NC

my beautiful old transom

the seating section removed

as it looks without the seating section. I hooked the steering cable back
together so I can remember how to put it back later

the very strong plywood transom – NOT – I was shocked how rotten it really
was

The empty hull awaiting foam and floor. Note the bar clamp I used to
keep dimensions.

_____

From: owner-omc-boats@... [mailto:owner-omc-boats@...] On
Behalf Of Harris Family
Sent: Monday, July 10, 2006 4:43 PM
To: omc-boats@...
Subject: [omc-boats] New Experience

To all:

I have been replacing the floor and foam on my 64 Johnson O/B runabout and
am getting ready to start working on the transom. Has anyone replaced a
transom on this boat and where/how should I start?

Also, what type of painting options do I have? Both deck and hull.

Karl

Aberdeen, WA

-----
To get off this list send mail to omc-boats-unsubscribe@...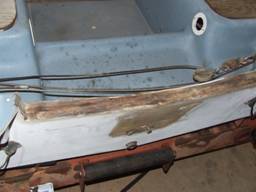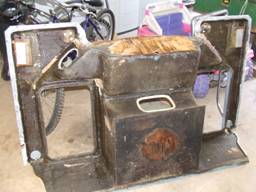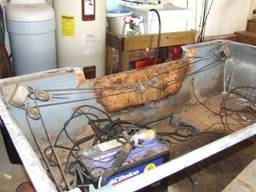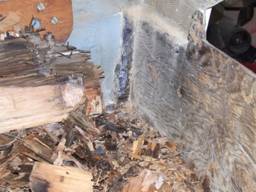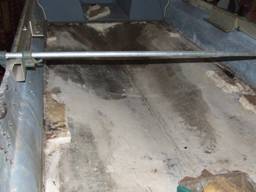 Received on Monday, 10 July 2006