Re: [omc-boats] Rare 1970 (Last Year) Evinrude Sportsman
From: Scott Veazie <scottveazie@...>
Date: Mon, 4 Apr 2005 22:33:53 -0700
This Sportsman is an exact clone to my 1970 Seasport, just different colors. I can't believe how many OMC's are for sale right now.

~Scott
----- Original Message -----
From: lib1@...
To: omc-boats@...
Sent: Monday, April 04, 2005 5:31 PM
Subject: [omc-boats] Rare 1970 (Last Year) Evinrude Sportsman

See another newly listed Evinrude Sportsman on eBay at:
http://cgi.ebay.com/ebaymotors/ws/eBayISAPI.dll?ViewItem&item=4540912490&fromMakeTrack=true

Note how the Seller has mis-labeled it an 18-footer.

This one is fairly unusual as Sporstmans go. Evinrude switched the "traditional" 2-piece "symetrical" folding windshield found on 64 thru 69 Sportsmans to a similar 3-piece arrangement first introduced on the 68/69 Johnson Seasports. Note the outer windshields use the same bevel-corner styling used on the Chris-Craft Gull Wing shown on Phil's site.

Phil you might want to grab these pictures, as I don't think you have a 1970 Sporstman anywhere.

Lee Shuster

-----
To get off this list send mail to omc-boats-unsubscribe@...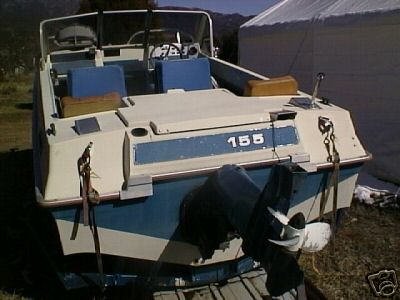 Received on Tuesday, 5 April 2005
This archive was generated by hypermail 2.2.0 : Tuesday, 29 July 2014 EDT