Evinrude Sweet '16 Photo Gallery

---
Orfino family 1964 Sweet '16 Outboard
Jim Orfino (left) on his Dad's (extra) blue 1964 Sweet Sixteen with 1965 90HP StarFlite S-90 Calling Lake, Alberta Canada, 1975.
NOTE!!! All photos Copyright Jim Orfino. Permission required for reuse.
(two of Jim's photos have appeared on DIFFERENT commercial web sites!!!)
(click on photo for larger image)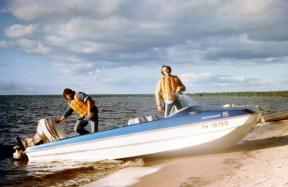 (REALLY BIG version)


[added 8/18/1998]

I was in the water almost shoulder deep when I took this shot in July 76 at Calling lake Alberta.

(click on photo for larger image)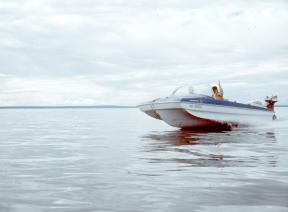 (REALLY BIG version)


[added 10/29/2001]

I found another picture of my dad's old boat. This one has me skiing behind it. September 1975 Calling lake Alberta, Canada. It is a transparency that has developed fungal infection, that accounts for the spots.

(click on photo for larger image)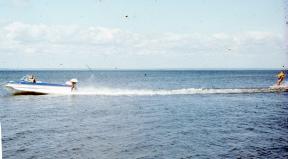 (Even larger version)


[added 12/05/2001]

Calling lake Alberta, Canada, 1977.

(click on photo for larger image)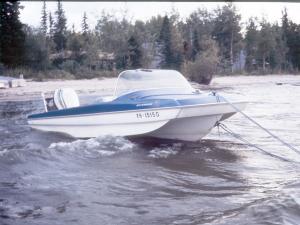 [added 1/6/2002]

(click on photo to enlarge)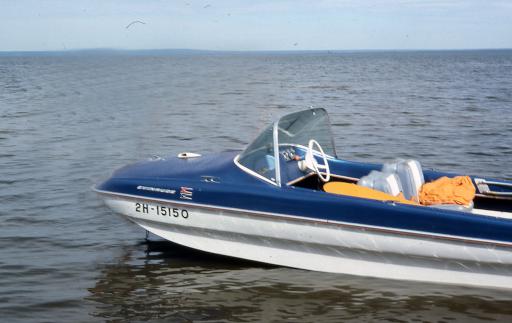 Calling Lake, Alberta


[added 7/9/2014]
---
---
Mike Stevesand's 1964 Sweet '16 Outboard "The Gray Shark"
Mike Stevesand aboard his 1964 Sweet Sixteen "The Gray Shark"
with 1964 90HP StarFlite S-90
Somewhere in Wisconsin, August 1998!!

(click on photos for larger images)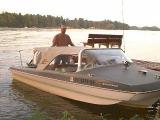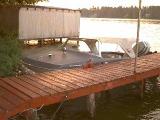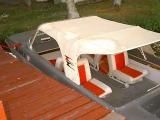 [added 8/25/1998]

Newly scanned photos taken 7/11/98. "If as they say the two happiest days in a boaters life are the day he buys it and the day he sells it then these pix document my first happy day"

(click on photos for larger images)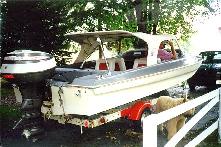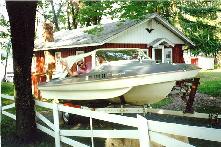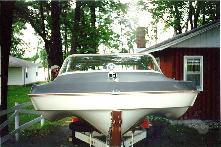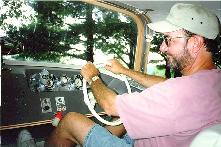 [added 9/16/1999]

Here's a couple of shots of me and my buddy Paul heading for a hot bluegill spot in the Gray Shark.

(click on photos for larger images)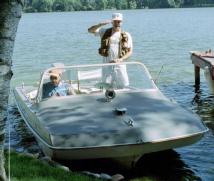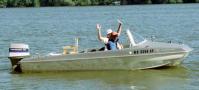 [added 8/28/2001]

New 2001 photo, with new 1975 70 HP Evinrude engine.

(click on photo for larger image)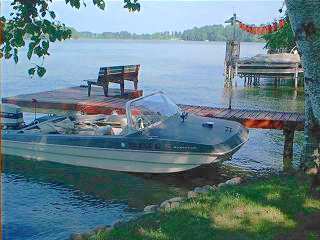 [added 6/13/2002]

In partial penance for keeping my faithful 16 in the water for five years, here are some pix of her looking high, wide, handsome and CLEAN on her new (to her anyway) boatlift.

(click on photos for larger images)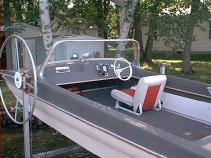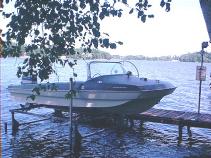 [added 7/21/2003]
---
John Ward's 1964 Evinrude Sweet '16 Outboard
John Ward's 1964 Evinrude Sweet '16, with original trailer, new 70 horse Evinrude. Note the custom EVINRUDE logos on bow and dashboard from the of cover of a 1975 175 horse engine!!


[added 9/16/1999]
---
Don Babineau's 1965 Evinrude Sweet 16
Don Babineau's 1965 Evinrude Sweet 16 (model #212502L) with a 90 hp (88?) I/O, original blue on white with blue seats at Mayfield Lake and the Cowlitz river in Washington State, October 2000.


[added 4/4/2001]
---
Sweet '16, Calling Lake, Alberta
I was looking through my old photo collection and came across these pictures of a Sweet 16. They were taken by me in July 82 at Calling Lake Alberta. This boat is not the same one that my dad owned. It does have the same type seat my dads had.

Jim Orfino
Edmonton Ab


[added 10/28/2001]
---
Peter Bilecki's 1965 88HP Sweet '16
Here are a few pictures of my 1965 Evinrude Sweet 16 with the 88 h.p. V 4 engine.
When I first got the boat in 1995 it was just a hulk of a craft. It had no seats, engine, outdrive etc, All that was there was the windshield and dash which included gauges and the steering wheel. I spent the winter of 95-96 gathering parts etc and had the boat refinished at Harbor Vue Marina in Little Current Ontario.
The first trip I took in it was in the summer of 1996. It is a pleasure to drive and gets looks everywhere I take it. I had it in Killarney Ontario and was fortunate enough to be there when Mrs. Evinrude was there on a visit. As she walked past the Sweet 16 she commented "what a lovely little boat" It made me feel proud.
The boat presently has 125 hrs on it and runs fine. I live in Whitefish Ontario which is close to Sudbury Ontario.
These pictures were taken this summer.
Peter Bilecki
[added 12/10/2002]
---
Peter Bilecki's 1964 Sweet '16 Outboard
Here are some pictures of my 1964 Evinrude Sweet 16. The boat originally started out as a Canadian Johnson DeLuxe 16
I purchased the boat in the fall of 1999. It had the original 90 h.p. Golden Meteor on it and the original seats that were in bad need of repair. The transom wood was rotten as was the floor in various parts.
I stripped the boat down of all its' accessories and mouldings. It then went up to Harbor Vue Marina in Little Current Ontario for a makeover. The deck was cut from the hull and all wood was replaced with marine grade. That included the transon and floor. All new floatation was added and sealed in.
Since I already had the Sweet 16 I/O [see above] I thought that it would be a good idea to give it a mate. The O/B model was then painted to the Evinrude colours and the trim adjusted accordingly.
I did all the interior work as well as the trim etc. and a friend of mine did the seats. Replacing wood that was rotted with new etc.
The motor on it is a 1969 Evinrude Starflite 115 which was restored to original. It pushes the Sweet 16 about 42 mph. The boat is used on Lake Penage which is in Whitefish Ontario.
These pictures were taken this summer.
Peter Bilecki
Whitefish, Ontario Canada
[added 12/10/2002]
---
Bill Parkinson's 1965 Sweet '16 90HP
The serial number is 1-9518. I just completed some major updating and now use it in the Denver Colorado area.
Bill Parkinson, Parker Colorado
[added 7/9/2003]
(click on photo to enlarge)


with a standard 16 trihull cover from iboats.com
(click on photo to enlarge)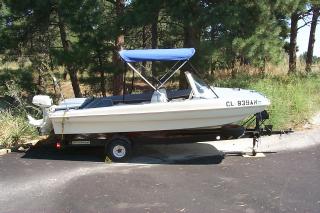 with new "small boat" bimini from iboats.com
(73"-78" wide, 5'6" long, 42" high two bow)
top on that you can stand up in.
(click on photo to enlarge)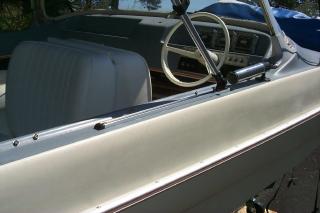 This photo shows how the Bimini top was attached to boat.
I used a 24" slide mount so when the top goes down it slides back
against the motor housing.. out of the way.


[added 7/30/2003]
---
Greg Boucher's 1964 Evinrude Sweet 16
I purchased the boat on a whim after deciding one Saturday morning that I needed to own a boat for the first time. I am the second owner of her and paid $350.00. She came with a 1971 Evinrude 100 H.P which has never let me down and always starts when called upon. My wife has re-upholstered the seats as the original seats covers were showing their age. I have given her a quick coat of paint which has spruced her up a bit. Have plans to re-work the transom as she is showing her age a little, the old girl (the boat)is lots of fun on the water.

All the boat pics except the sunrise are taken on Balsam Lake, Ontario, Canada. The sunrise picture is on Kempenfelt Bay, Barrie, Ontario, Canada.

Model: 465004


[added 11/07/2003]
---
Ari Mannukka's 1964 Sweet '16 w/ Mercruiser 165 (Finland!)
I have driven this boat about 15 years. It runs over 60 mph and its fantastic to drive. It's maybe the only one in Finland (Sold by Evinrude Marine Corporation of Finland). The homeharbour has been in Vaasa, NW coast of Finland.

When it came to me it had Evinrude 100 hp outboard (electric gears), but it died (two rods and a big holes in block). The merc 165 is very old, from 1974. It still works very well, so I put it in myself. It was year 1986. In last summer it needed new bearings and alot of other parts (over 700 EUR + works), but now it runs again.

Over here winter is coming, and my next cruise to Lake Vesijarvi will be in April (or later).


[added 09/28/2004]
---
Mike Davies' "Sweet Thang"
Owner: Mike Davies
Boat Name: Sweet Thang
Make: Evinrude
Model: Sweet '16
Year: 1964
Engine: Outboard
Location: Seaside, Oregon, USA


Greetings!

After watching your sight for several years while working on this project, I finally have some photos to share!

I had originally visited your sight back in 2002 and really liked the Evinrude Sweet 16. Of course, I figured the chances of ever finding one were slim to none! I was flabbergasted to find one 3 weeks later - sitting by the side of the road less than 5 miles from my Seaside, Oregon home!! Needless to say, I couldn't call the guy quick enough!

Since then, "Sweet Thang" has been completely redone - right down to removing the transom, flooring and 1200 lbs. of waterlogged foam. It now has several coats of custom Sterling paint, all new everything, including a 2004 Evinrude E-tec 90 hp engine. ( The emblems off of a 1964 Starflite engine keep people wondering!) She's been in the water once and ran about 46 mph while maintaining incredible stability and poise. What a sweetheart!

I'm now only waiting on the upholsterer to finish a custom interior and towing cover and then she'll be finished, hopefully by July 31, 2006.

Thanks for letting me share this project - I'll send more photos of the completed boat!

Sincerely, Mike Davies


[added 06/16/2006]
---
UPDATE: Mike Davies Sweet Thang
Since my complete restoration in 2006, Sweet Thang has seen hundreds of hours in the beautiful waters of the Pacific Northwest and western Canada. She has run flawlessly with a 2004 Evinrude E-TEC 90hp outboard (disguised with emblems from a 1959 Evinrude Lark). She continues to bring endless joy and turn numerous heads!

(click on photos to enlarge)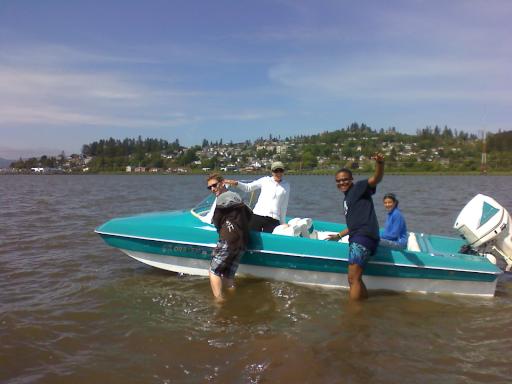 Columbia River, Astoria, Oregon 2009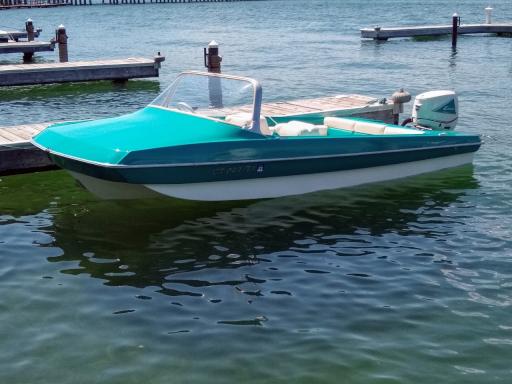 Flathead Lake, Montana 2020


[added 9/2/2020]
---
Sweet Thang has provided hundreds of hours of enjoyment on the beautiful lakes of the Pacific Northwest and western Canada.

(click on photos to enlarge)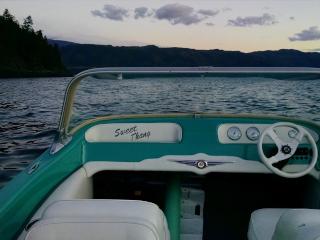 Shuswap Lake, BC, 2016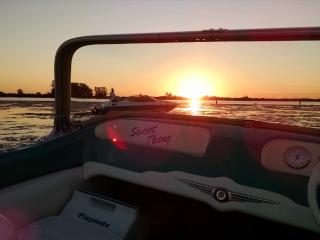 Columbia River, Astoria, Oregon, 2018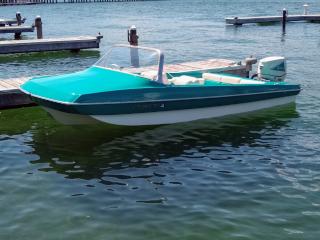 Flathead Lake, Montana, 2020


[added 9/3/2020]
---
Glen McDonald's Canadian Sweet 16
Spotted by Greg Van Vliet (8/2006):

I recently spent some time with my family near Slamon Arm on Shuswap Lake, BC (THE houseboating lake capital in Canada). I found this Evinrude Sweet 16 tied to a floating dock. It's got the Evinrude badging and a Starflite motor, but it has the plastic windshield like my Canadian Johnson Deluxe 16'.

I wonder if all the Canadian model Sweet 16's had the plastic windshields?
I am the proud new (second) owner of this fine boat. The boat is still in the same condition as the pictures show, as I just bought it two weeks ago. Bought it, dropped it in the lake, fired it up, the boat was running rough, so I replaced the plugs and leads, this helped considerably, well spray some carb-clean at it too. I will enjoy this boat as often as I can on Shuswap Lake with my wife and kids. Restore it??? We'll see.....

Purchased July 2nd, 2008

Glen McDonald
Salmon Arm, BC, Canada


[added 08/10/2006]
[updated 7/17/2008]
---
Don Babineau's 1965/66 Sweet '16
Built with a stern drive, the 88 hp motor blew a second time, so I had the transom rebuilt and put a 1983 140 hp Evinrude outboard on it. according to my GPS, the boat will do 42 mph. I also had a new top made for it.

Don Babineau


[added 12/07/2006]
---
Dan McCormack's 1966 Canadian Sweet '16
Just thought I'd take a minute and show my fellow OMC boat friends a Sweet 16' still at work late (December 1st) in the season. The ice will be forming in about another 2 weeks so it will have to come out but for the time being the old girl continues to give me reliable service for my cottage maintenance business here in Muskoka (Central-North Ontario). Temperature today is about -5 C. Merry Christmas everyone and thanks again to those of you who guided me through the charging system conversion earlier this year.
Dan McCormack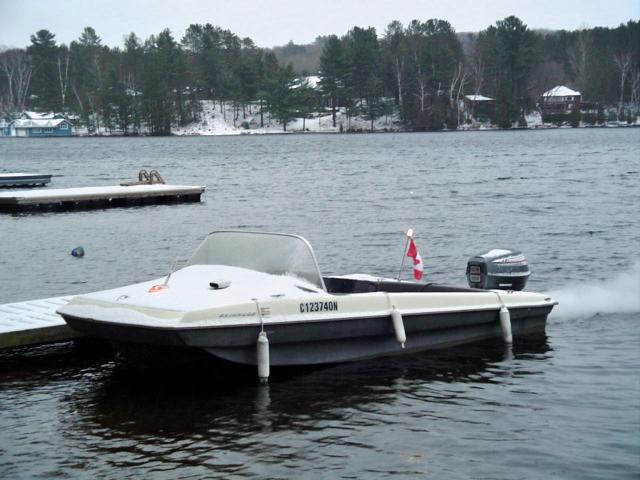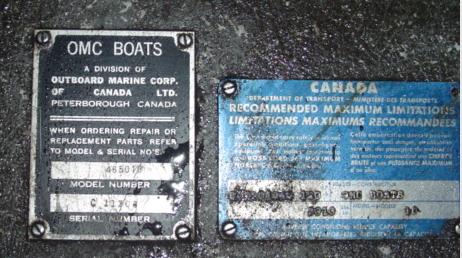 Model: 465019
Serial: C11308
[added 12/07/2006]
---
John Faulhaber's 1964 Sweet '16
This boat was purchased on ebay last summer. It was painted yellow with yellow indoor outdoor carpet. The man I bought it from said it had been in storage for the last twenty five years and that he bought it from the original owner with the intent to restore her. I spent all last winter restoring the decks and interior. I spent many hours going through the engine and sterndrive to bring them back to life.

The story behind the boat, well, when I was a kid I was raised on the local waters of eastern Long Island. My best friends and I had small boats call Skimmar's powered by ten horsepower engines and of course we thought we ruled the harbor. But there was the big kids in the harbor also, one of whom owned a 1964 Evinrude Sweet 16. He was from the Briggs family, yes Briggs & Straton, the people who owned Evinrude, Johnson and OMC. He and his friends would terrorize; use like pirates. You could hear that Evinrude boat a coming a mile away and you would instantly head for the beach. If you got caught, well you didn't want to get caught. You had to beg to get a ride in the Evinrude boat, I got one, I'll never forget it.

It's 40 some years later, I found my Evinrude boat and have spent hours and hours restoring it keeping it as close to original as possible. Oh yes Mr. Briggs, he has been a most valuable resource in obtaining engine parts. I made a point of bring the boat directly to him when I bought it home from Ohio. He had a smirk on his face when I pulled it into his driveway and I said,"You remember when....?"

The work thus far has been stripping all the yellow paint and repainting the boat the original grey. The interior was completely removed and new carpet and seats installed. All the chrome was sent out and redone, the instrument gauges were all rebuilt. As for the engine, well I'm still working the bugs out. I've had two really good rides; rides I waited 40 years for. I still have a few more issues to work out, I'll get is running right..


[added 8/23/2008]
---
Hamish Bell's Sweet 16
I know this boat inside and out if anyone ever need tech advice. (former aircraft mechanic) I have many pictures of it. I just took her entire top half off and put in a new transom a few months back. I fastened the top back down with $90.00 of stainless bolts and stainless fastener washers. It has new carpet, new steering cable, new or refurbished everything actually. Even the steering wheel got a powder coat of the white, keeping the original black logo Trojan horse and clear center cap. I am the second owner. The first owner bought it new in Vero Beach Florida in 1969. It still has original everything, cleats, you name it. Even the trailer is original. He was my neighbor and was battling cancer in his late 70's. That was ten years ago in Florida and I now reside in North Carolina as does the boat.

This boat has been miles off shore deep sea fishing with a fighting chair installed in the Atlantic ocean off of the Florida coastline. It has been in Alabama in the Gulf of Mexico and on the many rivers there. It is now stationed in the fresh water lake of High Rock Lake (North Carolina's second largest lake sum 30 miles long). We ski, tube, fish, you name it on it. After all this salt water it was time for the second restoration this boat by me again. The transom was rotted also so it was time to catch it. I have had this boat so long that it is actually cool again. It is the best boat that I have had. I have had nine boats and have always kept coming back to this sweet 16. She has sat at times while I have had a newer boat, but I always came back to her.


[added 10/13/2008]
---
OMC Sweet '16
Was moving from Ontario, Canada to Newfoundland, Canada and I want to bring a boat down with me so I found this one for sale in Hamilton, Ontario. I like it because to was wide. So I bought it; It was the best buy ever.

Owner: James
Boat Name: Ronnie Rose
Make: OMC
Model: 16' Sweet '16
Year: 1964
Engine: Outboard
Location: Dover, Newfoundland
Model number: 465004
Hull serial number: 010699



[added 12/26/2009]

3/30/2010 update:
My wife and I had visited Newfoundland (her family lives there) her uncle had taken me fishing for cod and I couldn't get enough so when we got back to Ontario we decided to move there. But we needed a boat, because boats in Newfoundland are expensive, we looked for one in Ontario to bring to Newfoundland with us. I had never own a boat before so I didn't known what to buy. We searched kijiji for a boat and found this one, the price was to good to pass up. We got very luckly because when we got the boat to Newfoundland and into the water it was the best handling boat in the bay. Even the locals couldn't belive what a great boat it was. They had never seen a tri hull before. We go out in weather that the locals don't go out in. I will never buy a V hull boat.
---
Steven Shaw's Project Boat
Purchased yesterday for $200.00. Floor and transom seem solid. Lots of cracks in the deck. No motor or title. Seller told me he planned to dump the boat at the landfill for $40.00 so he could make a nice utility trailer.
[added 4/13/2013]
---
1964 Evinrude Sweet 16 modified
Picked up this boat with trailer, bimini, and 60hp merc for $400

Owner: wayne grassfield
Make: Evinrude
Model: Sweet '16
Year: 1964
Engine: Other
Location: Round Top NY



[added 9/23/2015]
---
Our 1966 Evinrude Sweet 16
Saw one in a boat junkyard in Bobcaygeon and just had to have it. Owner couldn't see the wisdom of taking $400 for it when he was hallucinating about $2500!! No sale. A year later I found this restorable candidate and away we've gone. Complete restoration being done this winter. Transom, floor,foam, seats, paint, re-chroming...pics to follow

Owner: the McKenzie's
Boat Name: TBA
Make: Evinrude
Model: Sweet '16
Year: 1966
Engine: Outboard
Location: Little Current, Ontario



[added 2/25/2017]
---
1965 sweet 16
So im a lover of quality boats, found and bought it on a rainy day in so cal just a few days ago,1965 sweet 16 grey/white model, not all accessory ordered boat but, ordered with so far what I have to be.s 90, guages include, ampmetter, compass, gas tank, with gauge, w/t out 5th seat floor attachment, but bimini is the rare all way to back of splash well and snaps for side curtains. Its all orig and right out of back garage runs like a vintage johnson/evinrude should, o has the orig tempered glass windshield, decals, steering w/wheel and emblems in tack.orig trailer , just did side panels new all orig aluminum parts for floor.need the mounting pins for seats take anyone has.

Owner: RAY BEESO
Make: Evinrude
Model: Sweet '16
Year: 1965
Engine: V-4 90HP
Location: hesperia ca
Model number: 212402
Hull serial number: 4069


(click on photo to enlarge)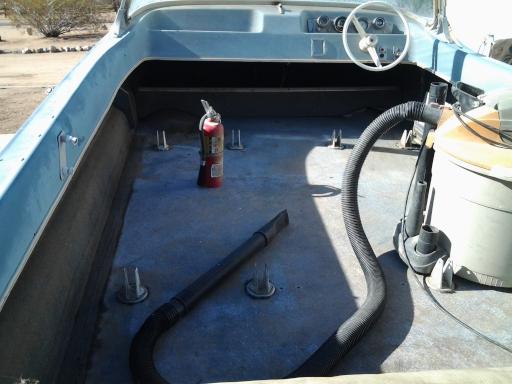 [added 1/18/2018]
---
1964 Evinrude sweet 16'
Régis French sweet 16' from Menton France.

Owner: Régis
Make: Evinrude
Model: Sweet '16
Year: 1964
Engine: Outboard
Location: Menton, FRANCE



[added 5/4/2019]
---
1964 Evinrude sweet 16'
Boat in good Condition. Engine to repair

Owner: Régis
Year: 1964
Engine: Outboard
Location: FRANCE



[added 5/4/2019]
---
Back to Gallery Index