Evinrude Rogue(s) Gallery
The 19-foot Rogue (with fold-down windshield) was first offered in 1966. In 1968 both the original Rogue, and an updated Rogue II (with optional head!) were offered. In 1969 a low-cost variant of the original Rogue called the Sport Fisherman was offered. The Johnson Tiderider is similar to the Sport Fisherman.
---
Rogue
Sighted by Jim Whaley Feb 1999 [added 2/16/1999]
(click on photo to enlarge)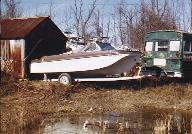 ---
1966 Rogue
Bob Painter saw this 1966 Evinrude Rogue for sale twice in one year!!
Photos taken March 1998 in Martin City, Mo. [added 9/16/1999]
---
Payton, Kathryn, Connor and Blue Smith's 1967 Evinride Rogue 210
Payton, Kathryn, Connor and Blue Smith's 1967 Evinride Rogue 210 (with Buick 300 V-8).
"It was the last boat built in 1966 by Evinrude, and became one of 1967's "boat show circuit" display boats. It was purchased new in Feb 67 from/at the San Francisco Boat Show".
"The team responsible for construction of this boat all signed it and then glassed over their signatures.......they must have been a little bored!"
"As you can see it has a folding windshield. We love putting it down on hot summer days... Litterally, quite a blast!" It has 2 fold-down seats and a rear bench seat. "It has a wonderful ride... not at all choppy, and very dry. Very solid. We use it a lot."
Photos taken on Trinity Lake in northern California. [added 9/16/1999]
---
Tom Klauber's 1969 Evinrude Rogue II 210
Tom Klauber of Marion, South Carolina's 1969 Evinrude Rogue II 210
Model: 441506A
[added 11/28/2001]
Photos taken at Bucksport Marina on the Waccamaw River near Myrtle Beach, SC. [added 10/17/2004]
---
Sam Baker's 1966 Evirude Rogue 200
Photo taken at Emerald Bay Lake Tahoe Ca. July 7 2002
[added 7/9/2002]
(click on photo to enlarge)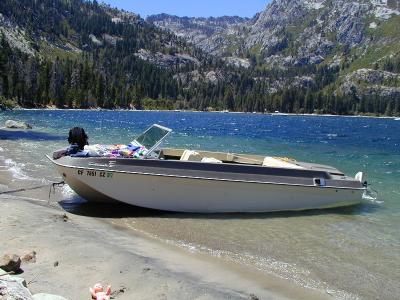 She's a trusty steed. With plenty of style.
---
Daemian Friedman's 1968 Evirude Rogue II 210
The boat resides on the Finger Lakes, in New York state.
[added 7/16/2003]
---
Raymond Dubrule's 1968 Rogue 210
Photo taken July 15, 2003 in Clay, N.Y.
Model: 442605S
Serial: WI-27110
[added 7/20/2003]
---
David Hart's 1969 Rogue II 210
I live in Evanston, Wyoming and out here you have to trailer your boat to water and for me its either Bear Lake, Utah or Flaming Gorge, Utah about 60 miles in either direction.

Everything is stock on the boat but I did upgrade the motor to a 350 instead of the 307 that it came with it.

Winters come on fast up in the mountains and one year I didn't winterize as fast as I should have and the motor and pump froze and broke. That one mistake cost me $2500 and that hurt..


[added 9/7/2003]
---
Glenn Halweg's 1966 Rogue
On new ShoreLand'r trailer!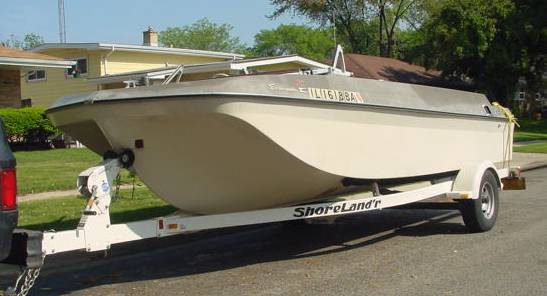 [added 6/6/2005]
---
Ole Bark's 1967 Rogue 200 (in Germany!)
I found your beautiful website two weeks ago. Three days ago I bought a Rogue 200 from a big lake in Germany it called Bodensee. The boat needs some restoration and I would like to bring her back to original condition. Here are some "before" pictures. More pictures soon, after we work on it!

Model: 422604E
Serial: WI-21868

Ole Bark
Köln


[added 06/29/2006]
[added 07/06/2006]
---
Joergen Hansen's 1969 Evinrude Rogue II 210 (in Denmark!)
Got it on a small island in the southern Denmark, Femoe (143 inhabitants). Some guy from Copenhagen left the boat on the island some 10 - 15 years ago. The engine and the drive are missing - no body can remember when or where. I would like to bring it back to original, but as you can see - that will be some job.

Model: 441506A


[added 07/26/2006]
---
Hank Harcha's 1969 Sport Fisherman 120
Pictures from Manitoulin Island, Ontario, Canada.

Model: 433506A
Serial: WI-30088

Hank Harcha Portsmouth, Ohio


[added 10/03/2006]
---
Joseph Mullarkey's 1968 Sportsman and 1966 Rogue
Hi, My name is Joseph Mullarkey. Last fall (2007) I was given a 1968 Evinrude Sportsman 155. The out drive was missing and the canvas is shot. It came with a 1967 Johnson tilt trailer. I plan on converting it to a jet drive using a Cadillac Northstar engine. I knew that I would not have it done for this summer so I went looking for another one to use "as is". I found this 1966 Evinrude Rogue. The boat is complete and ready for the water. The man I bought it from is only the second owner. He had it for two years. His wife just gave birth to twins so he figured his "water" days were over for the near future. It has the 200hp Buick engine in it. It came with the fenders, anchor, fire extinguisher, six life jackets, and the shipmate tilt trailer. He sold it to me for $1200.00. Some days it does pay to get out of bed. It is still cold here in upstate NY but summer will find me on the lake a lot.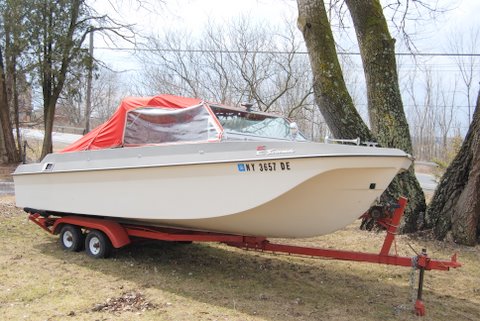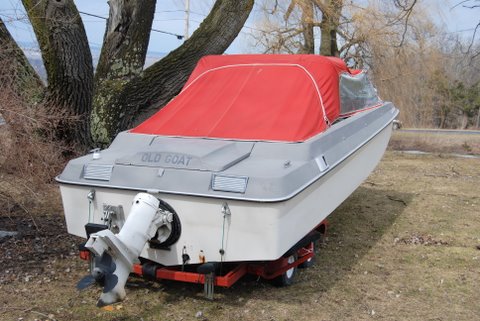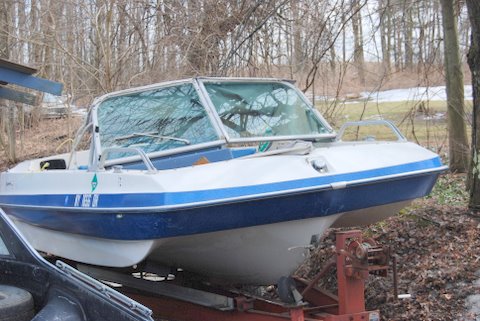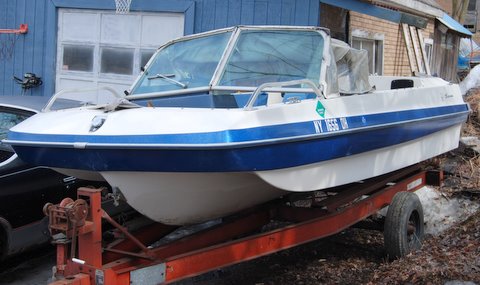 [added 04/25/2008]
---
Bruno Boeglin's 1966 Rogue II 210 -- in Switzerland!!
w/ Chevy V8 260 HP?
[added 10/13/2008]
---
1968 evinrude rogue 210
found this on craigslist about a year ago and decided to take it on as a hobby. ive spent the last year bringing her back to a beautiful state. I am a very proud owner of this incredible tri hull boat.

Owner: Sanz Ruff
Boat Name: Madamn Boat
Make: Evinrude
Model: 19' Rogue II
Year: 1968
Engine: V-8
Location: St. louis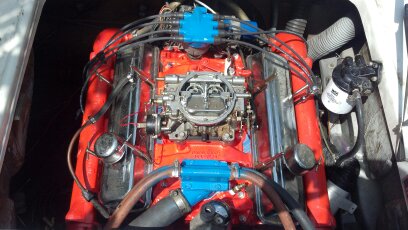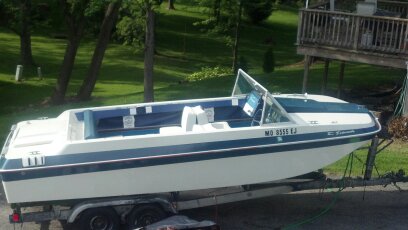 [added 5/8/2012]
---
1969 Evinrude Rouge 210
This is my dads boat. I have many memories of riding with my dad. Now that he has passed it is my boat. My kids remember riding in this boat with their granddad. I plan on leaving this boat to my kids so they can ride their children and grandkids. My youngest son should live long enough to drive this boat with his grandkids and tell them about his papa Jeff. With a 100 year old boat. The boat is stored in its garage In the dark. We have converted to 305 vortec heads with a Edelbrock 600 cfm carb. Comp Cams XE256 Cam. All on the Stock 307 Short block. The motor has never been out of the boat. Mallory Distributer Unlite. The Exhaust manifolds seem to be major HP robbing problems. I ported the lower unit exhaust exit. Gained about 700 RPM at top speed over Stock Motor. This same combo on my Mercruiser 351W cabin cruiser will out run this boat. And it weights 5000lbs. Bottom line I think changing Exhaust manifolds on the stock motors is the biggest upgrade that could be done. JAY

Owner: Jeff B Robertson
Boat Name: Pappa Jeff
Make: Evinrude
Model: 19' Rogue II
Year: 1969
Engine: V-8 210HP
Location: Bay Springs. Tupelo, MS
Model number: 441506A
Hull serial number: WI-31164



[added 6/23/2013]
---
Another Rogue 210 in Switzerland!!!
Owner: Jerome Harmel
Make: Evinrude
Model: 19' Rogue I
Year: 1968
Engine: V-8 210HP
Location: Neuchâtel Lake
I found your very interesting website and it was very helpful for me to determine what kind of engine and sterndrive was in it.
Here is a little story of that boat --
I'm living in Switzerland and I just saved from demolition an Evinrude Rogue 210 from 1968. The boat should have been destroyed as the owner had abandoned it 7 years ago. In December 2013 I had the opportunity to get the boat for free but I had to do a job on it! They had put a lot of things in the boat (bicycles, trash can, old sofa) and seats were damaged.
Here are some pictures of the boat as I got it:
Last month, the sterndrive was dismantled, controlled and main shaft, impeller and seals have been changed. I did new anti-fouling paint on the hull I had to sand all the old one in very bad condition. I did an engine complete control, sparkplugs, contacts, oil filter, oil change, complete carburetor rebuilding, gas tank cleaning, all fuel hoses, water hoses changed etc. and I started the engine for one week exactly. Starts at first solicitation without any problem! good mechanics!!
The boat is now in the water and my daughter and I made a small tour last Wednesday on Neuchâtel Lake. I see that someone posted pictures of another rogue on the same Lake in Switzerland! I hope that I'm going to meet him on the lake this summer!
I wish you long life to your website and thank you for the information I got through it!
With best regards,
Jerome Harmel
[added 6/29/2014]
---
1969 Evinrude Rogue II 210
Owner: Frederic & Brooke Lynes
Boat Name: Ole's Legacy
Make: Evinrude
Model: 19' Rogue II
Year: 1969
Engine: V-8 210HP
Location: San Angelo, TX, soon to be Nampa, ID
Model number: 441506A
Hull serial number: WI-31123


The boat has 163 hours on it. I got it from a kid who bought it from the neighbor of the original owner. The gentleman who was the neighbor had it in climate controlled storage for 20 years.

I have all of the manuals for it, including the owners log which shows that the original owner did an oil change in 1979 and the engine had 90 hours on it.

There are zero soft spots on the floor, the carpet is original and looks brand-new, the seats are near perfect, and the only thing I had to do was replace a couple of lightbulbs. I will need to have a new convertible top made, because the kid improperly installed it and ripped it.

I traded the kid I got it from for a non-running 8500 W generator, a SigPro 2340 pistol and $100.


[added 9/26/2014]
---
1967 Evinrude Rogues 200
We are the 3rd owner of this boat. It spent it's whole life in South Lake Tahoe and never left the lake tell last year October 2014. We absolutely love this boat and use it almost every week during the summer. It has the original 300ci V8 Buick that runs perfect.

Owner: Josh courson
Make: Evinrude
Model: 19' Rogue
Year: 1967
Engine: V-8 200HP
Location: Aloha, Oregon
Model number: 442604e
Hull serial number: w121821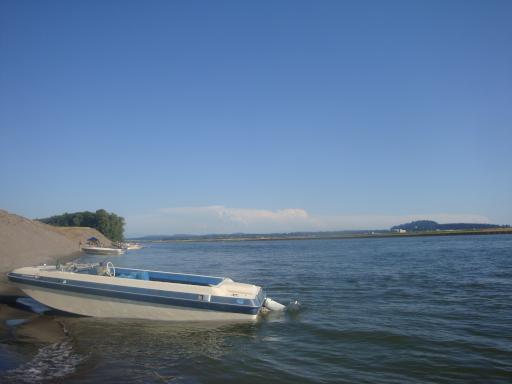 Columbia River Government Island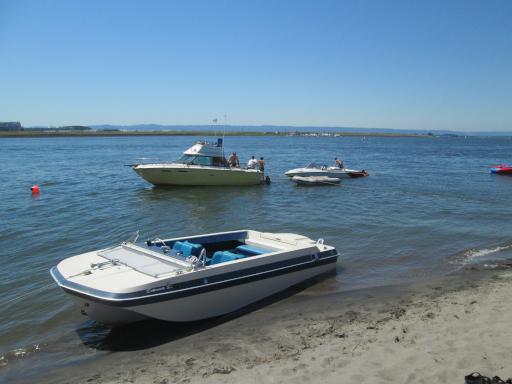 [added 10/6/2015]
---
Prototype Evinrude Roug Sport Fisherman gullwing
I bought this when a local business man sold his boat museum and all of the vintage wood and fiberglass boats in it. They auctioned off all the boats and I bought it for $1,400. Per the info that came with it and what I was able to look up it is the prototype for the Rogue Sport Fisherman. There is no hull number and lots of non typical accessories and parts in it. The boat was shipped to the designer and the motor has less than 20 hours on it because the designers wife did not like how it rides. They stored it and sold it to the museum's buyer and it has been on display at the museum until the auction in April 2018 when i bought it. I rebuilt the carbs and synced them and changed all the fluids and fixed some wireing issues and now she runs like a top.

Owner: Michael Seely
Boat Name: Blue Spirit
Make: Evinrude
Model: 19' SportsFisherman
Year: 1970
Engine: I-4 120HP
Location: Vandalia, MI
Model number: 433506A
Hull serial number: WI-30812



[added 6/6/2018]
---
Back to Gallery Index